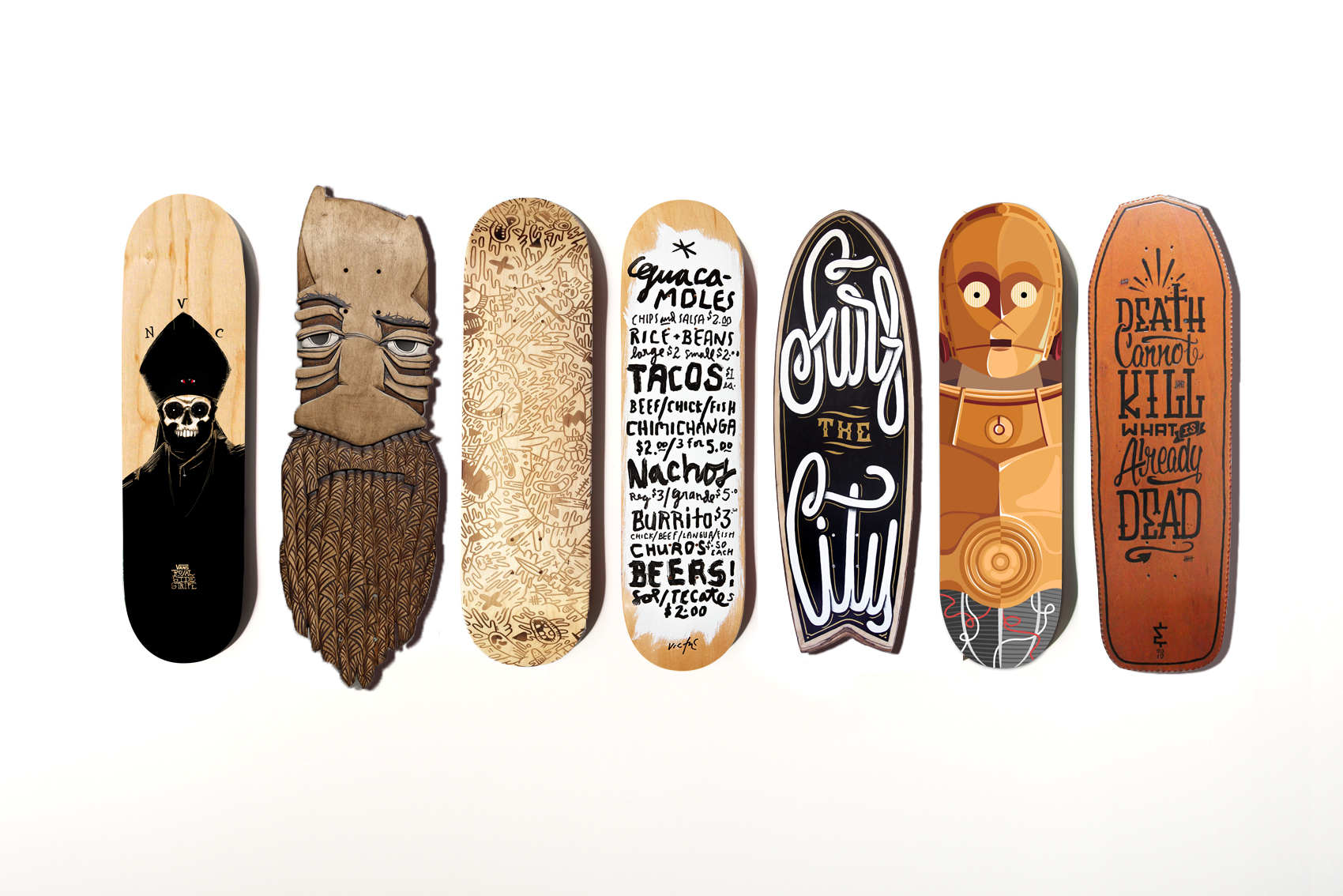 Skate art or the art of skate is a new contemporary art movement. As street art became popular and imposed itself, from the street to auction houses and museums, it seems like skateboard art does the same now!
The skateboard is used as a free and noble support, imposing the constraint of the form. It becomes both a canvas on which the artist bomber, paint or engrave. There is a structure to create design furniture or material to create sculptures or also objects like Haroshi do. Support is sometimes cut, distorted, abused or consist to recycle old broken boards.
The passion around the skate culture in recent years, makes it a popular art medium and gives a new dimension to the artwork carried out on it.
The history of skate art
From 1950 to 1970 | Raw wood and logos
At the beginning of skateboarding in the 1950s, the board was a simple piece of raw wood, handmade. It doesn't addressed any illustration or design. Just as the first surfs, the question to highlight its brand or give an artistic dimension to the support does not arise yet.
The first pattern comes with the "Roller Derby Skate Board" in 1960 (without the # 10, which will be used later when the brand will make different models). So it's the Roller Derby brand who produced the first skateboards industrially and also start screen printing on top of the board (where then we will put grip). Finally, the first pattern is a logo to clearly identify the brand.
From 1970, other brands are created such as Sims, Dogtown or Powell Peralta. Its brands are following the same model as Roller Derby and still just affix their logos (which is only a typography work at the time). However, the logo begins to appear as under the board, on the more "classic" location.
From 1980 to 1990 | The advent of Skate Art
It in 1980 that the first illustrations are drawn under the boards. Jim Phillips, Vernon Courtland Johnson or Wes Humpston start doing graphics on skateboards. At the time, the graphics are particularly inspired by punk rock / skate punk culture. It is advised to use a lot of skull, pentacle or any other symbol of that culture.
In addition, the other skate graphics trend is the creation of fantastic monsters like the dragon of thePowell Peralta Caballero board or sordid and hot rods fans, like the drawings of Jim Phillips, based graphics Ed Roth.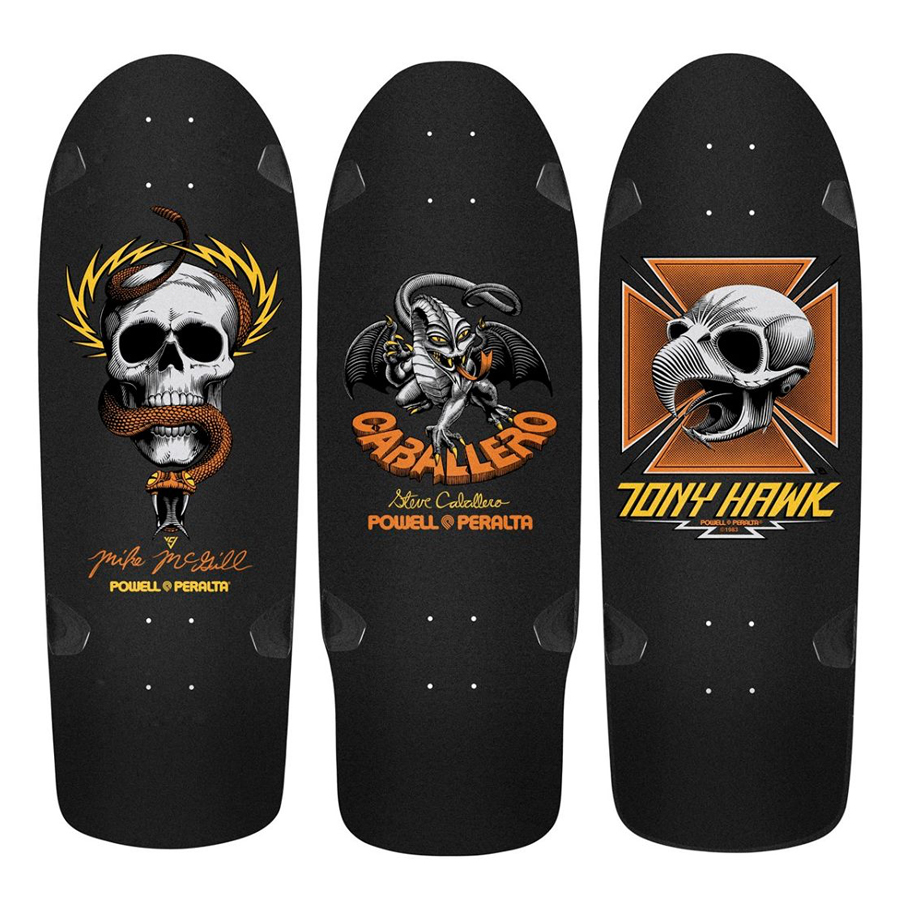 From 1990 to  2000 | His controversial changes
Start 90, Marc McKee do graphics with a cartoon style for World Industries, 101 and Blind. The idea is to play hard on the causes! He creates highly controversial series, without any limit. Rodney Mullen said: "The art of Marc McKee was so controversial that they had a whole wall of prohibition orders to his charts worldwide …"
At the time, there were no rule or censorship. Pro skateboarders were working increasingly together to create these graphics skate and proposed very crazy ideas!
Finally, the support of the skateboard takes this decade, a new dimension. It finally becomes a real means of expression and communication.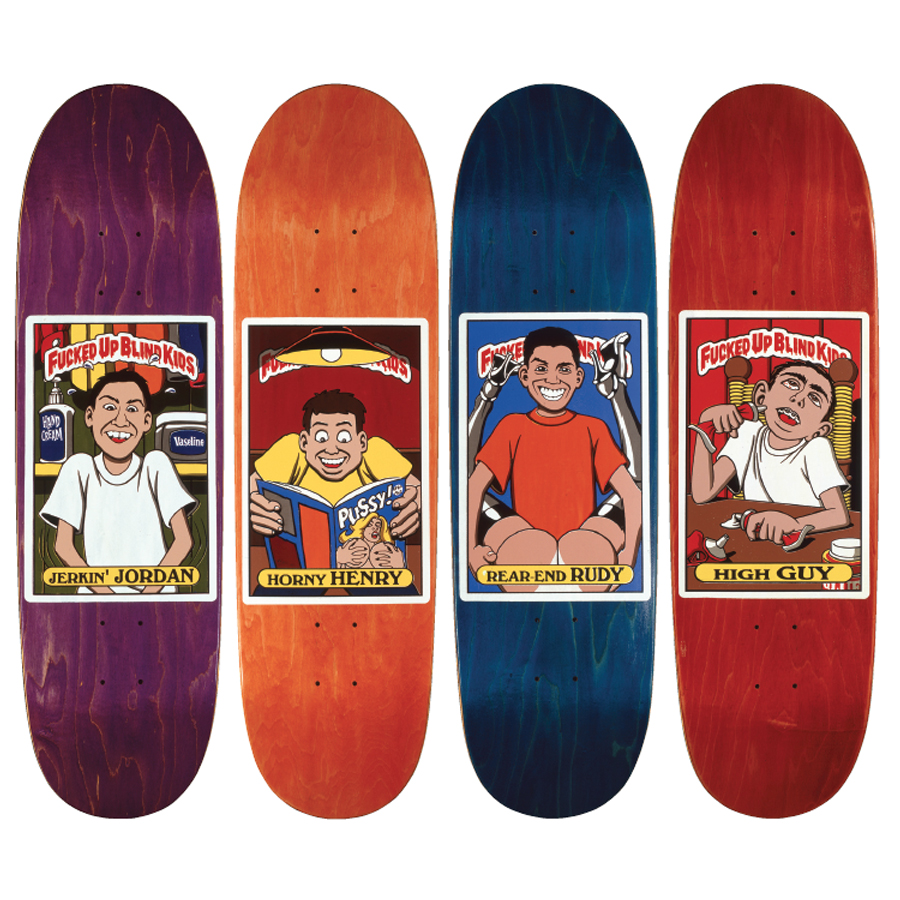 From 2000 to now | A real diversification
Skateboarding continues to thrive. More and more brands are born and create an image with an aesthetic that is their own well. Brands like World Industries and Blind are well inked in cartoon style. Element and Habitat stand out for their environmental side. Zero, Mystery or Darkstar have darker graphics, related to tattoo/punk culture and Girl or Cliché brands prefer being on more arty and fun boards.
The process of creating a board becomes increasingly simple. Before, it took several months to create a model. It now takes only one. It is therefore easier to create his own brand and in particular make it popular by the Internet. We then experiencing a boom of small local brands. The skateshops realize their own boards and graphics.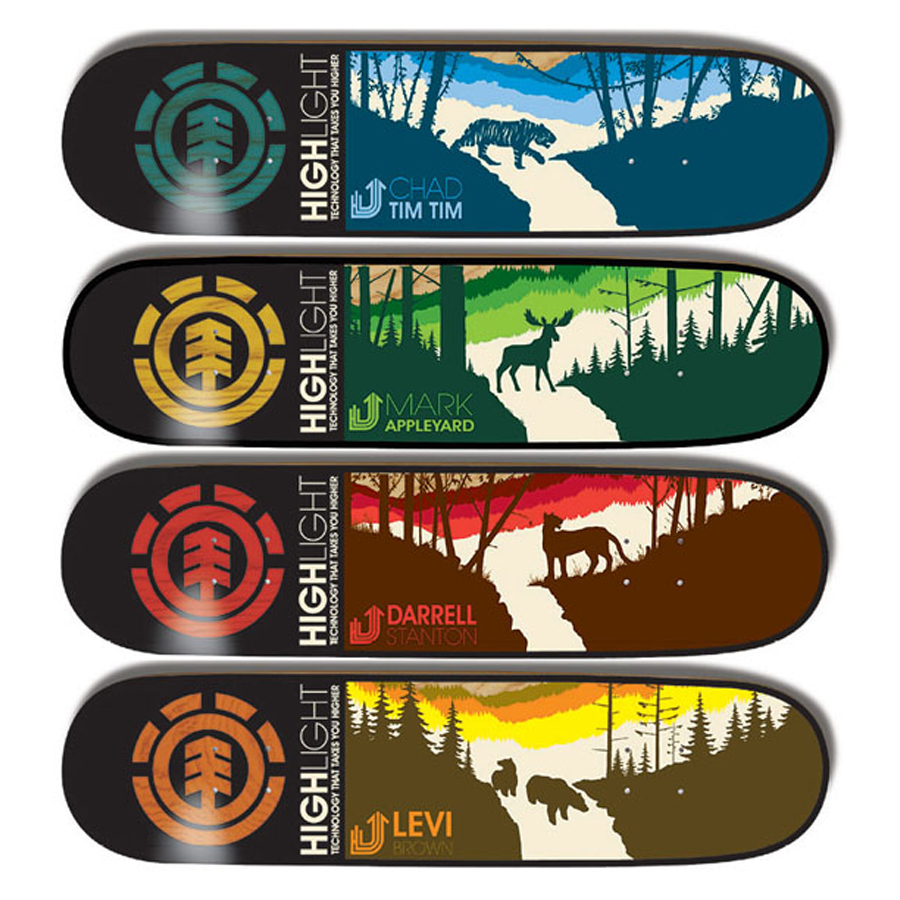 It was during this period that we begin to not only talk about skate graphics but out of context and talk about art skate. Artists are reclaiming this support by cutting, the slicing or leaving it completely from its original shape. Haroshi begins in 2005 in achieving its extraordinary sculptures from recycled skateboards.
New technologies such as laser engraving are emerging to the delight of artists and brands. It is possible to cut wood in series with a ball made precision to give a very clean back. Magnetic Kitchen Design Studio is probably the first to popularize the laser engraving by making 17 boards graphics.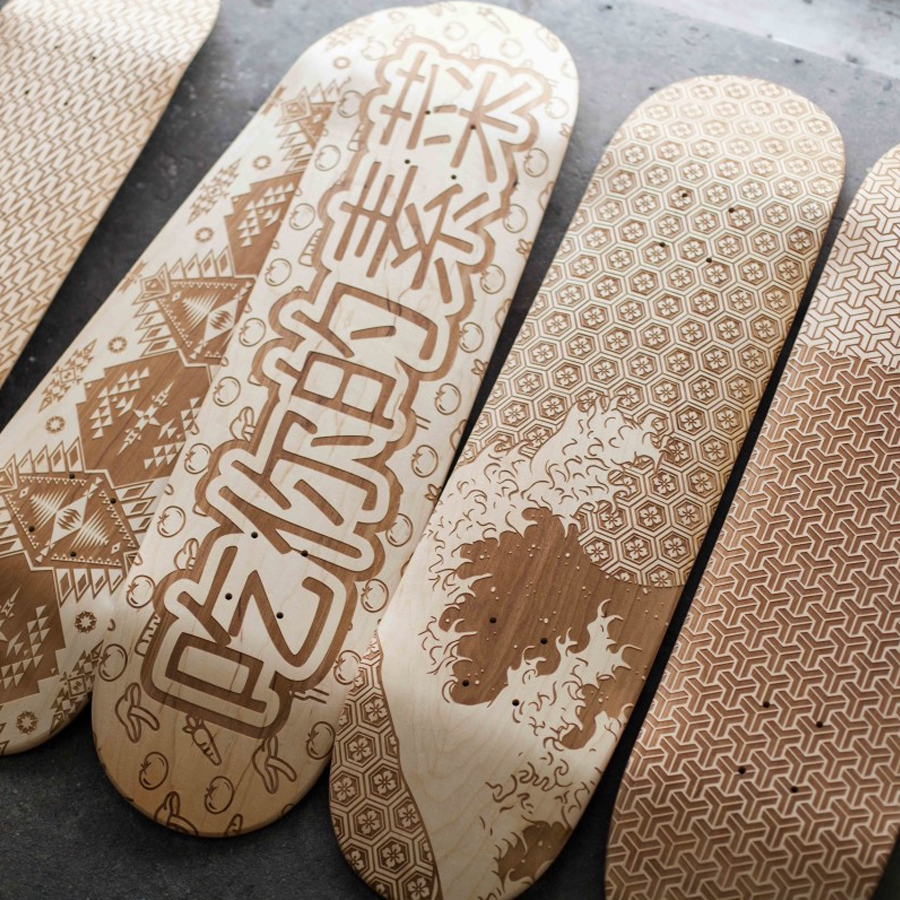 From skate graphics to skate Art
The goal here is to popularize ways of creating art around the theme of the skateboard. As a result, this presentation is incomplete, and I invite you to comment on or to write me if you have any other comments or more to give me. I'd be really delighted to share about it!
It is possible to segment the Skate art as follows:
 GRAPHICS WORK
Graphics by laser etching or pyrography
Graphic design
Working typography
Triptych
Skate decks transformed in another use
WORKING DIVERSION
Creating the form of skateboarding with another material
Creating an original form of skate
Skate wood use for the creation of furniture or works
Diversion of skateboarding in everyday object