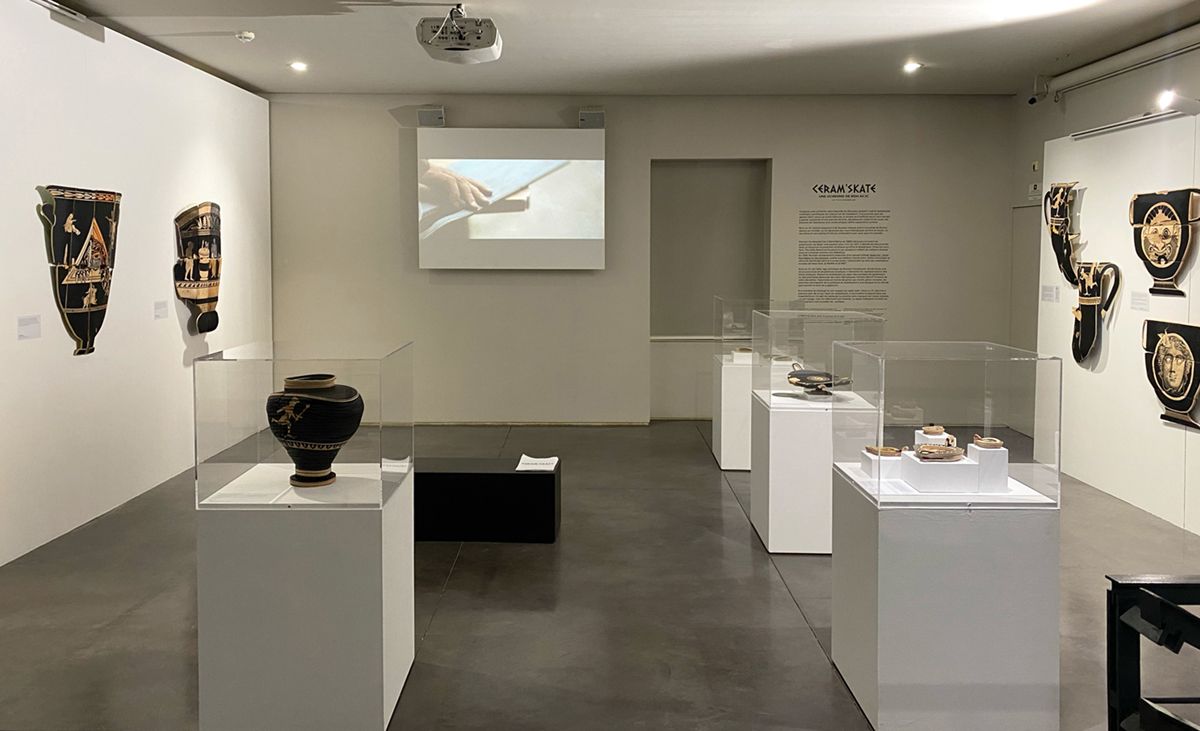 The Musée de la Céramique in Lezoux, France, has invited Rom av.JC to take over a room in the museum. Entitled "Ceram'Skate", the exhibition aims to show the artist's uchrony – a fiction based on the principle of rewriting history by modifying the past. In this case, skateboarding existed in Roman times. Proof of this are some fifteen works created by the artist from broken skateboards. These works represent jars, sometimes in 2 dimensions, hung on the wall, and other times in 3 dimensions, like those seen in the showcases.
Here's what the exhibition foreword tells us:
"Imagine an uchrony, in which the Romans created the skateboard. Prolific inventors of the cissium and essedum, these geniuses may well have designed another vehicle, so simple that all it took was one Roman to think of it. Comprising a wooden board, metal parts and wheels, evidence of the existence of an ancient skateboard is now surfacing.
Rom av.JC gave birth to fake Greco-Roman relics, illustrating a world where Olympic Games events were held on skateboards, and where its fictitious gods and myths merged with those we know.
Romain Hurdequint (born in Saint Rémy in 1989) discovered his passion for art through skateboard graphics. In 2011, he decided to document the artistic potential of skateboarding in a blog. Eleven years later, The Daily Board is still read by several thousand visitors every month and has established itself as a benchmark. In 2018, Romain began work on an anthology entitled Skate Art: From the Object to the Artwork, published by Cercle d'Art. This anthology is distributed worldwide, including at New York's prestigious MoMA and MET museums.
Rom av.JC is Romain Hurdequint's artistic alter ego. Armed with a saw, a sander and acrylic paint, he reinvents representations of ancient leisure activities. Placing the skateboard at the heart of gladiatorial combat or the first events of the Olympic Games, the artist rewrites the history of this discipline. Shaped like jars with Greco-Roman motifs, the boards bear witness to skateboarding at a time when the city of Lyon was known as Lugdunum.
In the manner of kintsugi4 and its respect for wabi-sabi4, Rom av.JC seeks to care for what remains of the skateboard, to recognize beauty in its imperfections. It's about restoring the board without masking the traces left by its use, but rewriting its history. With Ceram'Skate, the abused skateboard is ennobled as it takes on a new life… an ancient one."
The "Ceram'Skate" exhibition is now over, but the adventure of Rom BC continues. I invite you to discover him on his website romavjc.com.