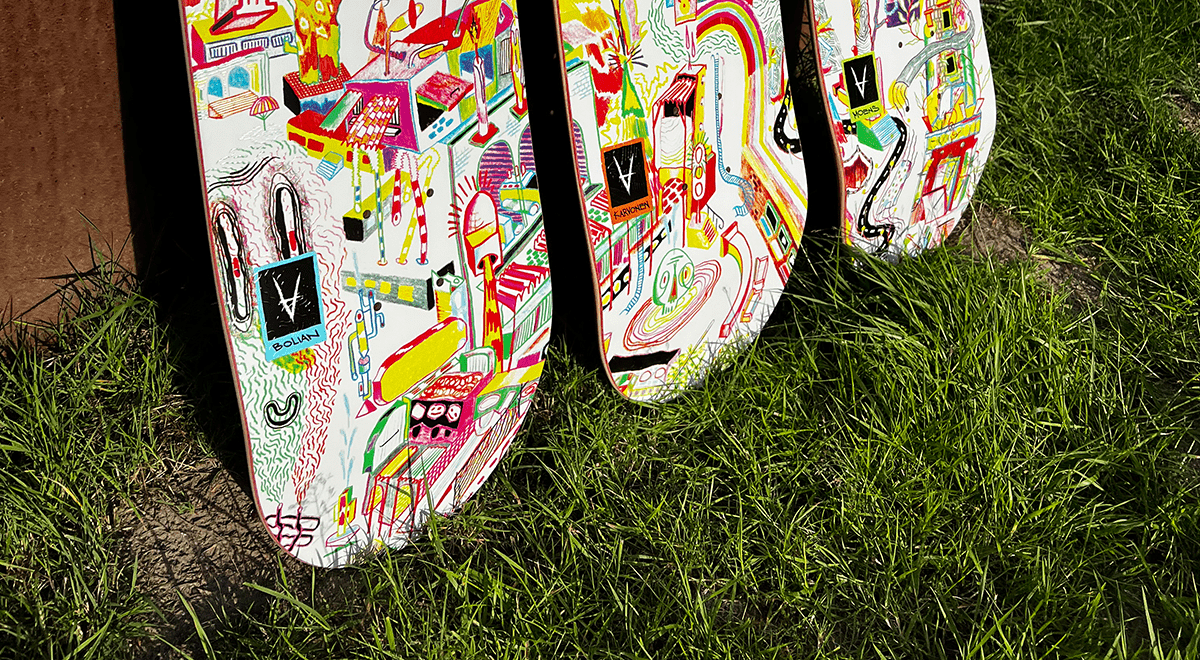 After a first series for Become Skateboarding, the artist Roy van Wezenbeek (from Studio Straycat) collaborates this time with the French brand Antiz Skateboards. He tells us about the whole process of creation of this series: "As a kid all I ever did was drawing. I could draw for hours and hours in a row creating my own vivid world on paper. To this day drawing is still the foundation of my practice I'd say.
During covid when commissioned work was a bit on hold I strongly felt the need to draw. Putting my worries and struggles in that period of time on paper had quite a cathartic effect on me. This drawing reflects on the ever present feeling of restlessness and chaos in particular which somehow got enlarged due to lockdowns.
To me the meaning of drawing lies in the act itself, often I have no clue where a drawing is going and I try to just let things happen, let the drawing unfold. Exploring through drawing, not knowing where the journey will take you is what keeps me excited about making work.
Sometimes while working all of a sudden a title pops up but mostly I listen to music while working. At random Spotify played 'Sweet love for planet earth' by Fuck Buttons through my speakers, I hadn't heard that song for a while but I recall it resonating strongly while finishing this drawing.
I thought this has to be the title! The music and this work to me are on this same kind of frequency. I like the idea that the title of the song feels a bit alienating to the music itself, but actually isn't. To me it's clear this song is about both chaos as well as beauty and that the space between the two is often vague and hard to determine."
If you'd like to pick up the set, head to Iron Distribution's website.