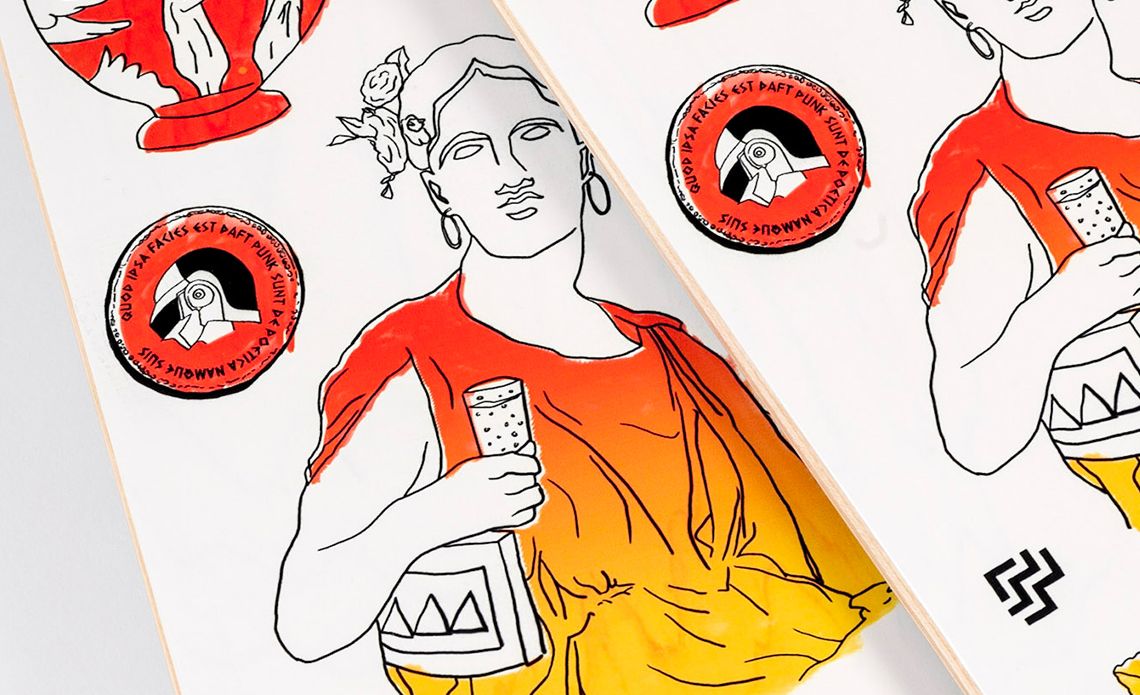 Celebrating Club-Maté on my own terms, that's pretty much what the team's brief for this collaboration looked like. As part of their "After du Club" contest series, the brand asked me to create a limited edition skateboard series and to make win one of them, together with The Daily Board. A brilliant idea and the perfect opportunity to give carte blanche to my creative alter ego: RomAvJC.
RomAvJC is obsessed with the Greco-Roman civilization and the highlighting of skateboarding in that era. What? Skateboarding was created in 1940. No way, it was well and truly present in antiquity! Certainly, a few thousand years after the invention of the wheel; the time to create ball bearings, but not much later. In short, besides the tribute to skateboarding, the real purpose of this project was to make reference to Club Maté and its culture. And Zeus knows it's frustrating for it right now! The maté-based caffeinated soft drink brand is, like everyone else, hit by the health crisis, even though it is a regular, or rather, a major player in the nightlife world. Since 1994, the Berlin-based brand has been accompanying clubbers at all their parties.


It is with this idea in mind that I built my illustration. Beyond the skate throw and the skateboard soldiers, three roman coins with portraits of famous DJs who played many times in the city of all possibilities (Berlin for the uninitiated) were affixed on the skateboard. The maté tree leaf, a toaster with a bottle of the said drink in his hand, as well as a detour of the emblematic portrait that adorns each bottle of the brand was also represented. Other more party or skateboard oriented designs and Roman art motifs complete the whole jumble of flashes.
The skateboards have been produced in a limited edition of 10 pieces. They are numbered and signed by my great hands and will be sold very soon on the shop of Club Maté France at the price of 80€.
Photos by the talented Lionel Rault (with a bonus of my face when I first discovered the boards)