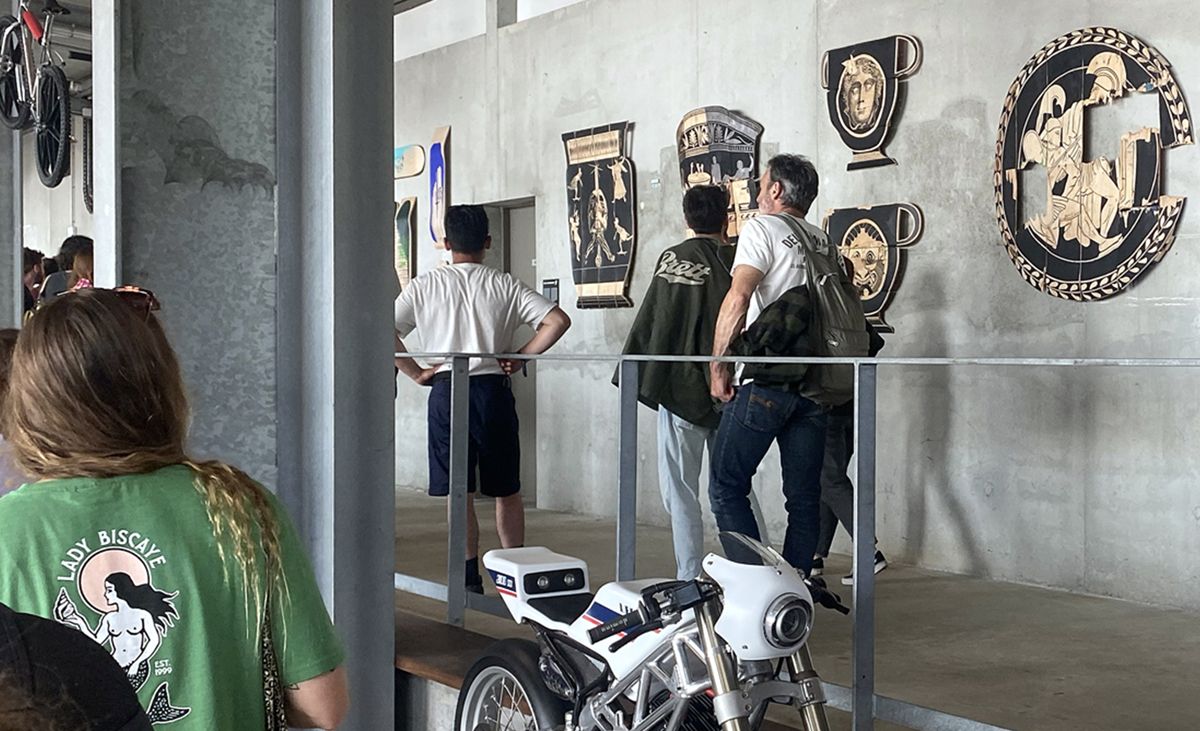 For the 12th edition of Wheels and Waves in Biarritz, the artist Rom av.JC was invited to exhibit his new antiques. To mark the occasion, he added three new works measuring over a metre in diameter to his already well-known discoveries. On the one hand, a new krater from the Genesis series presents the myth of the skeleton with a sword. The vase tells the story of how the gladiaskator was punished by Zeus. His punishment was to continue skating for eternity, but no longer in human guise but as a skeleton. The Romans often depicted him, sword in hand, held in front of his skinless skull. Today, this emblematic design is much used by the Powell Peralta brand.
Other new products included two large kylixes without handles. Each features a large circular motif around its perimeter. The first vase is entitled "Battle at the Biarritz" and depicts two Roman soldiers in battle. While the first tries to spear the other, the second manages to protect himself with a highly original shield: a skateboard.
The other work is called "Trukustabos". It pays tribute to the game of skill of the same name. Played at symposium banquets, it consisted of throwing skateboard trucks into a basin on the floor or table. It's a variant of the ancient Greek game kottabos, which seems to have been invented for a very simple reason. The kylixes were made of ceramic and broke easily when dropped beside the bowl. By using metal skate trucks, there was no problem of breakage on the first throw of the object.
All the vases presented by the artist at Wheels and Waves can be viewed and purchased on his website: romavjc.com.