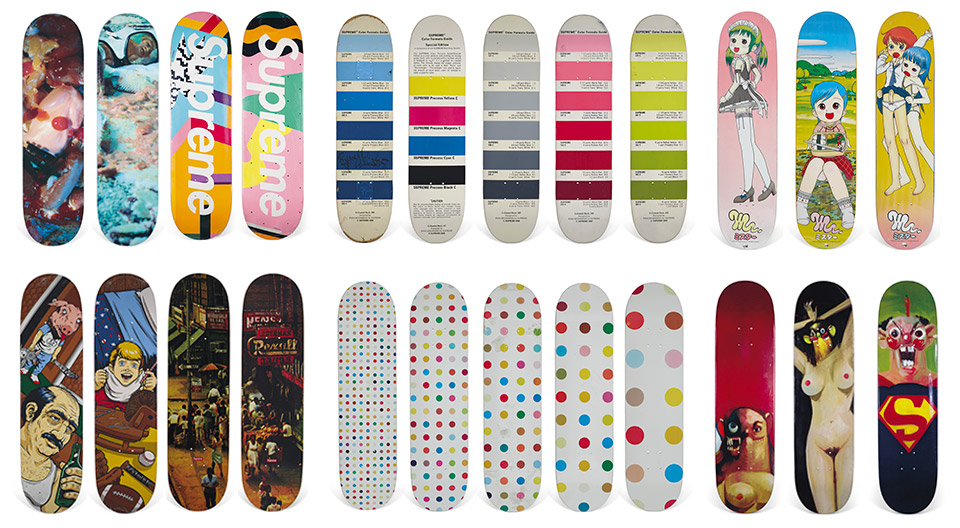 Supreme boards continue to attract the eye of art collectors! Christie's, the world's biggest auction house will sell 230 Supreme skateboards. From the very beginning, the brand collaborated with the greatest contemporary artists and photographers of the post-war generation, such as David Hirst, Takashi Murakami, Jeff Koons, Ryan McGinness, Kaws, Larry Clark, Richard Prince, Roberto Longo and Terry Richardson to name a few.
As Byron Hawes, author of Art on Deck: An Exploration of Supreme Skateboards from 1998-2018, explain: "Nobody looked at a skateboard before Supreme and saw a canvas waiting to be utilised'. The company released its first deck — the Copyright — in 1998, and its first 'Artist Series' deck in 2001. Since then the artists who have designed boards for Supreme represent what the writer describes as 'a veritable who's who of contemporary art'".
The auction starts on Tuesday, November 26th and ends on Tuesday, December 10th.
To learn more, you can download the sales guide here or go to Christie's article about the sale.
Photo courtesy of Christie's.