The Broken Decks Skulls is a skateboard artwork that really struck me and seemed like a proof of the work that could be done with a broken skateboard. His artistic work related or not with skateboarding is equally interesting. The interviewer really flowed!
Sponsored by

Hello Beto, how is it doing in Toronto, CA? Can you present yourself?
Hi Romain, my name is Roberto Janz, better known as BetoJanz or simply Beto. I am a Mixed Media / Urban Artist born and raised in the city of Curitiba in Brazil but I've been living in Toronto/Canada since 2014. I've always been surrounded by urban environments, so I could say my art carries the features of this ambiance.
I graduated in graphic design and for many years I worked in agencies and design offices, but it was always difficult for me to spend hours, days, months and years using only computers to satiate my artistic needs. That's why I decided to dedicate more time exploring other tools, materials, and techniques. The results go from graphic art, collage to sculptures in various materials.
I see my art as quite "raw" and simple
So I started to see artworks from you with the skull boards you made a couple of years ago. How did you get the idea?
The skull imaginary has always been part of my life. Back in the 90's, at the age of 12, I was fascinated by the skull graphics constantly featured in skateboard magazines. At that time I also had my first contact with bands like Suicidal Tendencies, Misfits, Exploited and many others that have skulls in their visual communication.
Over the years I've been incorporating various elements of the Rock / Skate universe into my creations, so it was natural to use this element as an important part of my work. In the same way that the music of most bands I like, I see my art as quite "raw" and simple so it wasn't difficult to visualize a skull made by rudimentary cuts on a skateboard deck.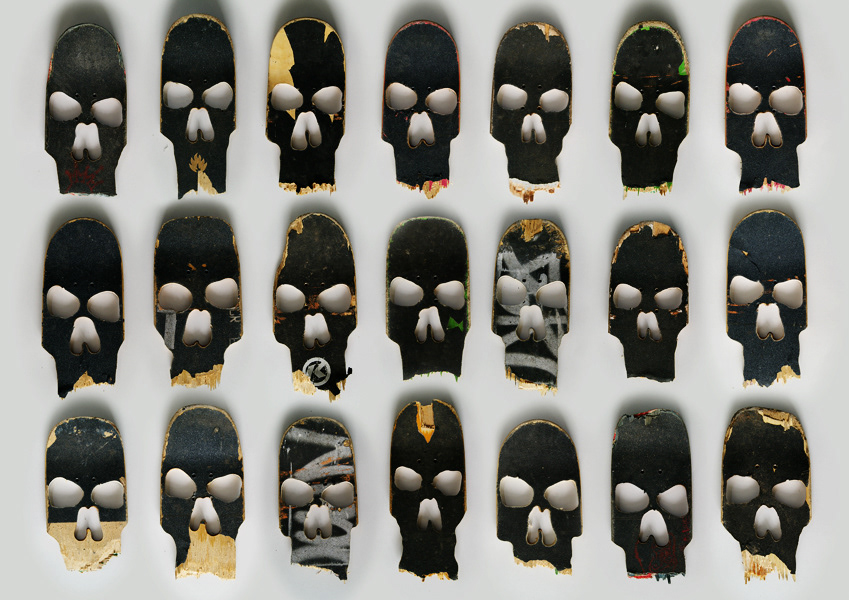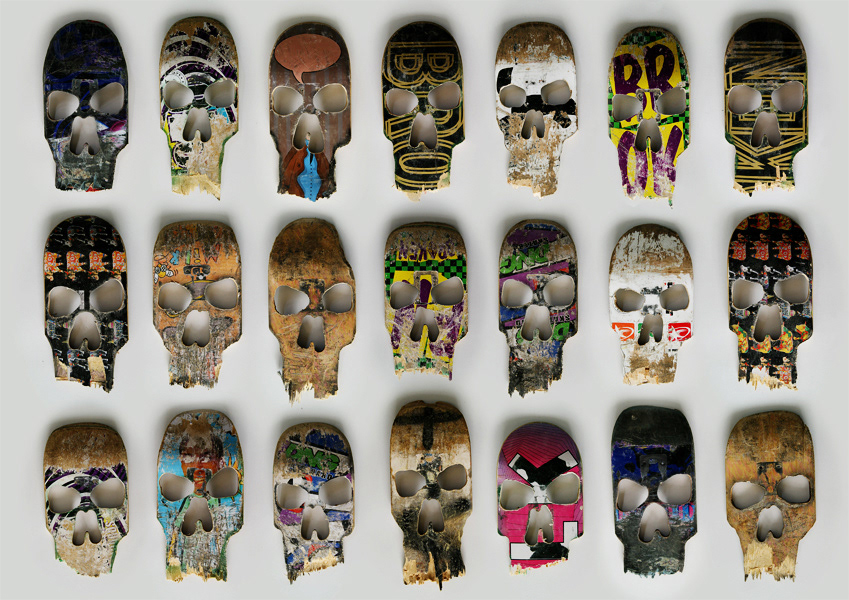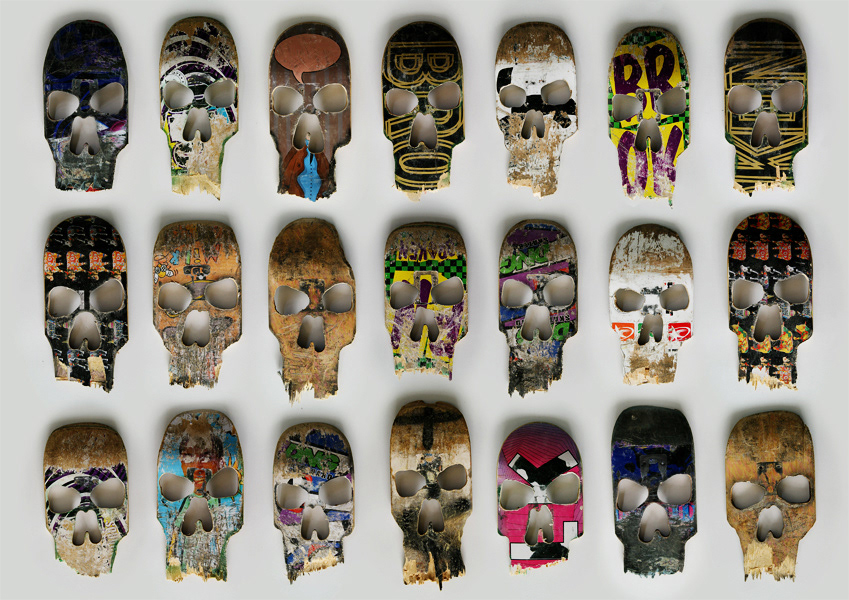 You got a really good communication covering for this. Is this what launch your artistic career?
It is an important piece for me, mainly because it symbolizes the beginning of my initiative in dedicating myself more to arts than to design. But I've had already built a solid career as a graphic designer before the Broken Decks Skulls, with a good exposure of my works in publications, exhibitions, as well as some prizes.
Do you have a certain process when you create an artwork?
It wouldn't be possible for me to explain in a few words how the ideas come to my mind, but from the moment that I visualize an artwork, I challenge myself to materialize that idea. The thing is that many times I have to try techniques that are not really my expertise, so each one ends up being a trial and error process.

Occasional sponsorships help keep us going. Thanks to abs Skateboarding for sponsoring us!
What is the message you want to transmit through your work?
I could say that my art reflects my life experience, whether it's good or bad, but I like leaving the interpretation to the audience. I'm often surprised by how some people are touched by the artworks in ways that I never really thought about.
It's also quite interesting to see how different backgrounds can drive us to different points of view. I know, it's cliché but it is what it is.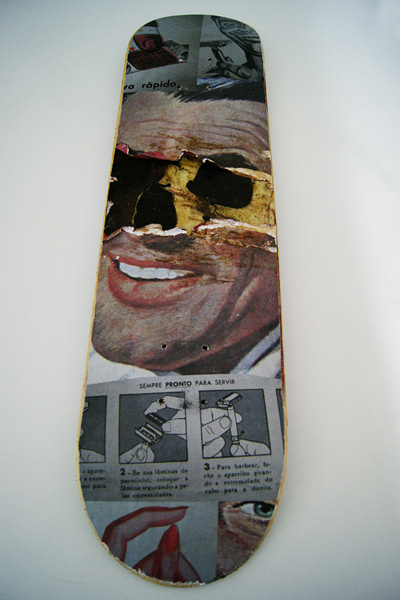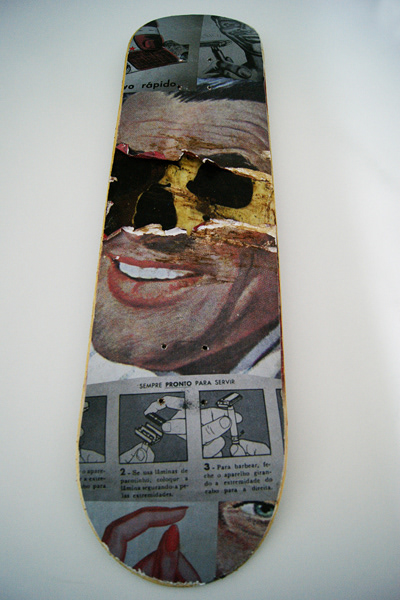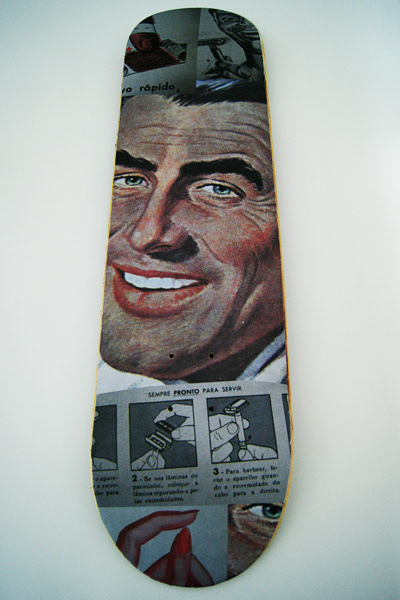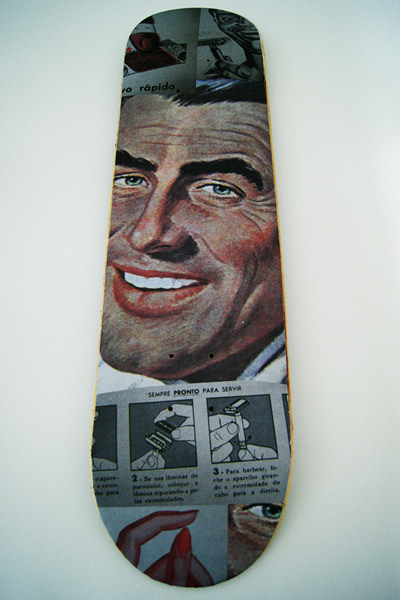 What are your biggest influence in terms of art?
I was heavily influenced by grunge/punk design and its representatives like Wolfgang Weingart and David Carson. I carry the ideal and aesthetic of this line of design with me. I was also very influenced by the bands that I like, mostly rock and roll bands to be honest. All the aesthetics of the Misfits and the excellent arts of Raymond Pettibon for Black Flag, for example, are constantly poking my brain.
Right now, I'm in love again with the typographic work of Mira Schendel.
I can definitely see an improvement in the acceptance of skate as a possibility of artistic expression
Can you give 3 Instagram artists account that influence you the most right now?
I'm not a big social media explorer, I spend most of my time on Instagram watching Hall of Meat héhé.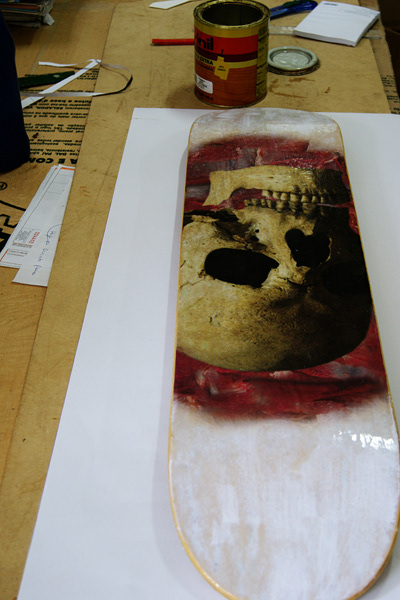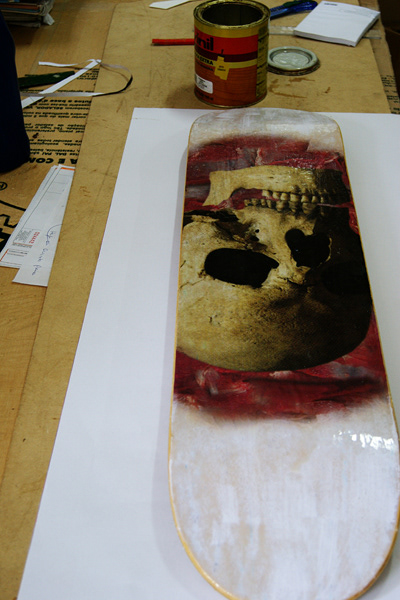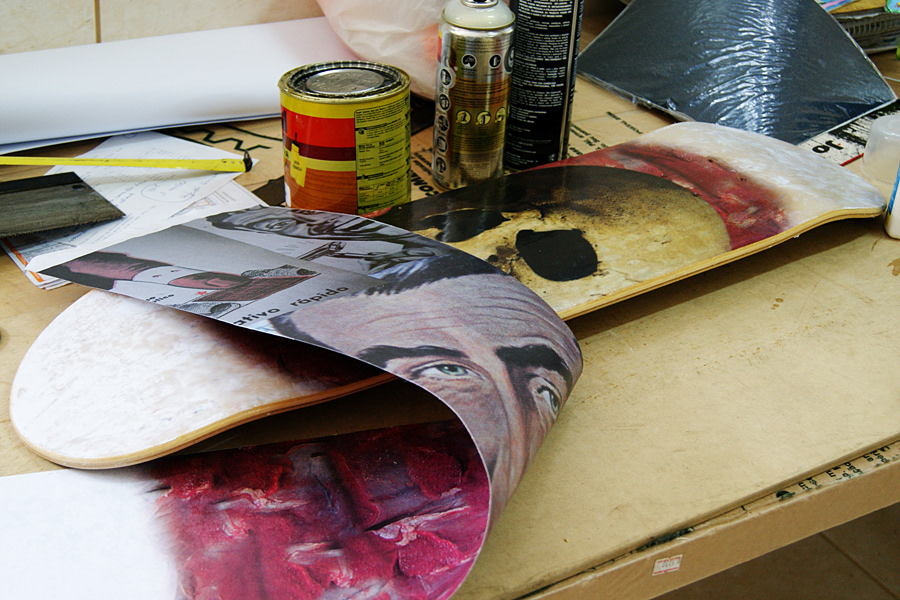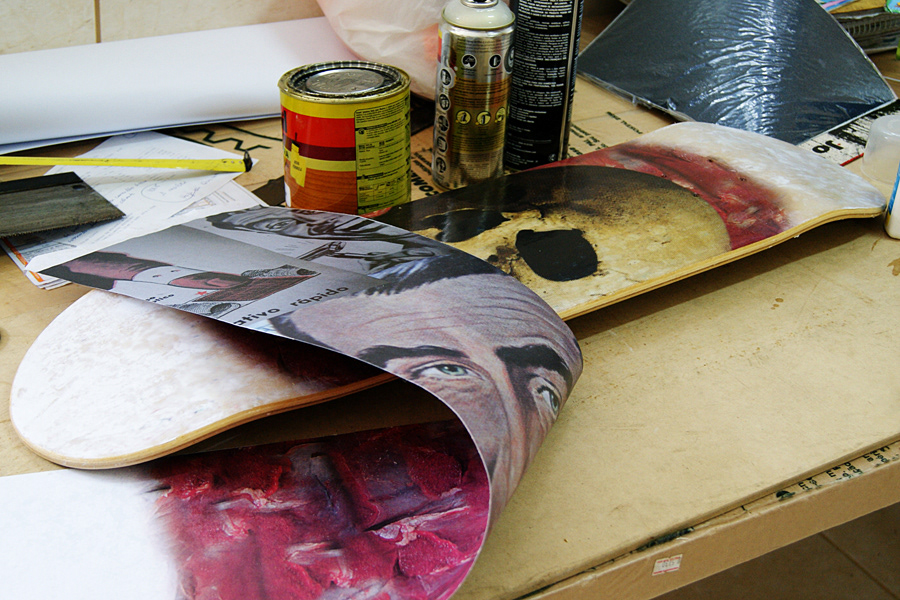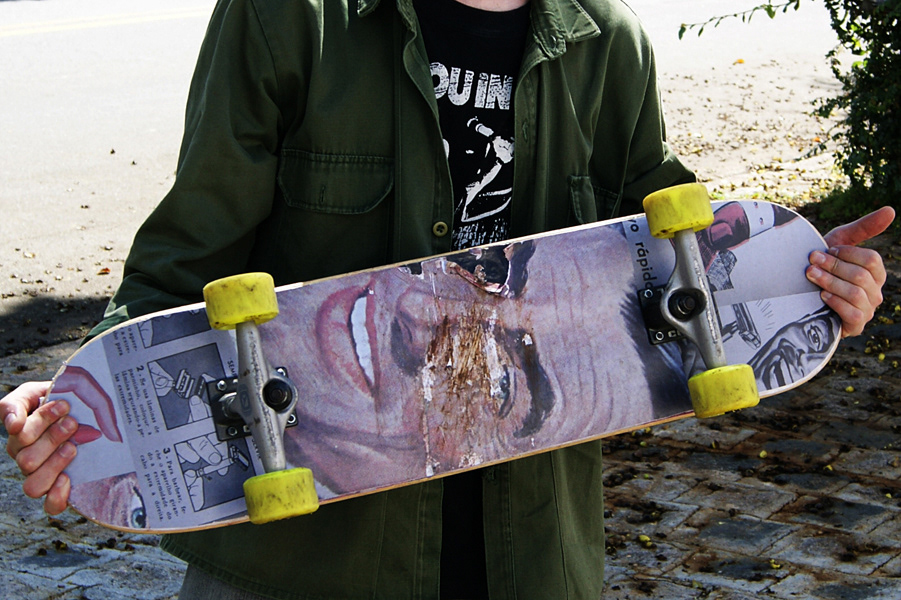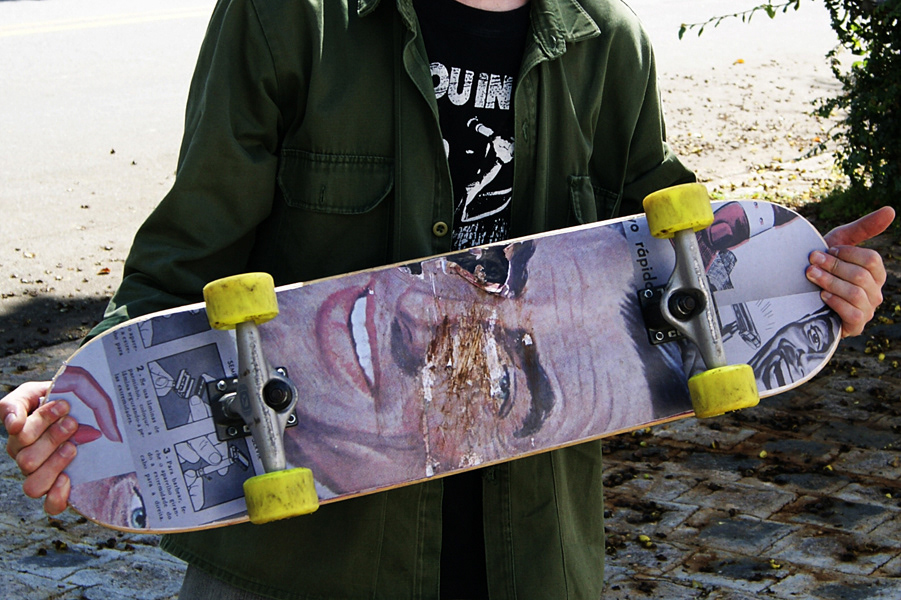 I'd love to have your description of Skate Art? And how do you see it evolve?
Skate is a lifestyle surrounded by art. Skaters have the urge to express themselves either doing tricks or customizing their gear in a unique way. It's common to see drawings, stickers, various grip tape interventions and so many other things that involve art in its many variations, such as fashion, music, graffiti, and graphic design just to mention a few.
Regarding its evolution, I can definitely see an improvement in the acceptance of skate as a possibility of artistic expression with a lot of social and political appeal. I am experiencing this evolution by mentoring art projects for an amazing high school program in Toronto called Oasis Skateboard Factory where "at-risk" students have the opportunity to graduate through an arts/design curriculum related to the skateboard culture.
OSF is just one of the examples of how skate art can be used to empower individuals and change the status quo of the society.
What your new projects coming up?
I've started a series of collages which I intend to keep working on some more time. I also want to apply for residencies and grants to explore a little more the universe of alternatives that art has to offer.
Other than that, I'm working along with Oasis Skateboard Factory in their 10th-anniversary celebration.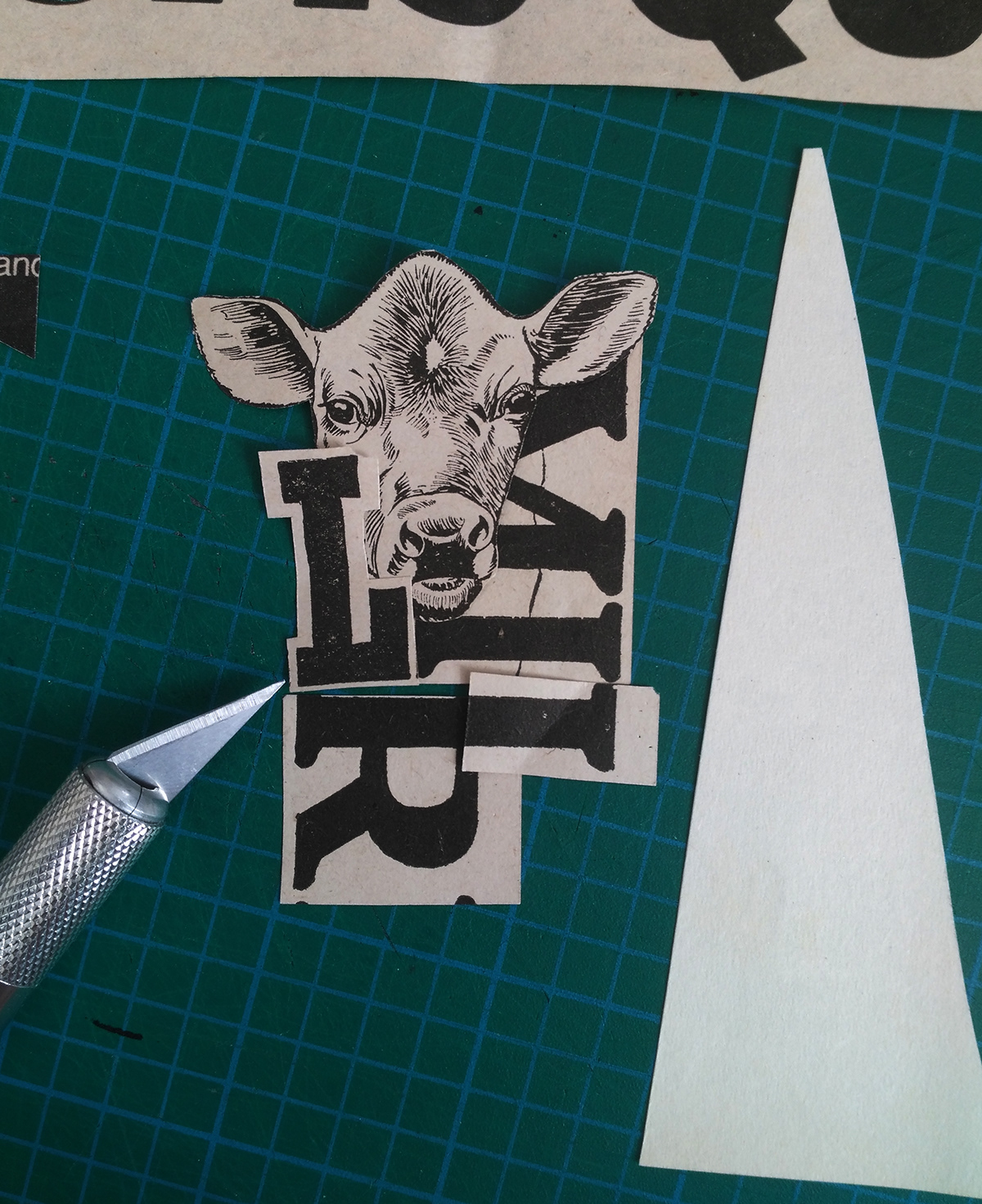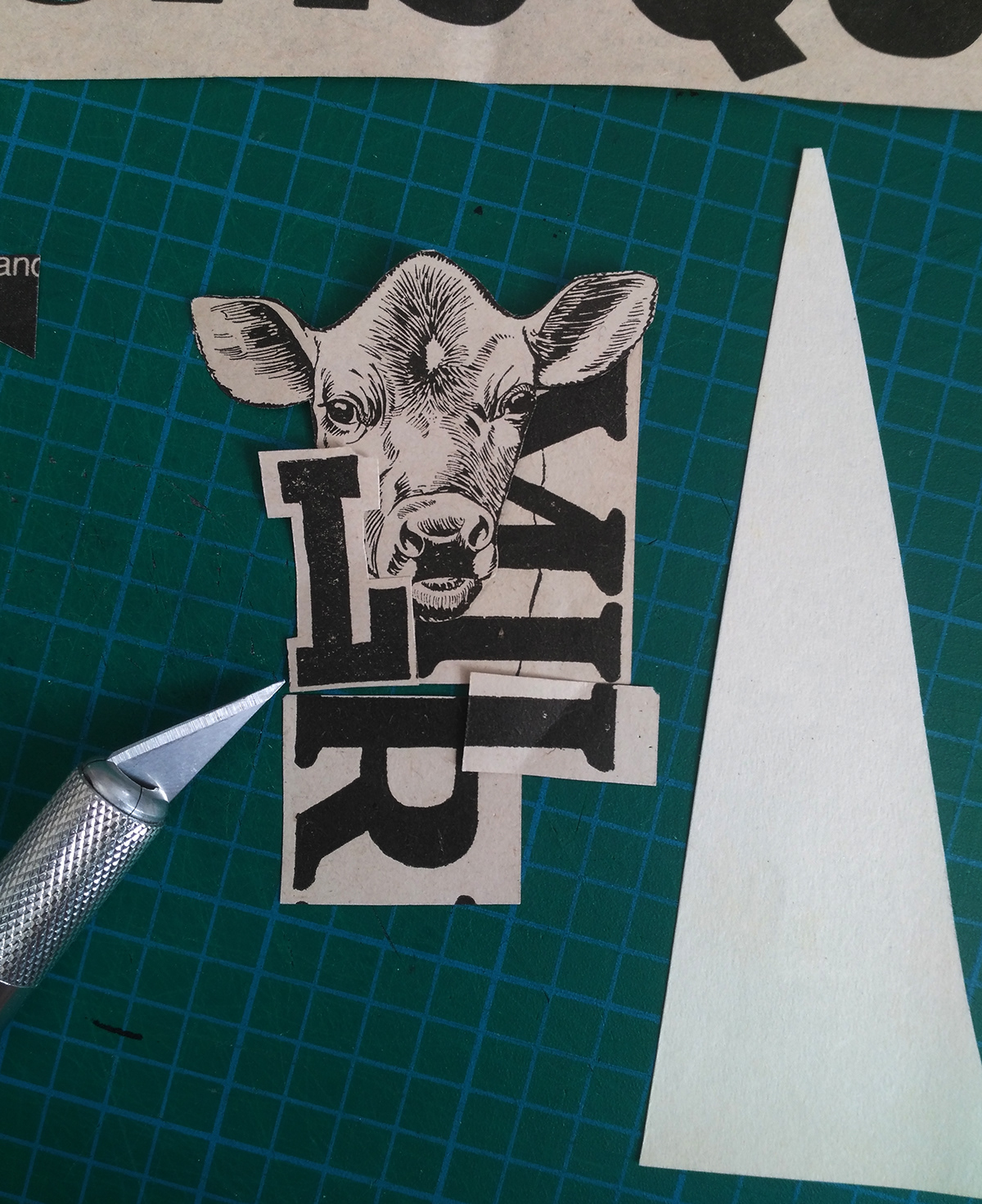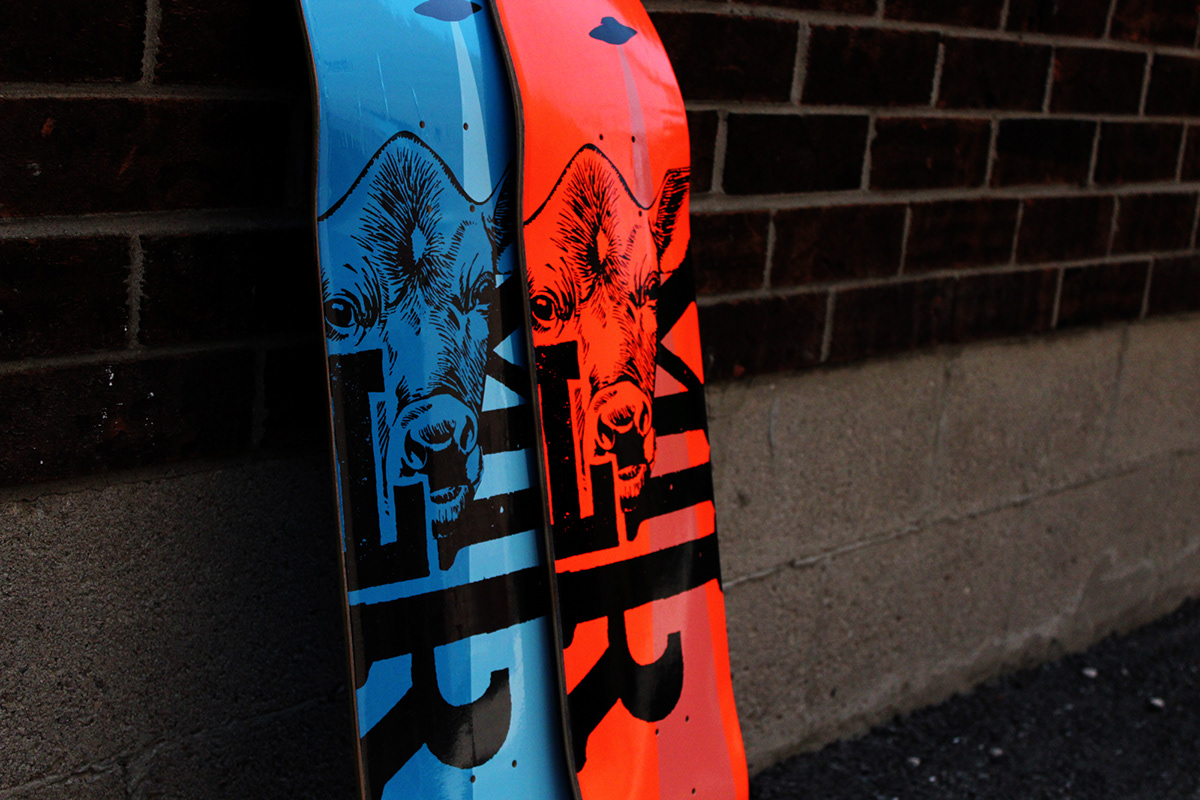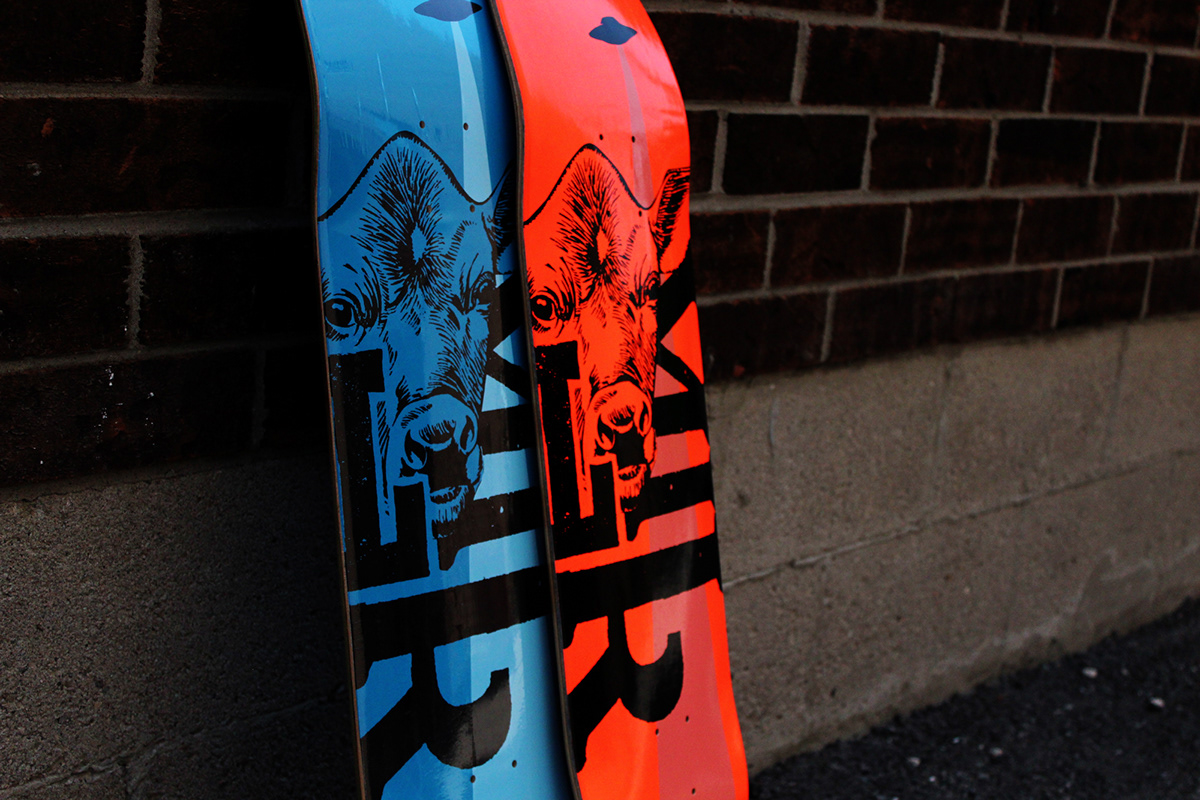 And 9 short questions for short answers:
UNIQUE OR MASS PRODUCTION: Both.
PAPER OR TABLET SHEET: Both.

SKATE & CREATE OR SKATE & DESTROY : Both.
THE BEST SERIES OF ALL TIME: There are too many.
WHAT BOOSTS YOU: Rock'n Roll.
WHAT SLOWS YOU: Stupid people / Politicians.
FAVORITE TRICK: Ollie – simple and magical at the same time.
FAVORITE SKATER: Jay Adams / Duane Peters.
YOUR DREAM: Sorry, I don't have a short answer to this question 🙂
A few last words to say?
Ufff! I've said enough – héhéhéhé – Best! 🙂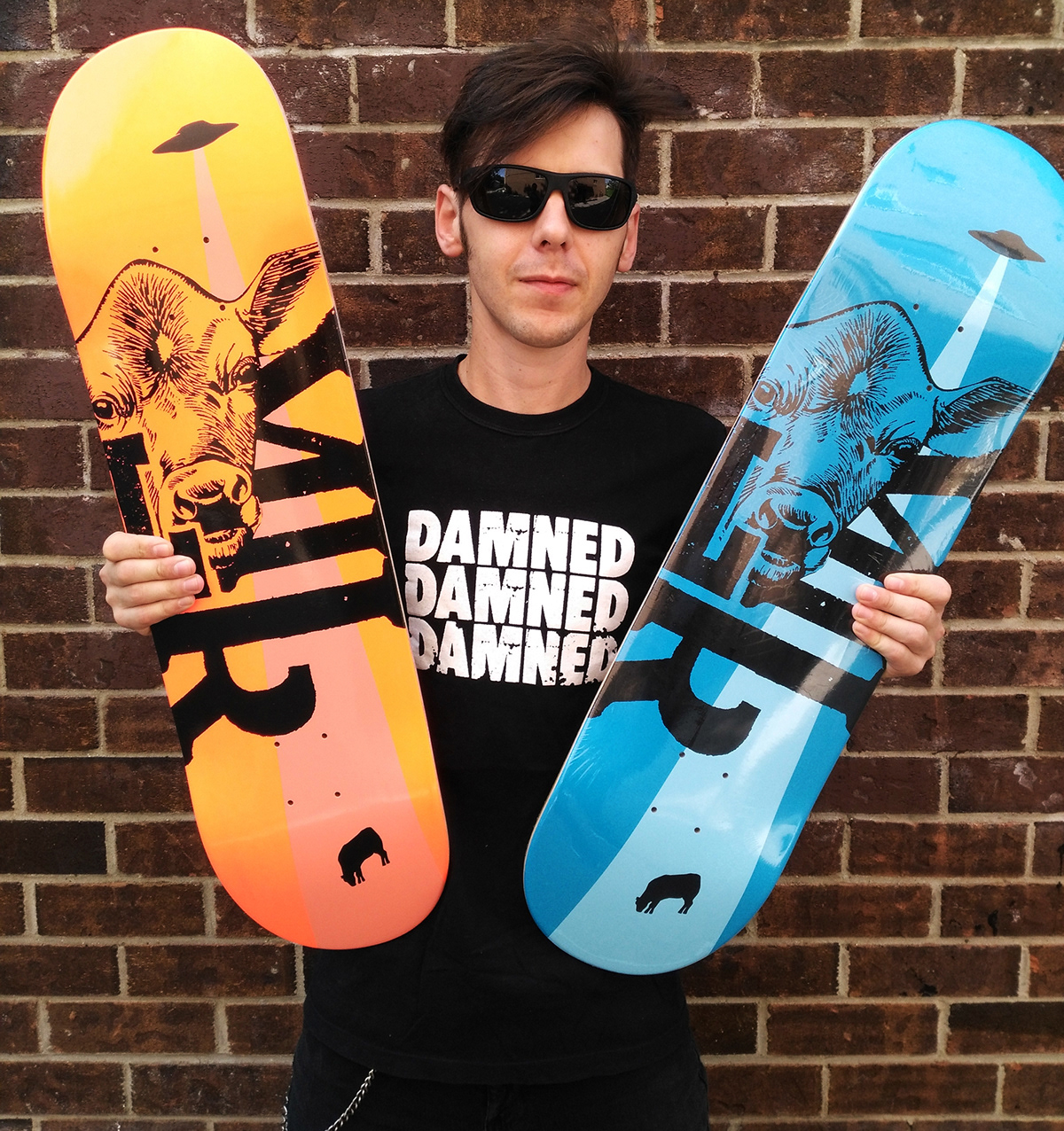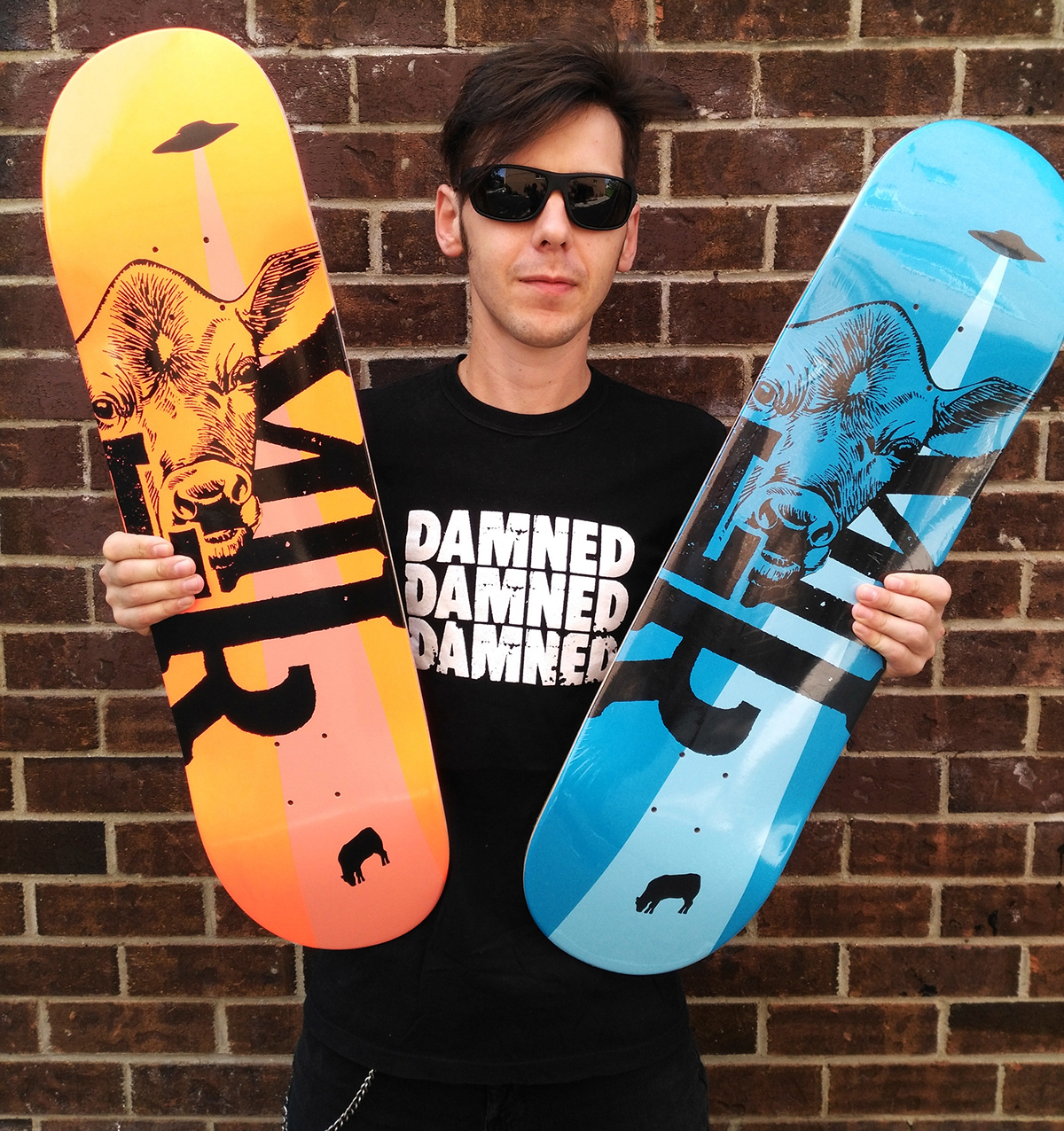 www.betojanz.com
www.instagram.com/betojanz
Sponsored by

Thanks to abs Skateboarding for sponsoring us. ABS is the specialist in the sale of sports equipment in Lyon, Annecy & Grenoble: skateboard, snowboard, technical sportswear, mountain since 1992.