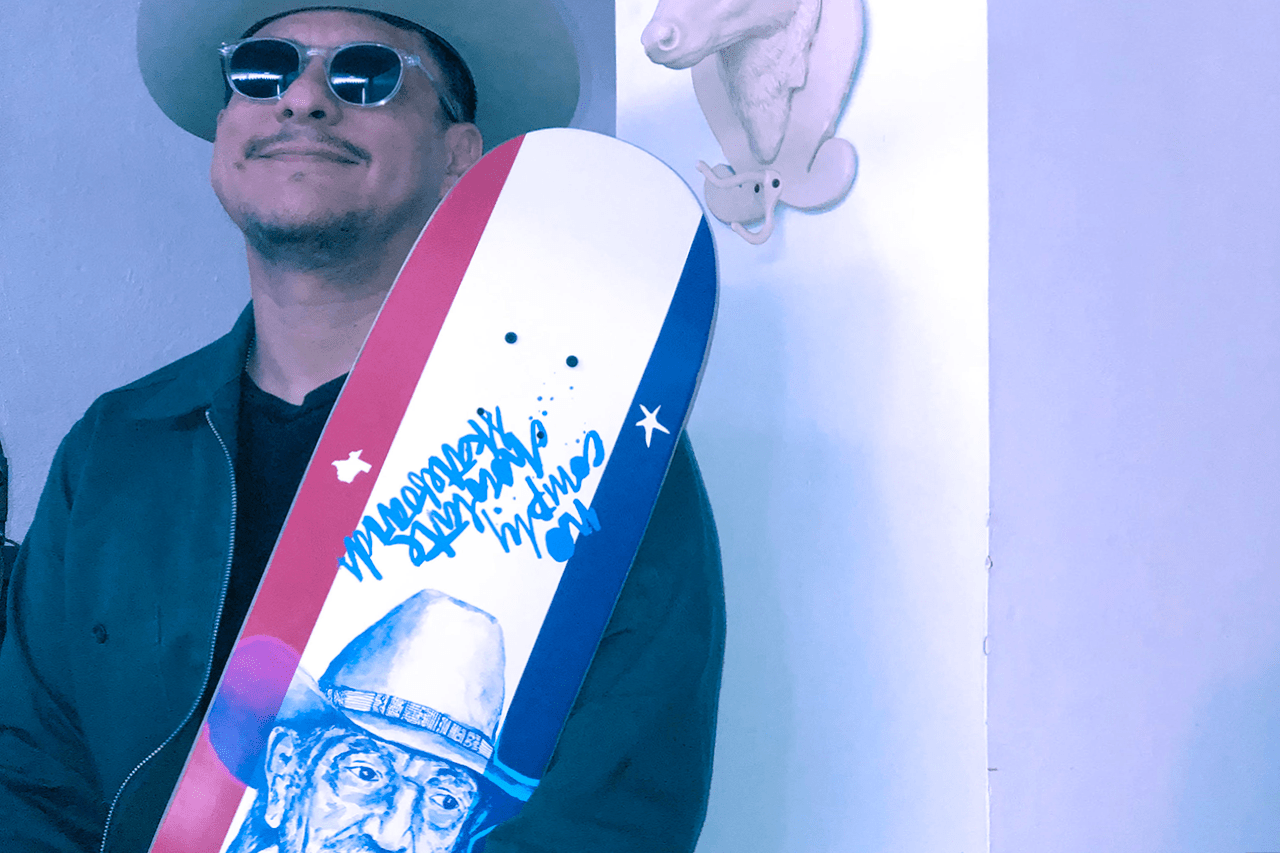 Chocolate Skateboards, Girl's little sister was born in 1994, one year after her. In addition to its incredible name, its team and its mythical videos, the brand distinguishes itself from the beginning by its ultra creative and colorful illustrations, designed by Evan Hecox or Andy Jenkins.
In 1997, Carlos M. Gutierrez joined Girl Skateboard Co. First in the warehouse, then in the sales department in 2003 and after a short return to university, he moved to the creative side of the company and became a designer for Chocolate. Since 2006, he's been the hidden face (or not) of most board designs. He tells us about his career and his work!
Sponsored by

Hello Carlos, happy to have you here! Can you tell us about yourself?
Hello! Thank you for having me. Im stoked to talk to you. Nice to meet you. I am Carlos Michael Gutierrez (CMG) I'm from the Harbor Area of Los Angeles, California USA. I make stuff for Chocolate Skateboards.
Have illustration and art always been an evidence for you? Is it something you studied at school or did you learn it on your own?
I did start on my own. My brother and I would draw for fun. Have contests or just make up fun stuff to do with our art. I did study art in school. That was helpful. I always would get into trouble with my art teachers. I usually just did my own thing.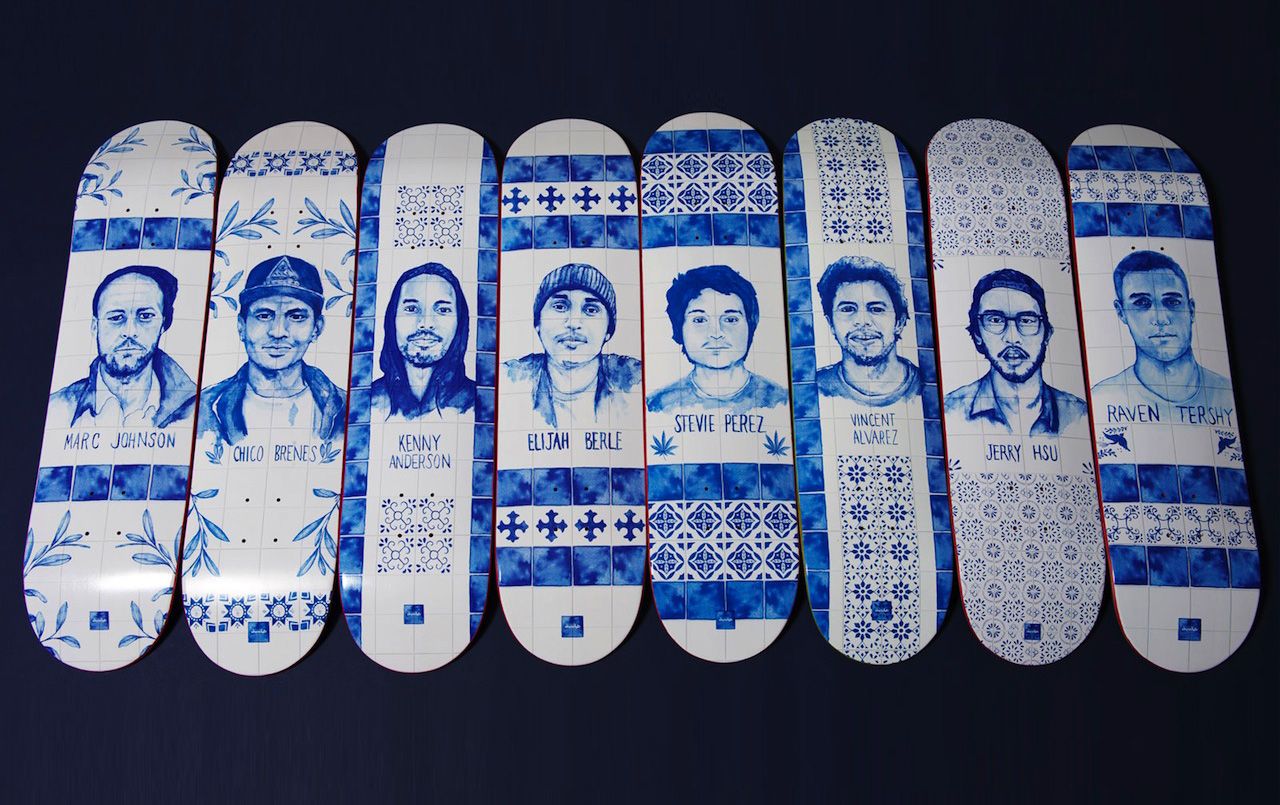 I always would get into trouble with my art teachers. I usually just did my own thing.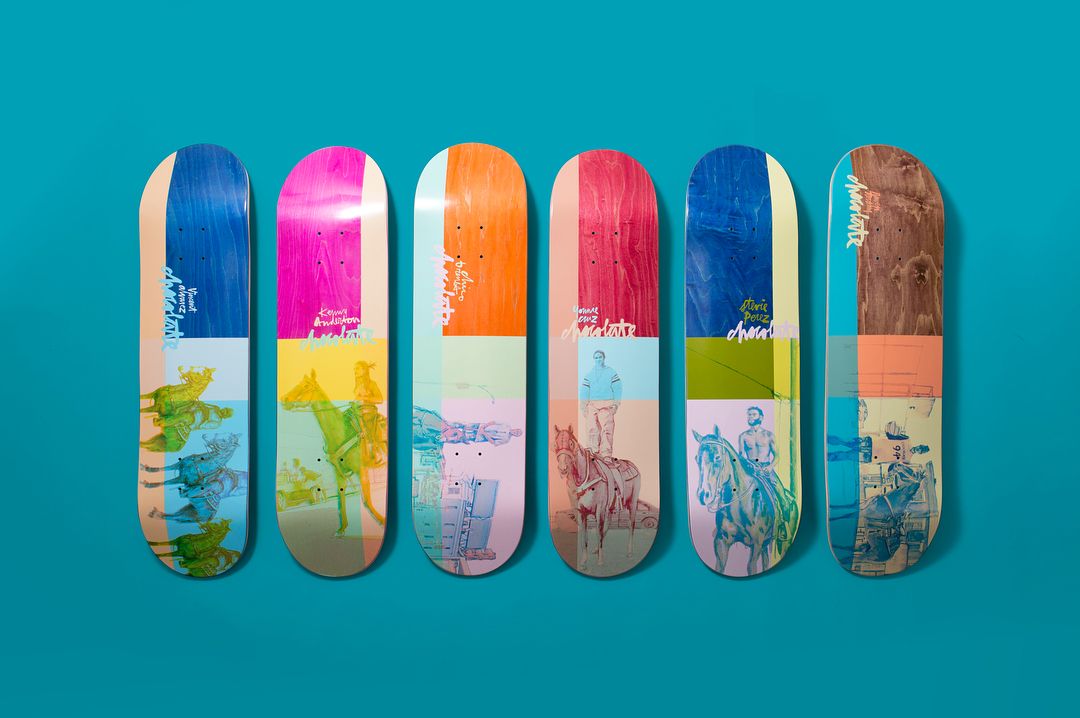 What was the very first graphic design you made? Was it for Chocolate or Girl by the way?
I guess technically my first graphic design was something I drew for a soccer team in my neighborhood. One of the guys knew I could draw so he asked me to draw a bulldog it for their team mascot. Thats when I realized it could become a thing for me. I'm so stoked that he asked me to do that. A few years later in High School is when I linked up with Rick and Meg and did stuff for Girl.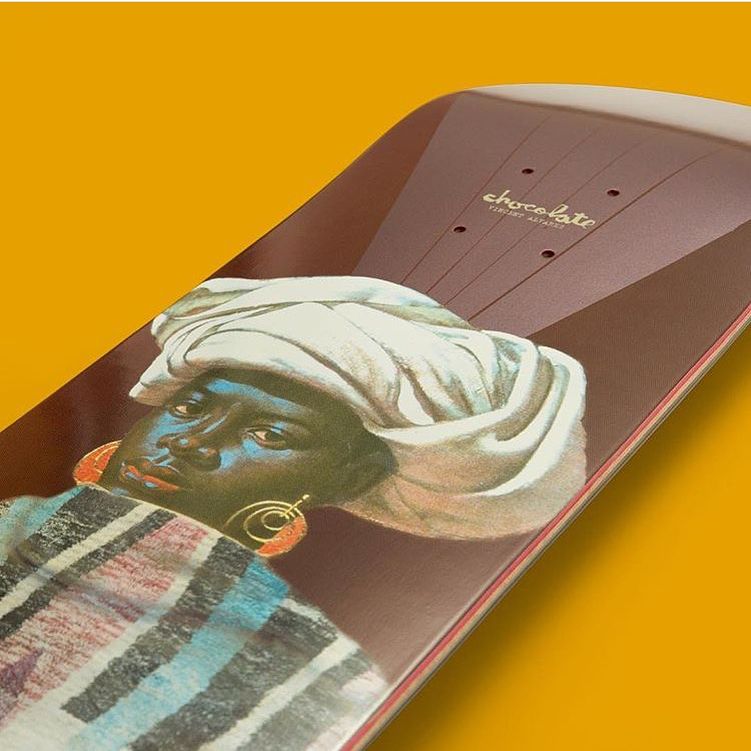 Occasional sponsorships help keep us going. Thanks to ABS for sponsoring us!
My first big visual slap in the face of your work was the Tradiciones series, released in 2016. At the time, I didn't know at all that it was you who was behind it and I really thought Wow, this is a surgeon's job, everything is thought out in detail.
In addition to the quality of the drawing, the mention of Chocolate is superbly integrated, the apparent wood has a color that matches perfectly with the tones of the illustration and all this pushed to the point of shooting the series on a multicolored jute mat that fully enhances the series. Can you tell us more about the whole process of creating this series?
That one was fun to do! Im glad you dig it! I was trying to share some visuals and celebrate some Latin traditions and also celebrate Chocolate's insane graphic history with some cool watercolor painting styles.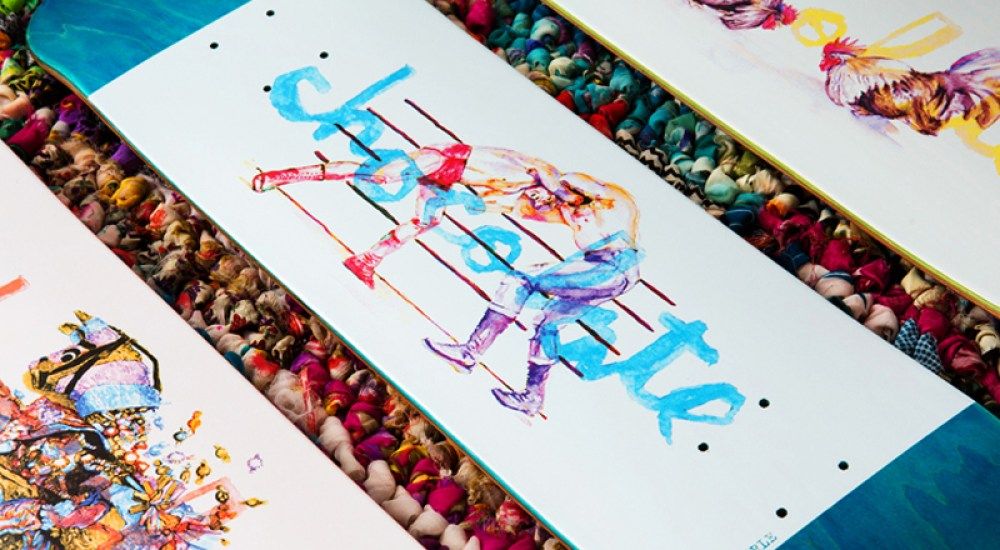 I feel like Ive been making graphics of some kind forever. I don't know, has it been that long?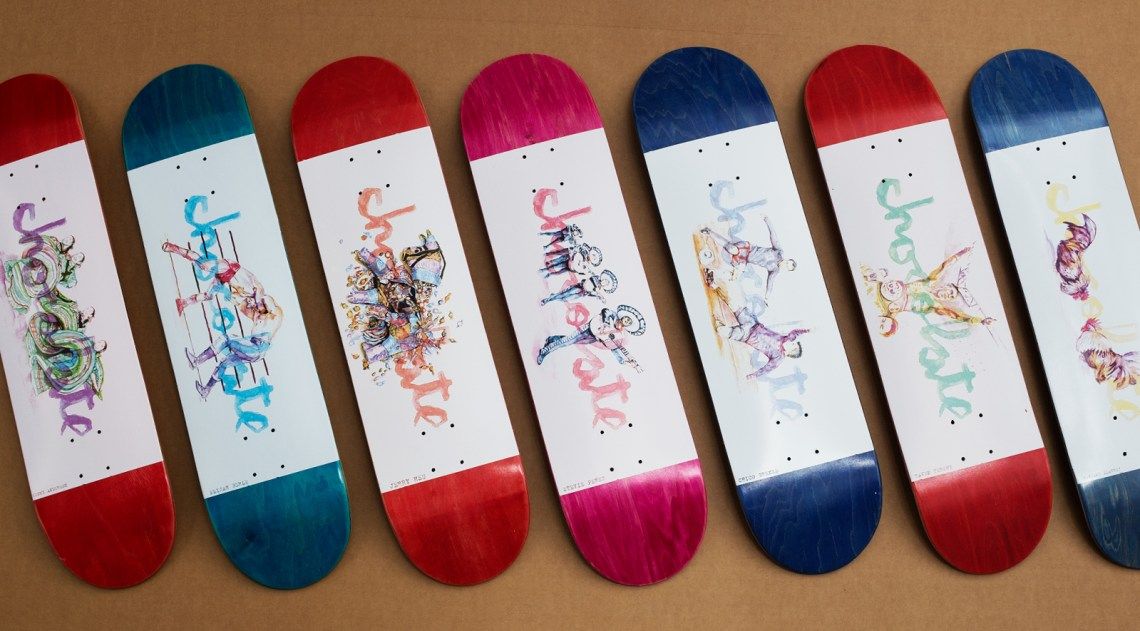 How would you describe the artistic direction you give to Chocolate Skateboards? Does it evolve every year?
I'm not really sure how I would describe it. I mean I am definitely trying to go about it in a respectful way. Keeping the OGs involved whenever possible. Also pushing it forward organically. It seems like things are easier when I don't force it. I pay attention to where things need attention, then I work on that.
When Andy Jenkins (founder of the creative collective The Art Dump and creative director of Girl's brands from 1993 to 2016) took you under his wing in 2006 (?), how did it go ? It's the dream and everything is going well?
Yes, working with Andy everyday was a very special thing. It was great to see and learn things from the perspective of a mind like his. I learned how to be myself and put that into my designs and most importantly, that there was a reason I was there.
It was a dream come true to be doing things with Andy and The Art Dump.
Do you find yourself working for Chocolate and Girl as much as for Fourstar, Royal and Lakai? When do you find yourself working on Chocolate in particular and why?
I mostly work on Chocolate stuff. I do a few Girl things here and there. Not so much the others. I've tried, but it seems my style lends itself to Chocolate best. I was actually born in the Chocolate warehouse so it's in my blood. Haha!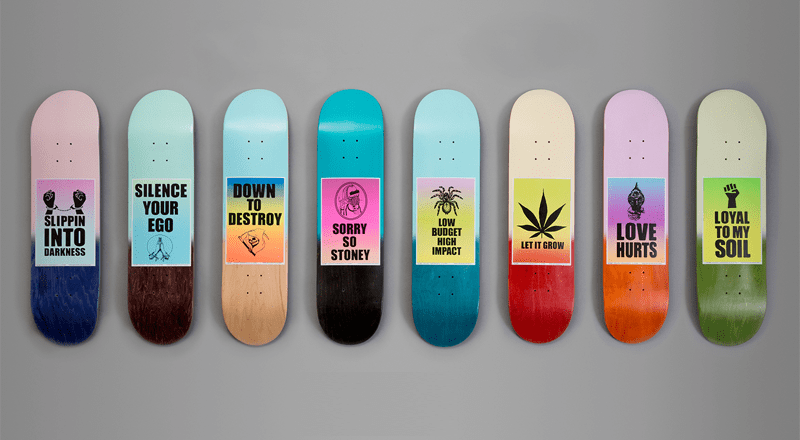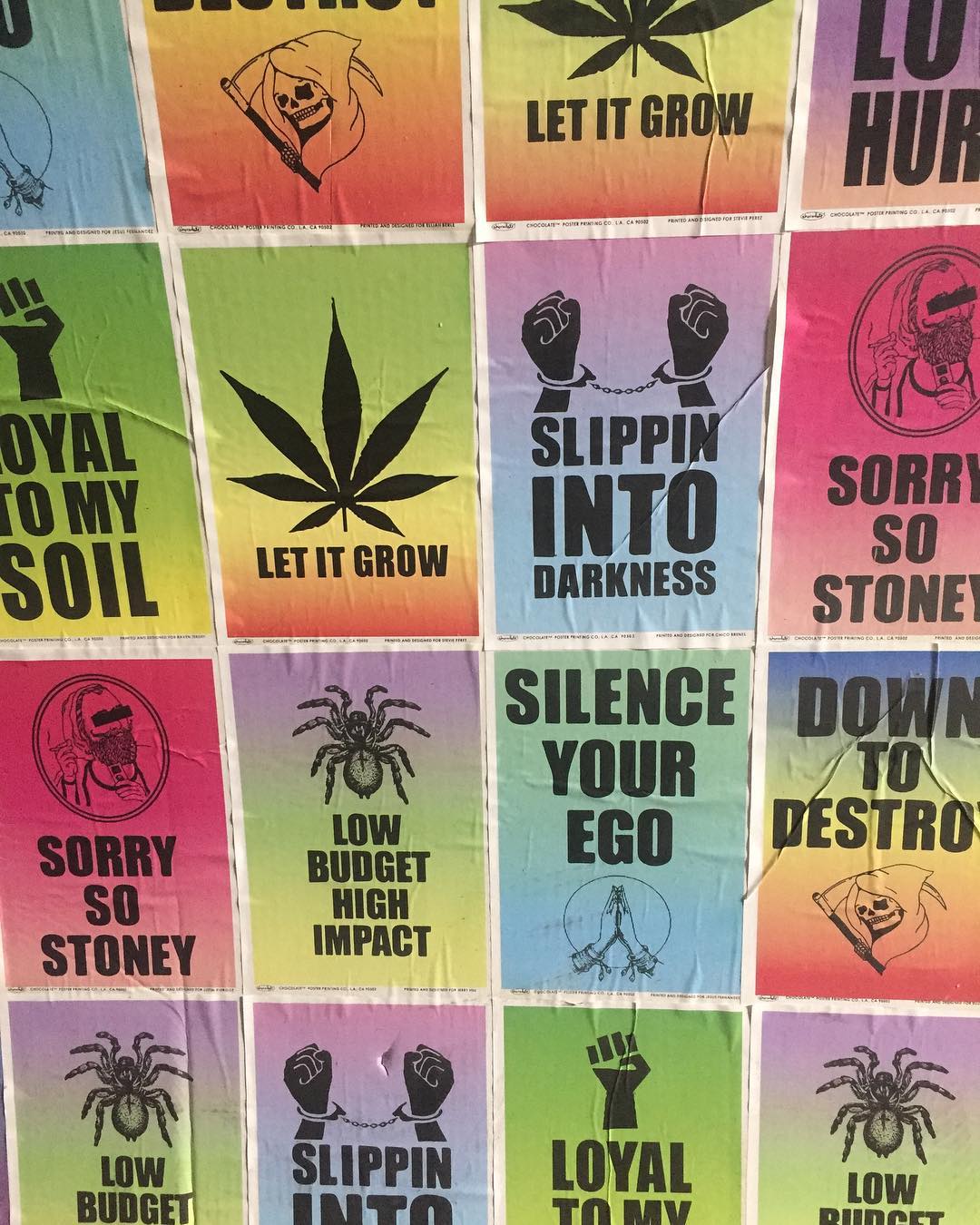 By the way, what does your job consist of every day??
It differs from day to day. Really, whatever they need I'm happy to do. If one thing is for sure in the Art Dump it's to be ready for anything. One hour you might be taking product photos then the next building a giant OG Doll. So Stay ready.
When you launch a new series, how does it go ? Is there a well-defined creative process?
I don't really have a well defined creative process. I just think oh wow that would be cool for a series. I just keep my mind open and don't force things. Thats when things really flow the best for me. When I'm not worrying about it.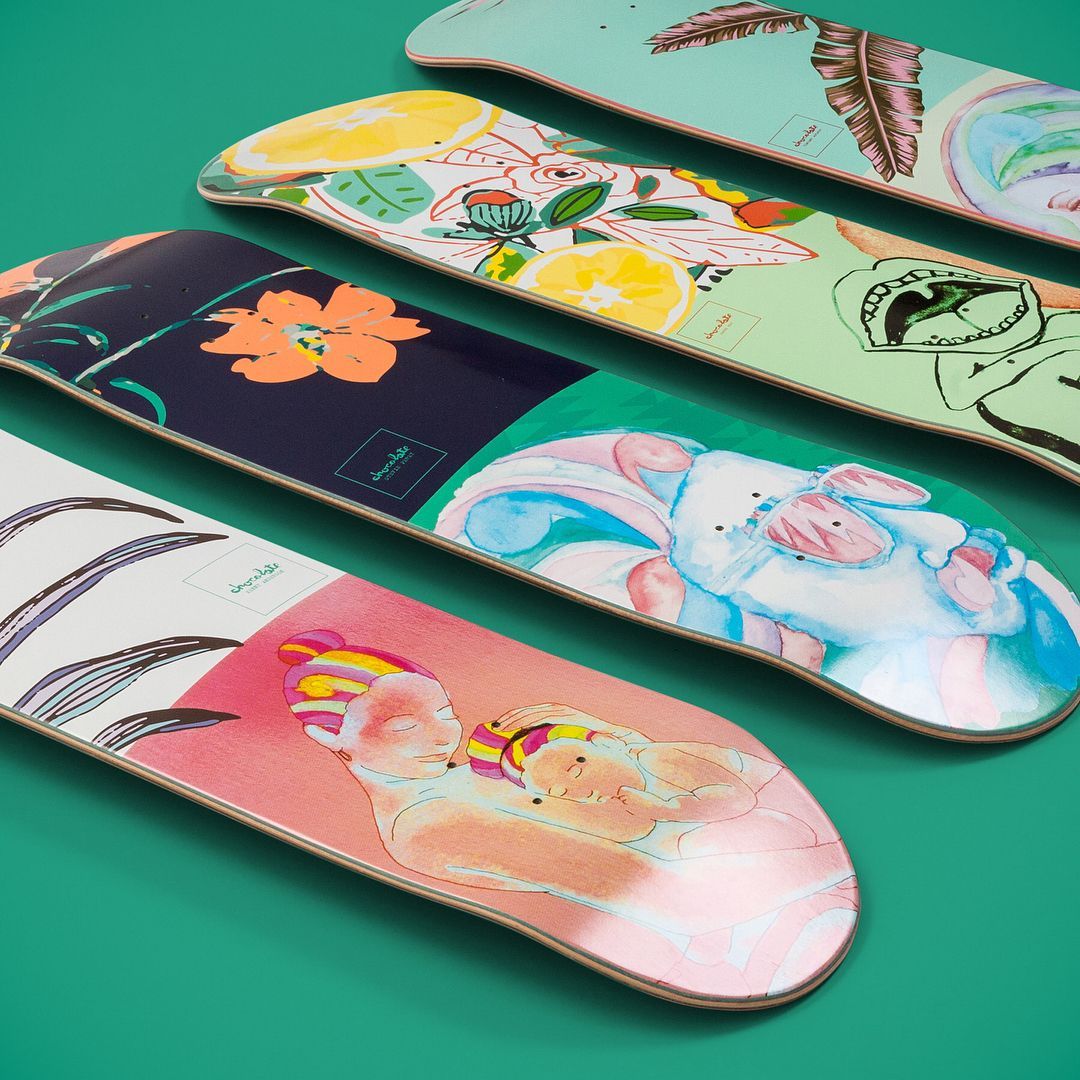 What is the series you created that you are most proud of?
I'm most proud of all of them. I'm stoked I get to do this. I was supposed to be a longshoreman.
What inspires you right now? Any particular artists/illustrators?
Jaime Munoz, Raymond Pettibon, Shabazz Palaces, My City, My family all inspire me right now.
Have you been creating graphics for over 15 years now right? Do you see an evolution in graphics or techniques?
I feel like Ive been making graphics of some kind forever. I don't know, has it been that long? I've always created and I definitely see an evolution in graphics. I really enjoy the way artists have put more life into graphics, more personal things, also see the respect and traditional techniques still being relevant in the creation of skateboards.
Do you skate a lot these days?
Not really. Last session popped my elbow. These days I'd rather play guitar. Haha!
What are your upcoming projects and what are your wishes for this year?
I wish for everyone to be healthy and happy and to stay creative! I've really been enjoying seeing what people have been doing to stay busy during this crazy time. Keep going, y'all!
Upcoming projects are exciting! We're doing some incredible collaborations. But I can't share just yet. Stay tuned! Sorry.
Tu préfères :
UNIQUE PIECES OR MASS PRODUCTION: Unique pieces.
SHEET OF PAPER OR GRAPHIC TABLET: Sheet of paper.
SKATE & CREATE OU SKATE & DESTROY: Down To Destroy!
WHAT BOOSTS YOU: Love and support.
WHAT SLOWS YOU DOWN: Haters.
FAVORITE TRICK: Christ Air.
FAVORITE SKATEBOARDER: Rick Howard.
YOUR DREAM: To be happy.
Thank you very much for all these answers! One last thing to say?
Thank you. Peace !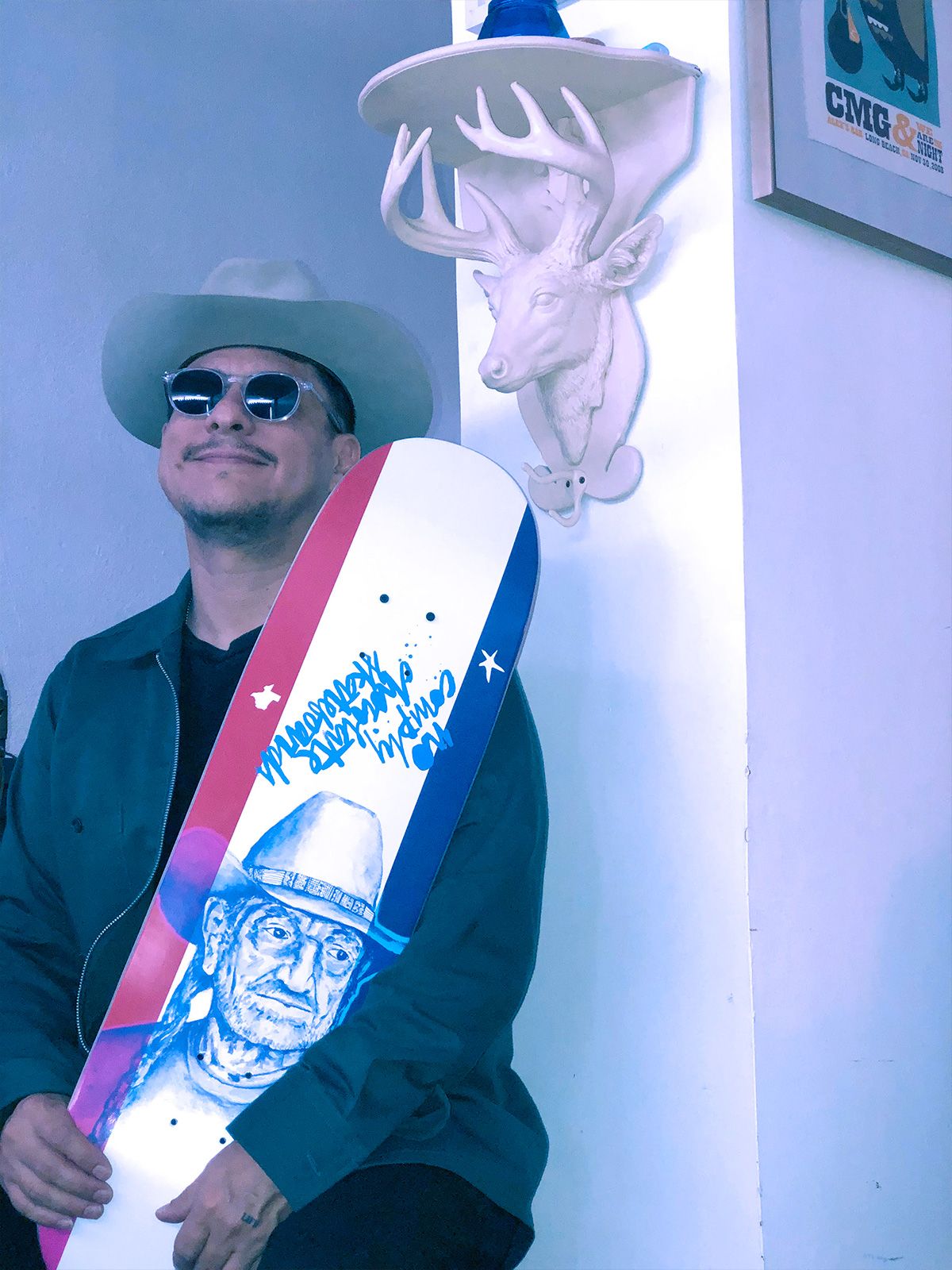 www.instagram.com/cmglovesyou
www.cmglovesyou.bandcamp.com
Sponsored by 

Merci à ABS for sponsoring us. ABS, it's 4 skateshops in Lyon, Annecy and Grenoble.