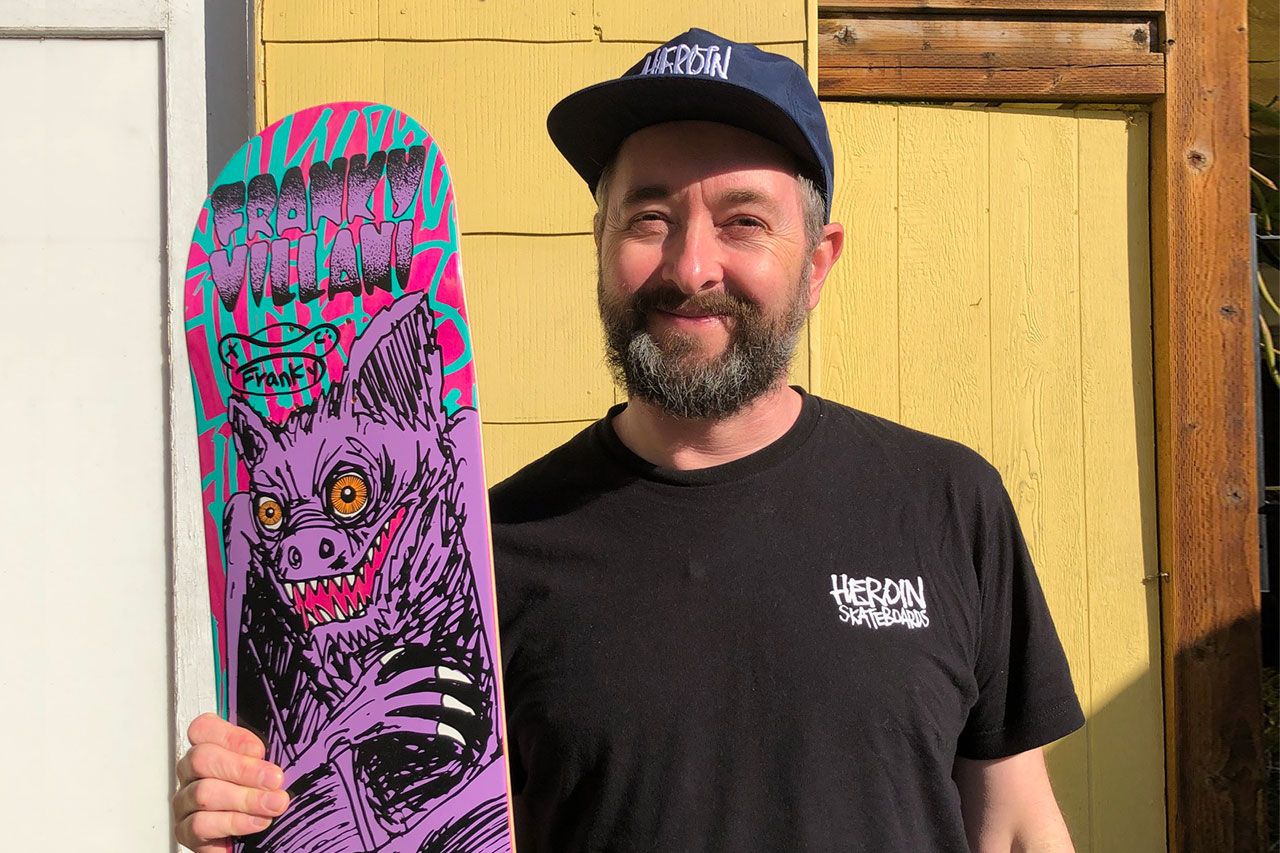 If you've been skating since the 2000s, the chances are slim that you haven't stumbled upon one of the boards designed by Mark "Fos" Foster. The illustrator from Lancashire, UK has created a staggering amount of graphics over the last 20 years for Deathwish, Toy Machine, Heroin (his own brand) and many others.
He has clearly found his place in the Hall of Fame of the greatest skateboard illustrators and I couldn't wait to ask him how he got there, the hardships and satisfactions, what drives him today and his work as AD of Heroin Skateboards!
Sponsored by

Hello Fos, I'm really honored to have you here! Before making hundreds of skateboard graphics, you started by studying design in London. Is it something that attracted you before art?
I have sketchbooks that my mum save from when i was four or five. My dad was an artist, so it's something that I have always been attracted to. My dad actually told me to become a plumber or an electrician, he knew it was difficult to make a living as an artist, but I didn't want to do any of those things back then, the only thing I wanted to do was art really, and I wasn't sure what, design, illustration, painting, made sense that I ended up doing skateboard graphics.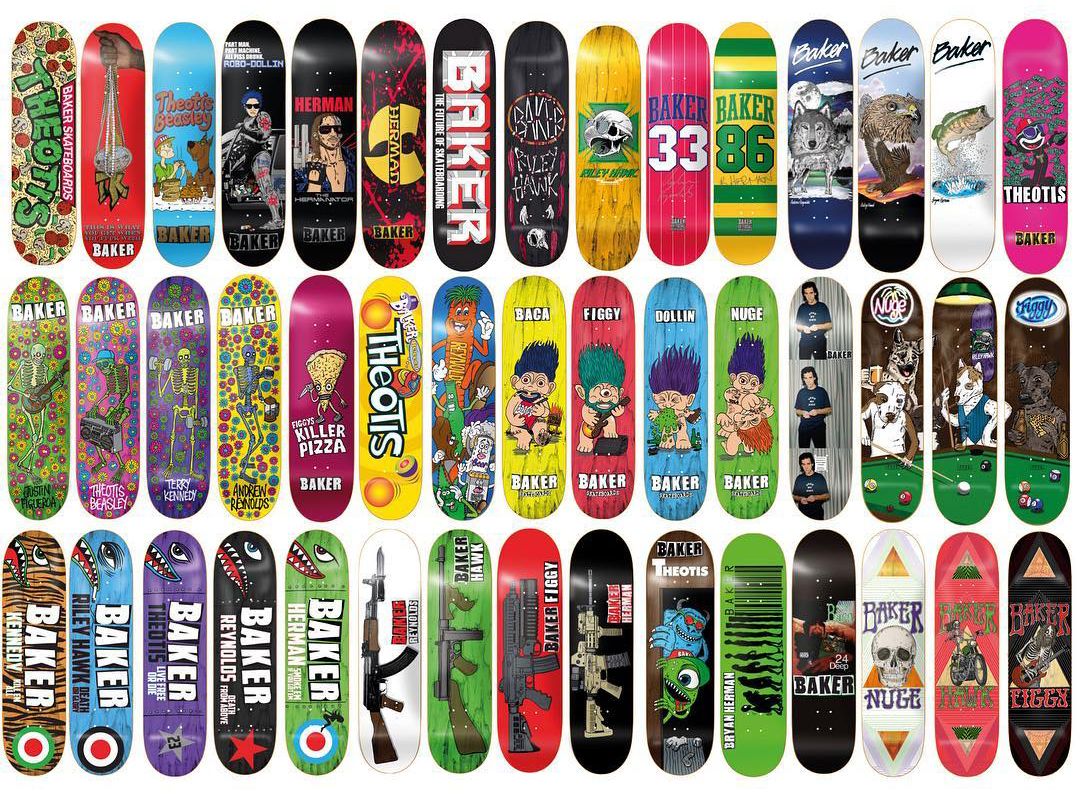 While I was there my lease ran out on my house, so I had nowhere to live, and then my girlfriend at the time broke up with me.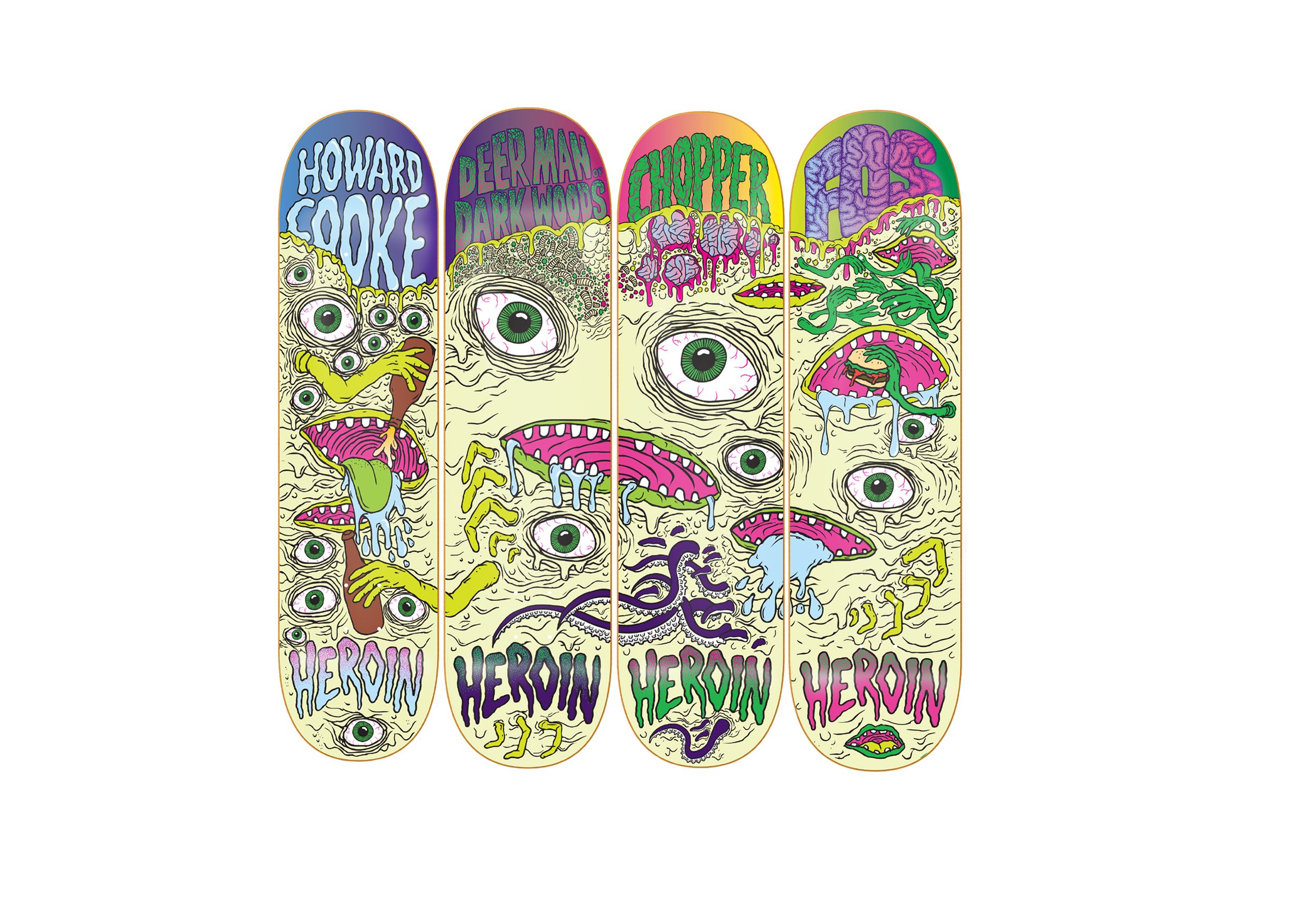 After your studies, you start selling at Slam City Skates in London? What was it like at that time? I guess there was only one shop then? Slam City Skates has now 3 skateshops in London and a big e-commerce website that sells more than 300 brands of skate.
I worked in the shop a couple of times, but it was mainly just covering when my friends weren't able to come to work, my full time gig at Slam was in the warehouse. I'd finished university and wasn't sure what I wanted to do, I was working one day in the shop at Slam and a call came in from the warehouse asking if anyone wanted to come in and take a bunch of DVS shoes off a lorry, so I said yeah.
Did you immediately enjoy selling or did you see it as a food job? What does your job at Slam City consist of?
I started out taking shoes off a lorry and then ended up becoming the sales manager and worked there for 5 years. I had a laugh and learnt a lot about the skateboard industry.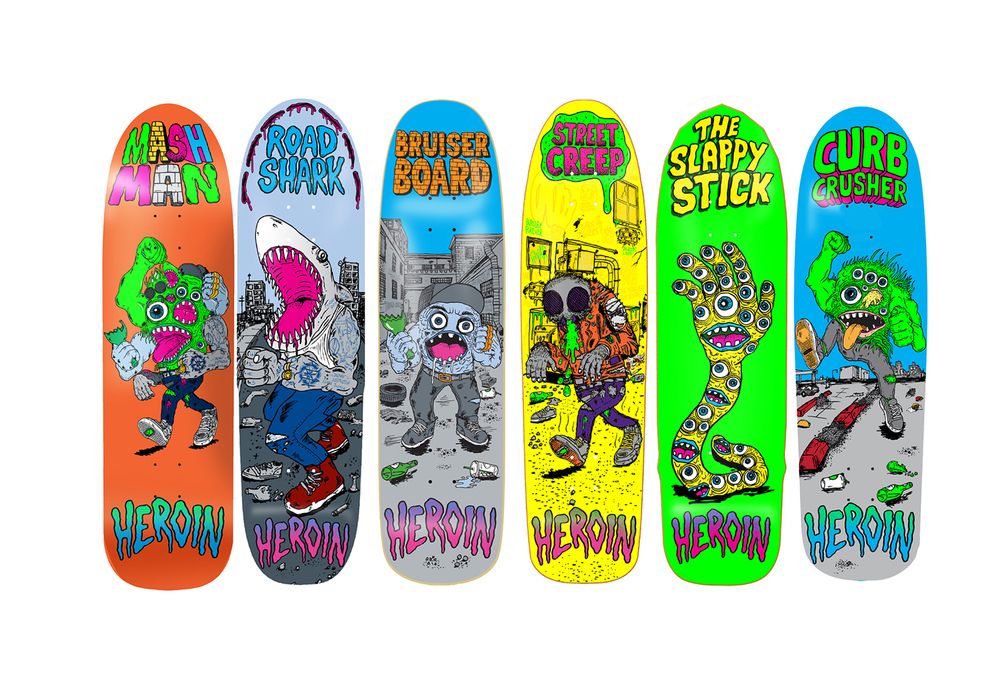 At the same time, you launched Heroin Skateboards in 1998 (because skateboarding is your Heroin), why? Were you alone to launch your brand or were you accompanied?
I broke my wrist one day skating and ended up in Hospital. I was lying in the bed for four days waiting for an operation to have pins put into it. While I was there my lease ran out on my house, so I had nowhere to live, and then my girlfriend at the time broke up with me and I decided "Fuck it, I'm going to start a skateboard company, I'm gonna call it Heroin".
By the way, your very first skateboard graphic design was made for Heroin or you had already done some before? What does it look like?
I'd done a series for Toy Machine a few months earlier.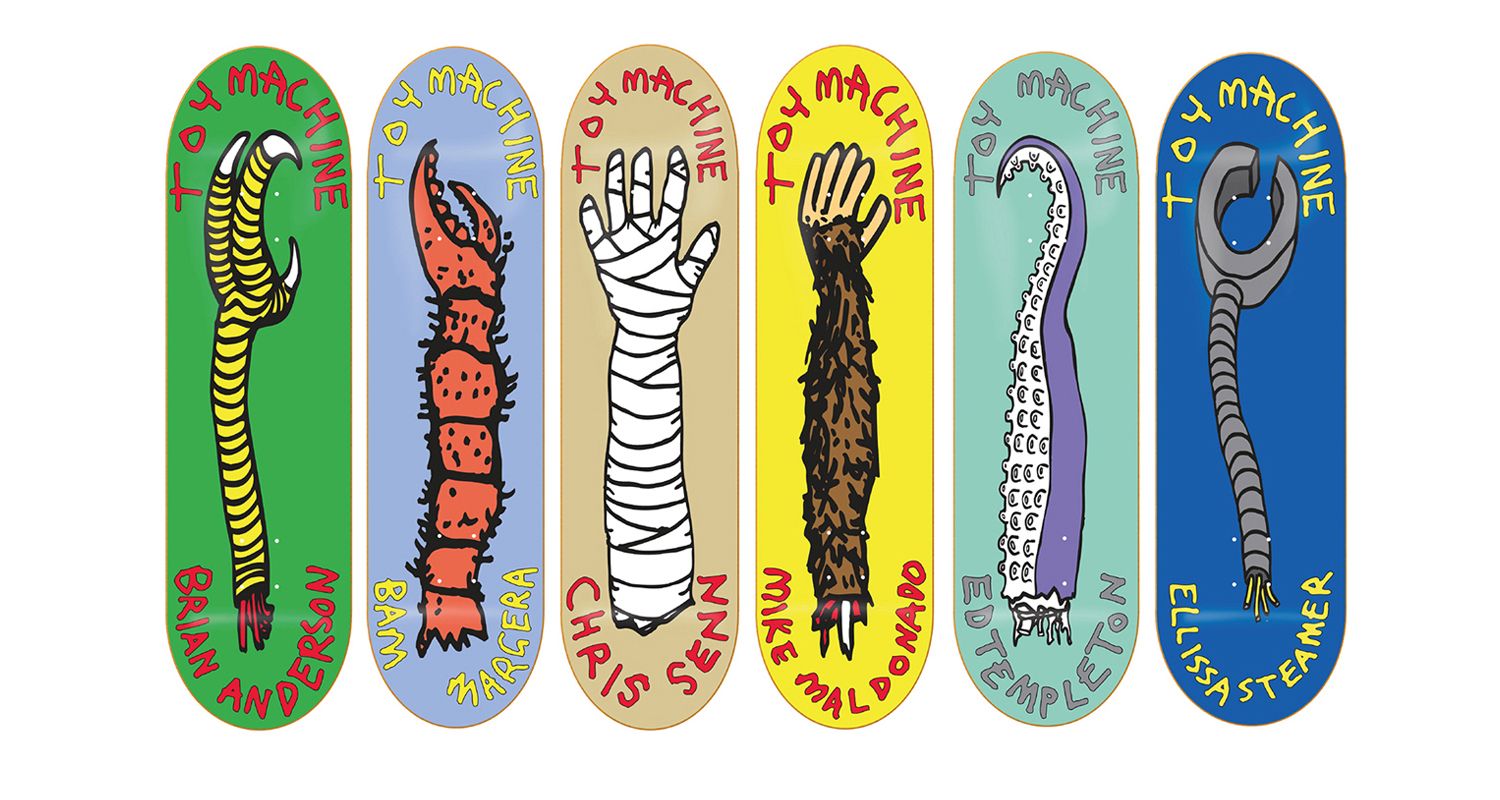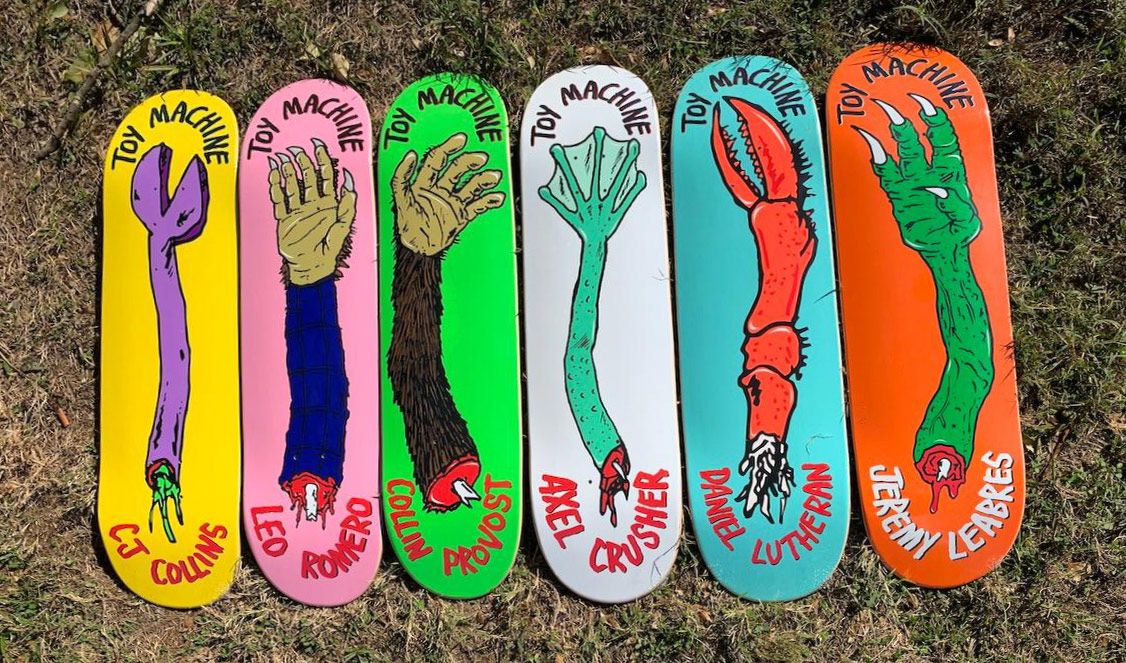 Occasional sponsorships help keep us going. Thanks to ABS for sponsoring us!
After a few years at Altamont Apparel, you took off in 2011 for L.A. What made you decide to leave London for Los Angeles? Was it easy or was it a long process?
They wanted me to move to the USA in 2006 when we first started Altamont. I don't think I was ready at that time though, I travelled to LA a bit over the next few years and me and my girlfriend at the time broke up in 2010, so I figured why not give L.A. a go. I really like L.A. I'd had 38 years of rain in Manchester and then London, so I figured if I didn't move to L.A. while I had the chance, I might never move there.
Altamont got my work visa, and then two weeks after moving to L.A. to work for them I met the girl who I've now been married to for seven years.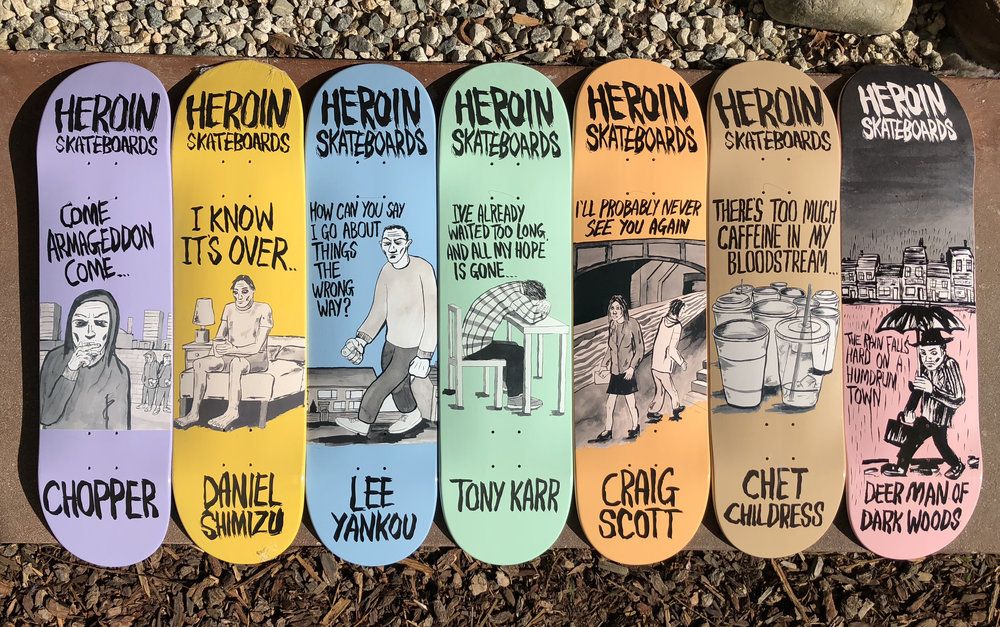 Everything I draw looks like a Heroin board, if you look through my sketchbooks, its pretty easy to see the creative direction of the brand through those.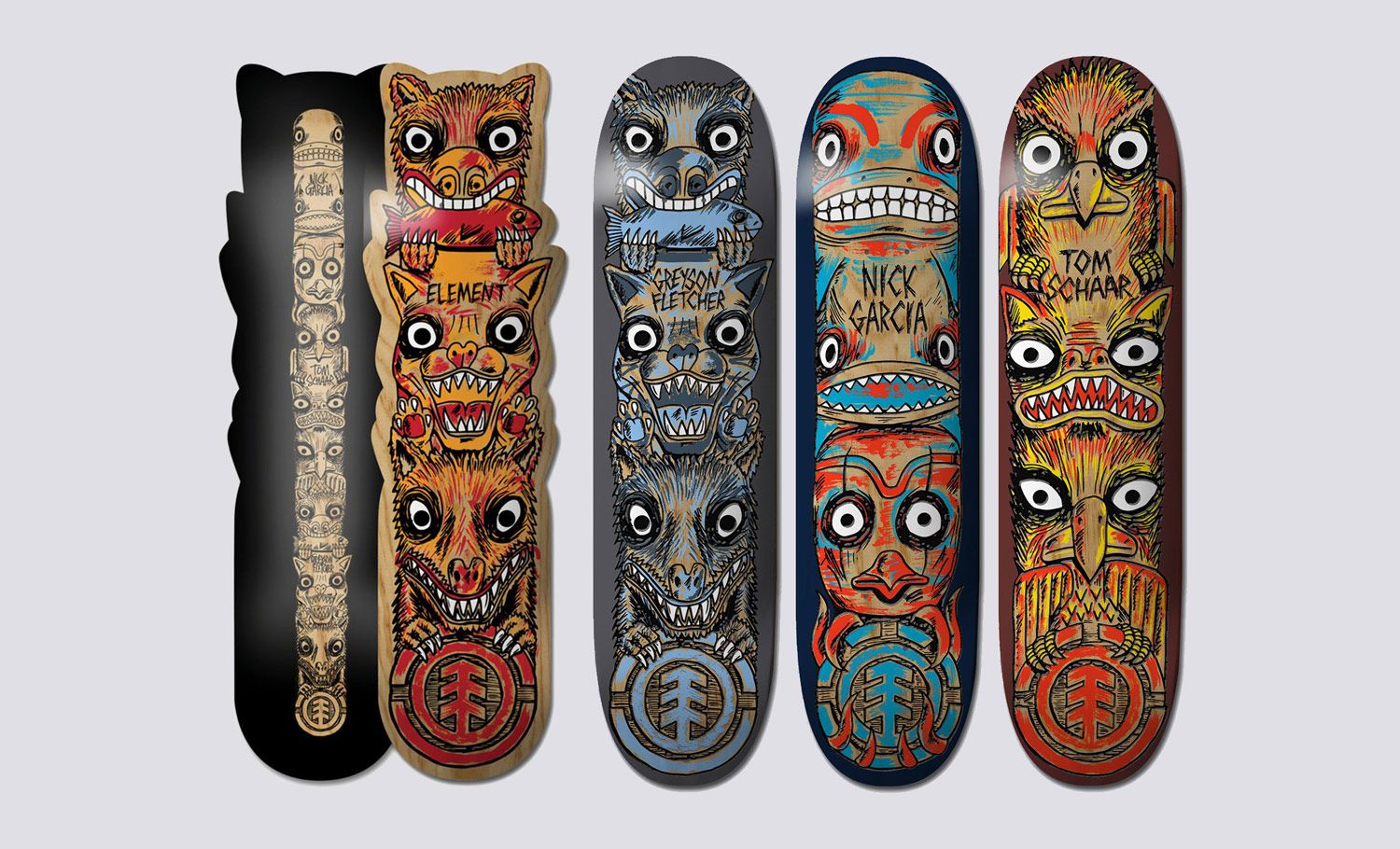 Toy Machine, Real, Foundation, Zero, Black Label, Creature, Baker, Deathwish, Primitive, Element, you've done graphics for more than half of the skateboard industry! Do you have any idea how many skateboard graphics you've done since the beginning?
No idea, It must be a couple of hundred at least. I was trying to throw together a book a while back, my 100 favorite skate graphics, but other projects came up and that's on the back burner a bit. I do a lot because I ran a brand called Landscape in the UK for a while so I did a lot of those graphics, and then Heroin obviously, 22 years deep on that, so that's a few hundred.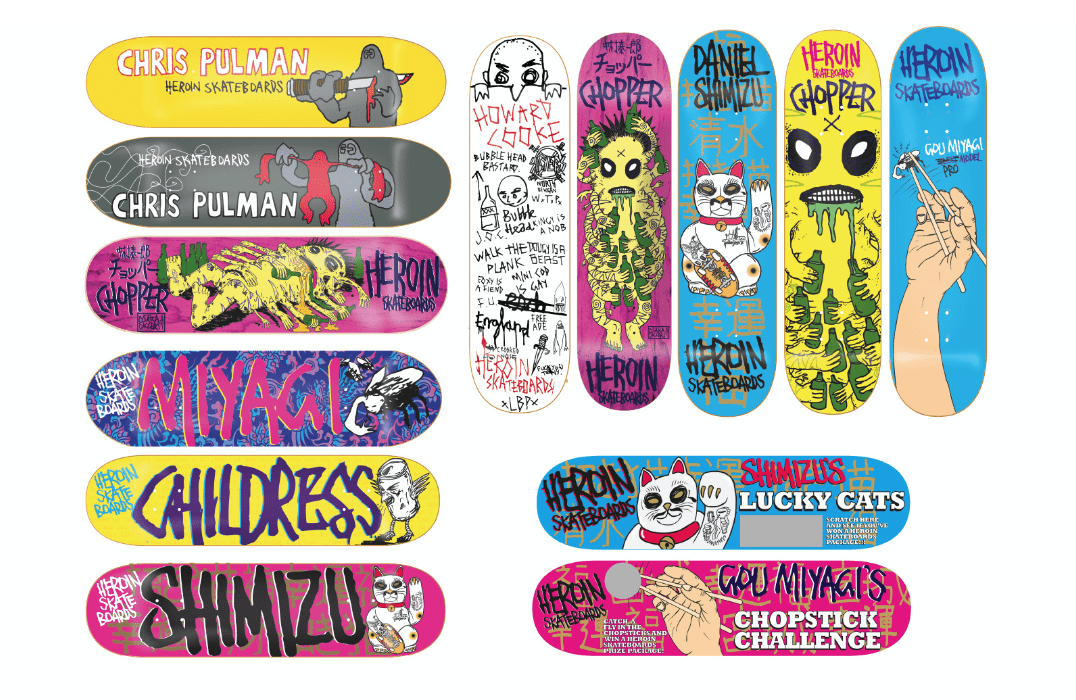 How many of them do you make each year for Heroin? By the way, do you give yourself a very precise artistic direction for Heroin or do you do it naturally?
Everything I draw looks like a Heroin board, if you look through my sketchbooks, it's pretty easy to see the creative direction of the brand through those. We have 4 seasons a year, and I have to do 8-10 boards a season. Of course sometimes I get other artists to work on boards, its usually the five or six guys whose work I feel fits with the brand direction. I tend to just do it one board at a time, and see where that goes. It's a fairly organic procedure.
How do you divide your working time between your freelance work and Heroin?
Every 90 days for Heroin I have an art and catalog deadline, so I chip away at it all a bit throughout that time, and then have a week or so of just working on Heroin. Rest of the time, it's just working on various projects that are coming in.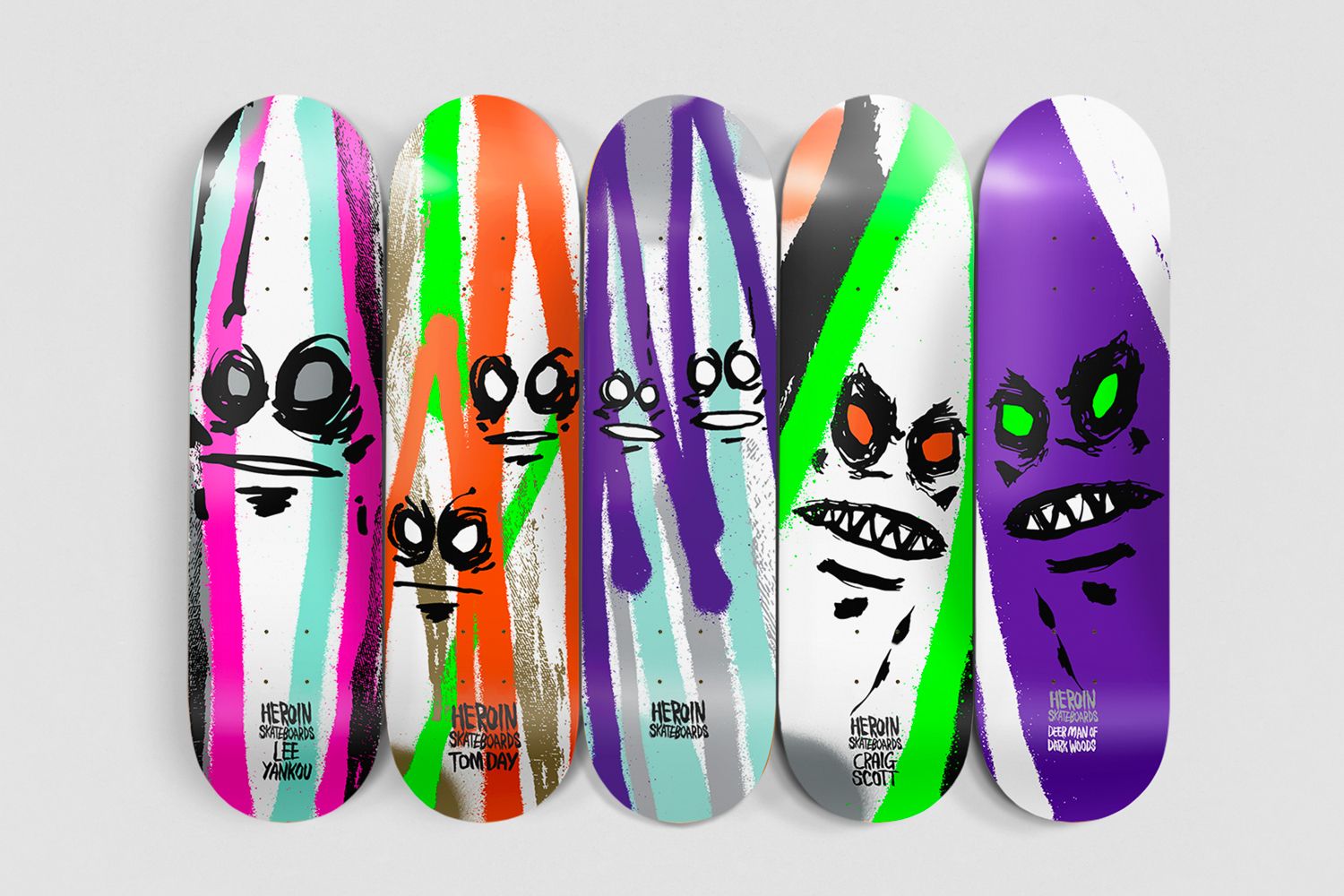 Do you have a well-constructed process to launch a new series?
Thanks to Baker Boys I do. They have all their deadlines in place, so I know when the stuff is all due and I've been doing this thing for a while now, so I know how to do it. Make the Instagram posts, make the catalog pages for Baker Boys and Heroin UK site, make a Facebook banner and post. That's it really.
Do you still have brands you would love to collaborate with? What are your dreams/goals right now?
I thought it'd be sick to do a shoe with Airwalk, so I reached out to them and never heard anything back. I had a lot of those old 80's shoes when I started skating. Ah well. I feel like we murdered it when we got to do the Texas Chainsaw Massacre collab, so anything that we're gonna do has to stand up to that. We have a really great collab coming out this Spring with one of my favorite comic book artists.
Do you still skate regularly?
I was skating Garvanza park every day until Covid hit. I have people with compromised immune systems in my extrended family here, so i really can't take any chances with that covid shit.
I skated a couple of days last week.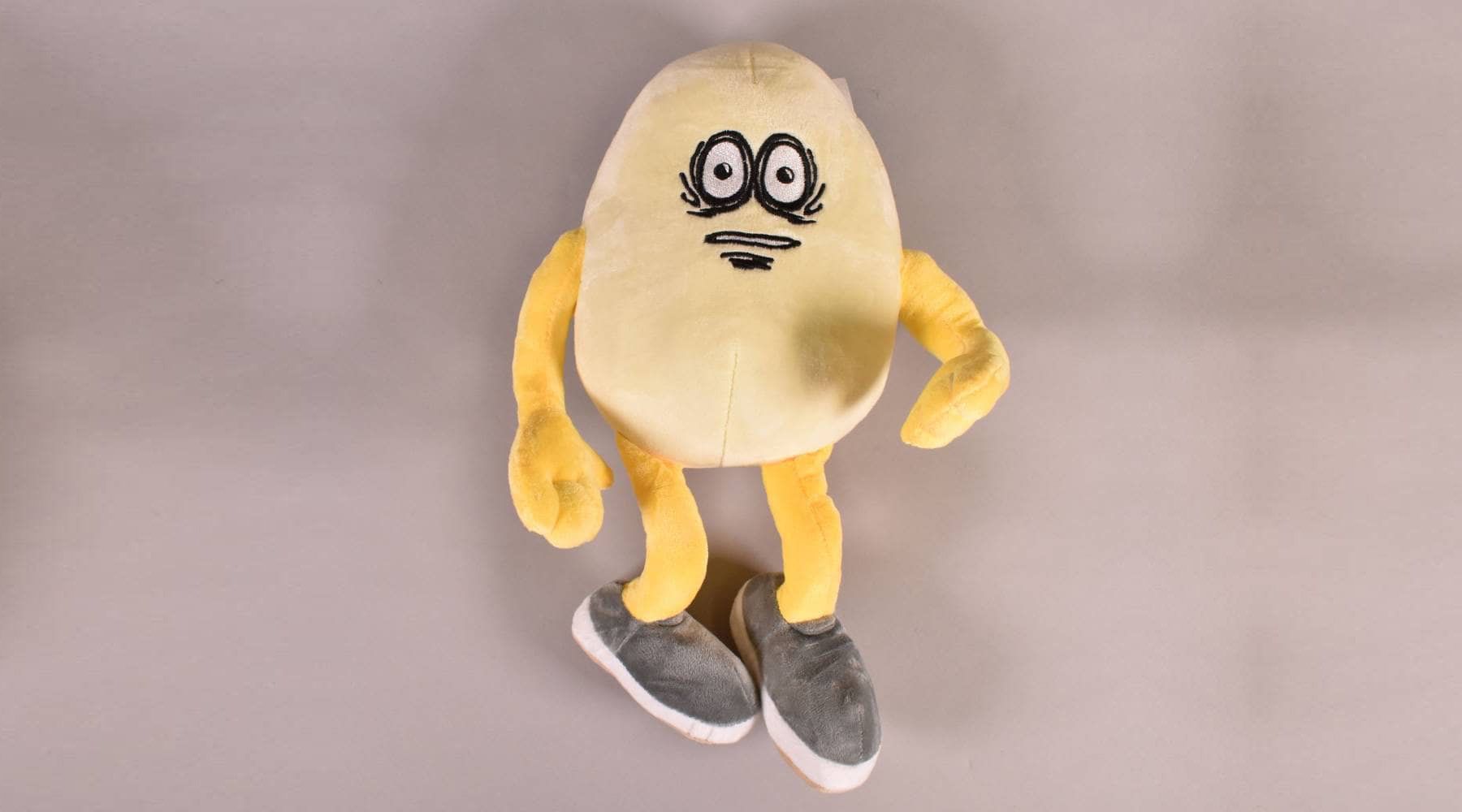 You are rather:
UNIQUE PIECES OR SERIES PRODUCTION: Both have a place. We made 500 Egg soft toys recently. Those were fun. The sample cost me $150 and i used a photo of it for a board graphic in case we couldn't mass produce them. But we eventually did and the things sold out!
SHEET OF PAPER OR GRAPHIC TABLET: Paper every time!!! I'm old school.
SKATE & CREATE OR SKATE & DESTROY: Bit of both, as long as you're skating. Almost feel like you can't do one without the other, its Yin/Yang
WHAT BOOSTS YOU: Coffee, Comic Books, Tom Waits records, skateboarding.
WHAT SLOWS YOU: Trips up to my cabin, slows me down in a good way. Unplug from the phone and the bullshit. Walks out in the forest.
FAVORITE TRICK: Layback frontside rocks.
FAVORITE SKATER: Eric Dressen
Thank you very much for all these answers!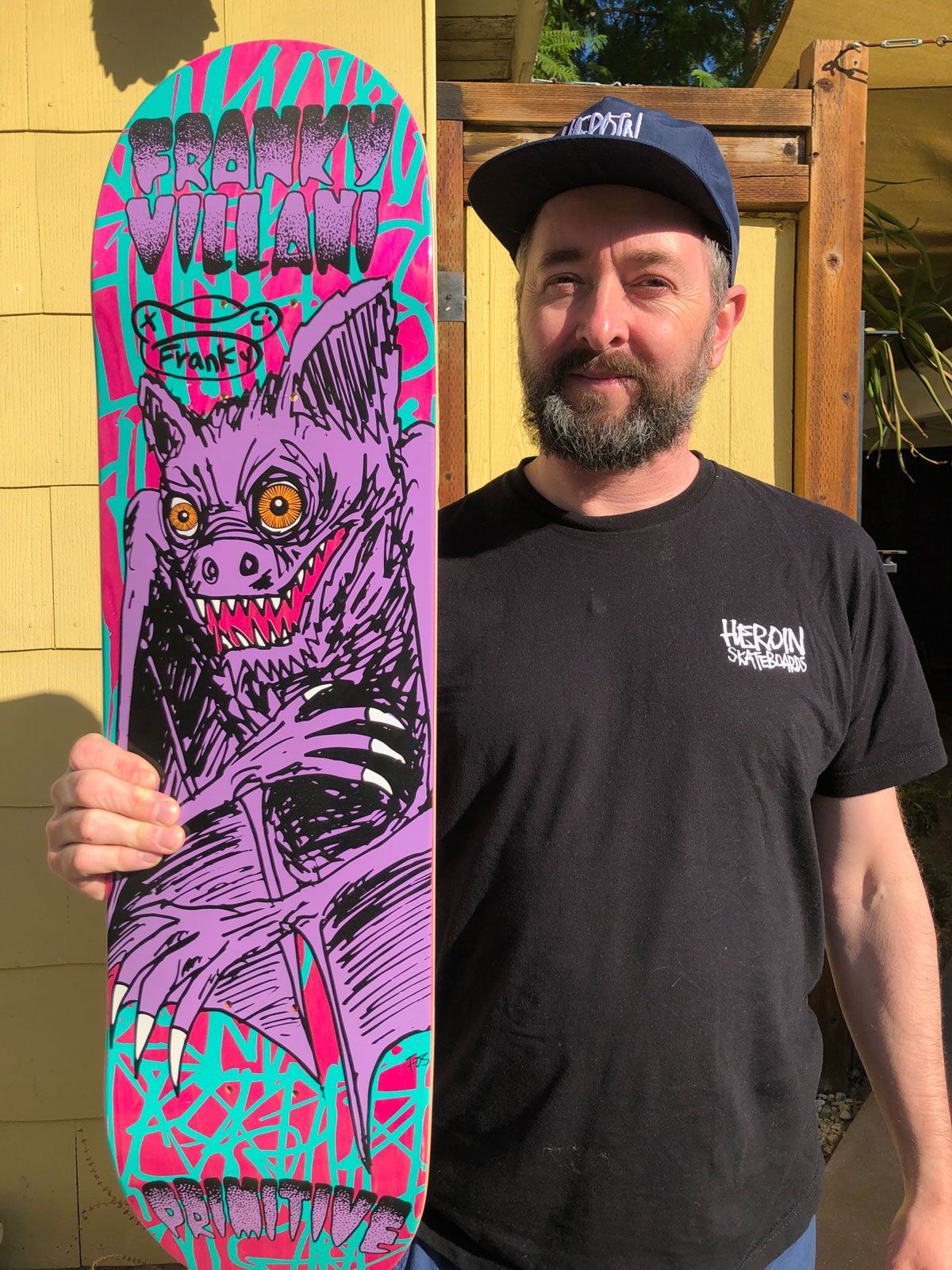 www.instagram.com/fosgraphics
www.fosgraphics.com
Sponsored by 

Thanks to ABS for sponsoring us. ABS is the specialist in the sale of sports equipment in Lyon, Annecy and Grenoble: skateboard, snowboard, technical sportswear, mountain since 1992.