Briefly met at the ex Datta bookstore and then seen in a gale during openings, I was finally able to harass questions at the bend of a tattoo he made me on the ankle. Laurent Claveau told me about his two years as Artistic Director for Antiz Skateboards and his activity as an independent illustrator / street-artist / tattoo artist
.
Sponsored by

Hi Laurent, how are you doing since last time? Can you introduce yourself?
Hi Romain, everything is fine I don't have to complain! We had a nice summer and like the old ones, I almost stayed there! (Hahaha). You know I come from the border with the mountains of Jura so the heat … It's not what I support the most! I come from Oyonnax as Alexis Jauzion and lived there until 2000. Since then, I live in Lyon and started an artistic career in early 2010.
Antiz is a small structure. Almost a family business finally
When I met you, you were still Artistic Director for Antiz. How long did you spend and what did you do?
Yes, it's been two years since I left the office. I worked there two years as "Swiss knife". You know, Antiz is a small structure. Almost a family business in the end and you have to know how to be baked & amp; at the mill as they say! I took care as much of the design of the catalogs as of the comm'(Facebook & Instagram), the sending of the packages that of this why I was hired. To know: Draw the skateboard graphics and follow a more homogeneous artistic direction. Even though these two years have been intense on the pace of work, I keep a very good experience and it taught me to work very fast!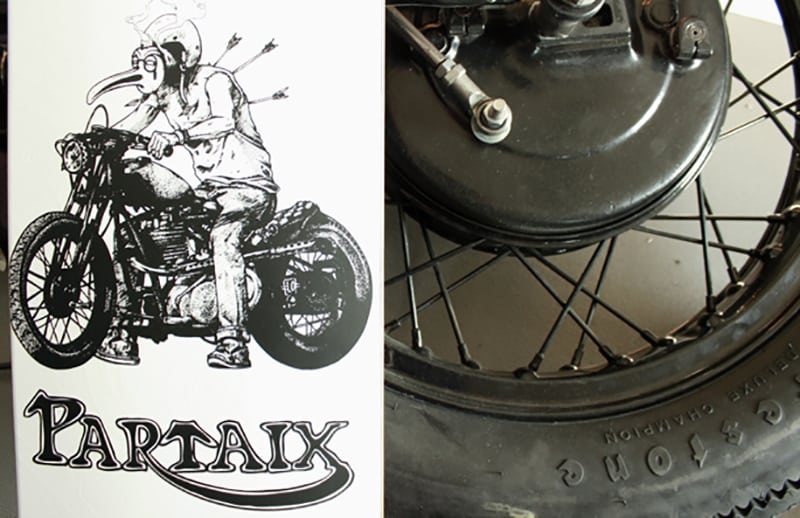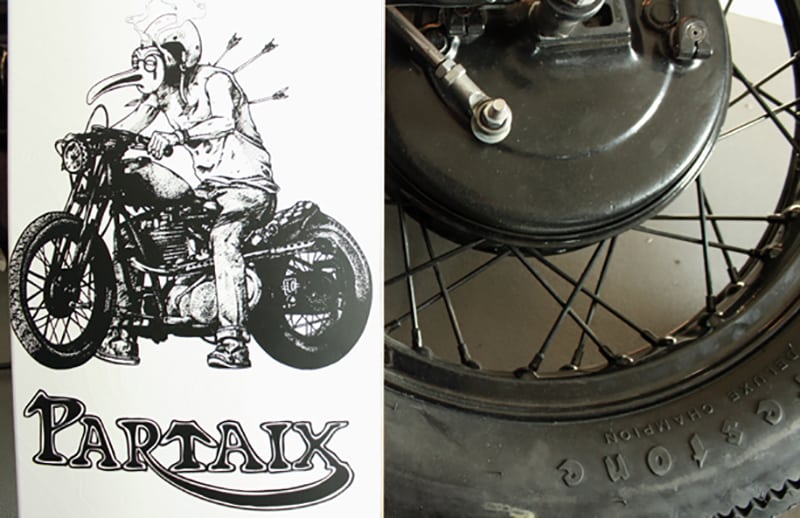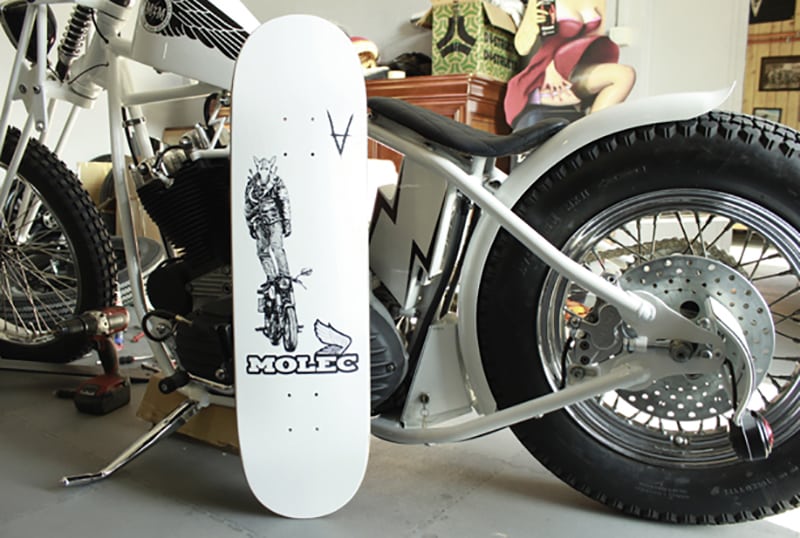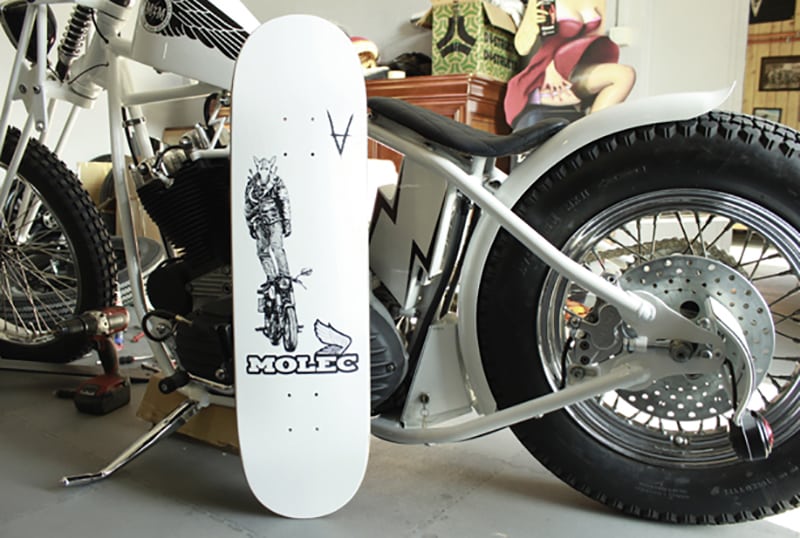 How was the production of a new series at Antiz, from concept to print boards?
As for the design of new boards, Juju (Bachelier) and I would sit around a beer at the end of the day and lay down on paper all the ideas that came to us. It could come from an exhibition we had just seen, from a band we love.
After that, we sorted and we tried to expose our ideas to the whole team so that the majority would be happy with the result and … Believe me, it's not easy to please a dozen people coming from different horizons! Anyway.
Once agreed (or not) on the theme of the series, it was for me to play! I had to juggle between making a striking graphics while making sure it doesn't take me days. Obviously, to the chagrin of Juju, it was still much too long but what do you want, I'm so picky (hahaha)!
Without transition, you told me that you skated a lot before.
Since when and why did you calm down on big skate sessions?
At the end of the 90s, I put skateboard to bracket for professional reasons but when I arrived in Lyon, I wanted to get back to it and it wasn't easy. It's not so much the fact that I got screwed up on my knees during my military service at Les Chasseurs Alpins (even if it did not help) but, the Lyon mentality is very different from the little city where I come from and it wasn't easy for me to find a place in the middle of this fauna!
However, my friend Manu (R.I.P) motivated me and we started doing endless sessions at Small Place, Les Halles de Lyon or Place Guichard. Since, I need too much of my hands to do shits. So I just roll and knit from time to time.

Occasional sponsorships help keep us going. Thanks to abs Skateboarding for sponsoring us!
Oh and I saw that you also found yourself doing a board for Dustin Dollin and Baker, it's crazy! How? Why?
YES ! I must admit that I was lucky! In fact, Dustin is very friendly with Sam Partaix and suddenly, he followed the Antiz team on a lot of tours. In the summer of 2016, I spent a few days with them at Hellfest and Juju asked me on my return from Clisson to work on a guest board for Dustin.
He wanted me to do something very specific from a picture of Sam but … I must say that I had made another idea of the imp and I wanted to work on my sauce. It did not please Juju but Sam & amp; Dustin had seen the board I had designed and Dustin asked Baker to contact me to sell the graphics.
Once in contact with them, I didn't dismount and offered them to work on a series for them. I had a positive answer and so I made a board for Dee Ostrander, Figgy and Theotis Beasley! I tried to slip a board for Andrew Reynolds in the middle of all this but they already had his pro model for the season … Next time!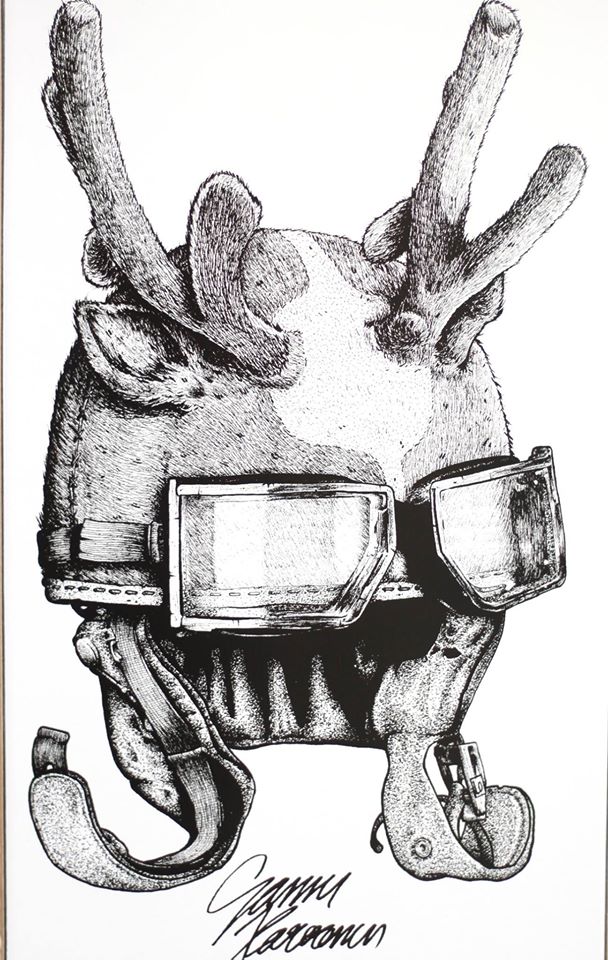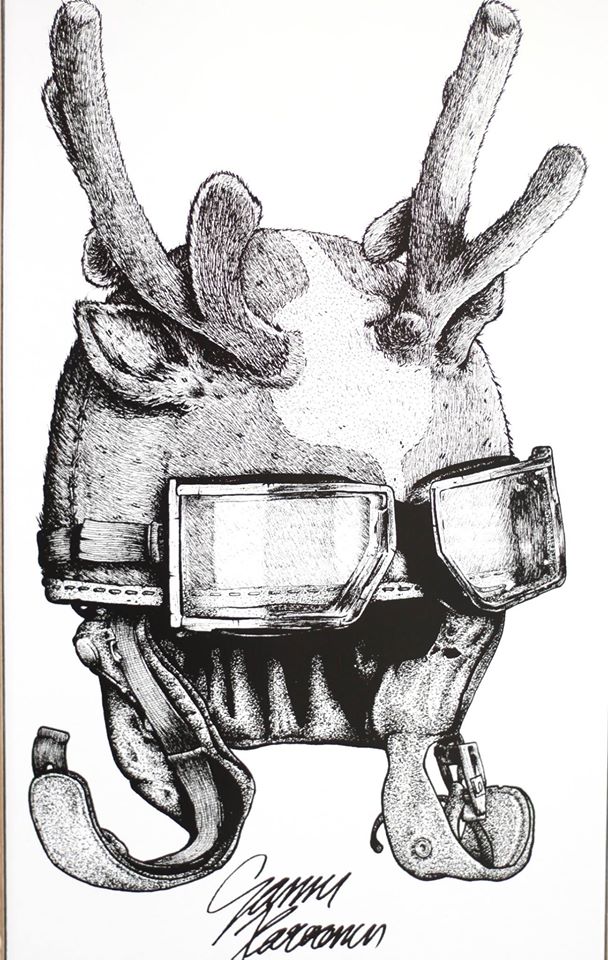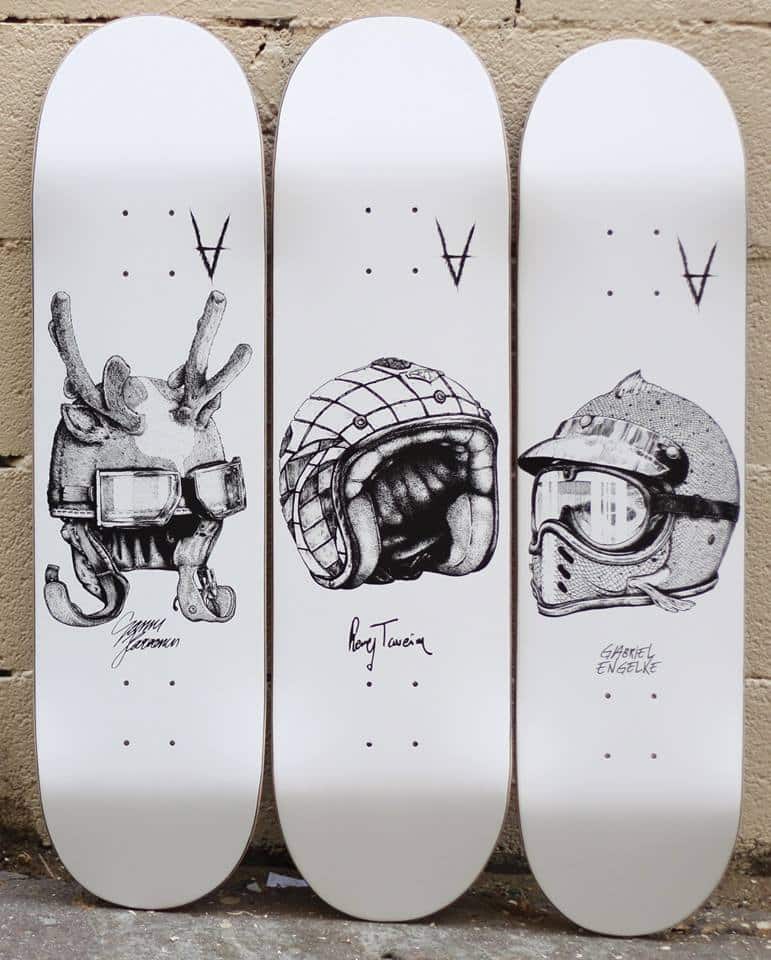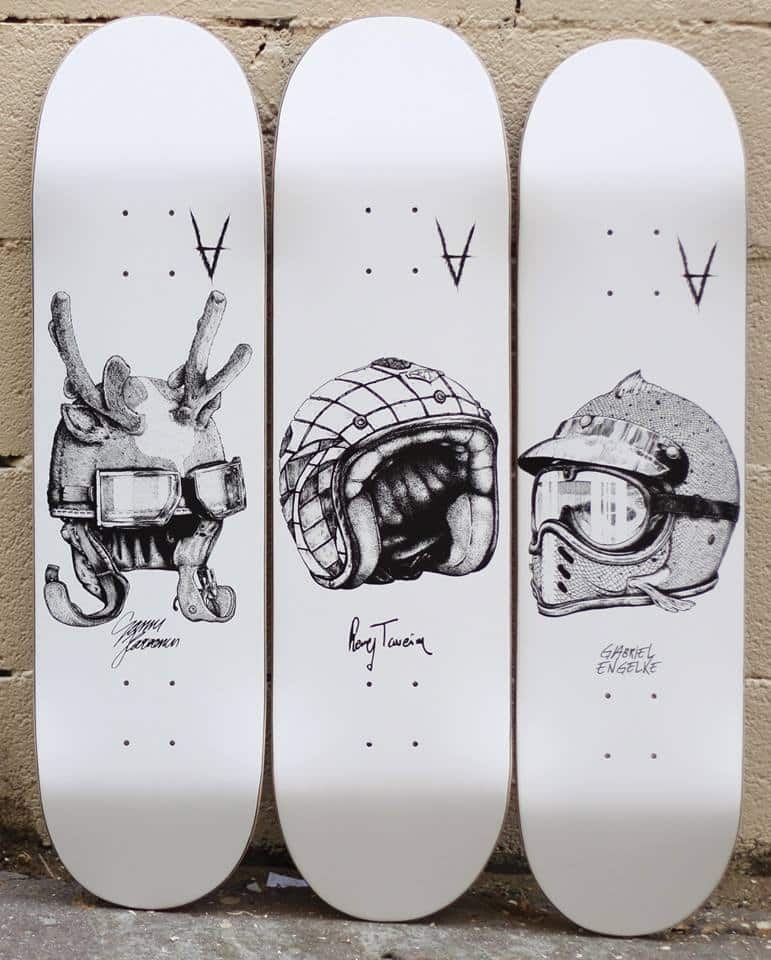 And now, you're even more multitasking than before! Illustrator, street artist and tattoo artist if I don't forget any cap. How do you manage that?
We can say that, yes. I started tattooing a few months ago because it was a while since it was trotting in my head. I'm pretty tattooed myself and it was obvious to me to try the experiment. I must say that it is rather positive for a beginning and I have already done more than thirty pieces. At the start of the school year, I think that the serious things will begin.
Despite the fact that it requires a lot of organization and takes a lot of time, I am very happy with the life I lead!
Honestly, even if it sometimes goes in all directions … there are still irreducible …
Can you give me the 3 Instagram accounts of artists who inspire you the most at the moment?
Painting side, I would say the work of the Polacks @sainer_etam.
Tattoo side is very difficult! I love so much different style … That's the one of @topsiturby_paperhouse, of @victor_chil or by @mauddardeau.
And finally, for the drawing I would say @worldofmonsta.
The little question I always ask. How do you see skate art evolving?
Honestly, even if it sometimes goes in all directions, because it's still a big money story for many brands, there are still irreducibles who take advantage of this means of communication to convey strong messages.
Whether one is for or against, the J.O will surely contribute to developing skateboarding and the art that arises from it.
Can you give me the projects you have on fire?
OULAH! I have 1000 things to do at the same time these months!
Whether for the tattoo as I told you earlier or on fresco projects in Lyon or elsewhere, I will not be bored! 😉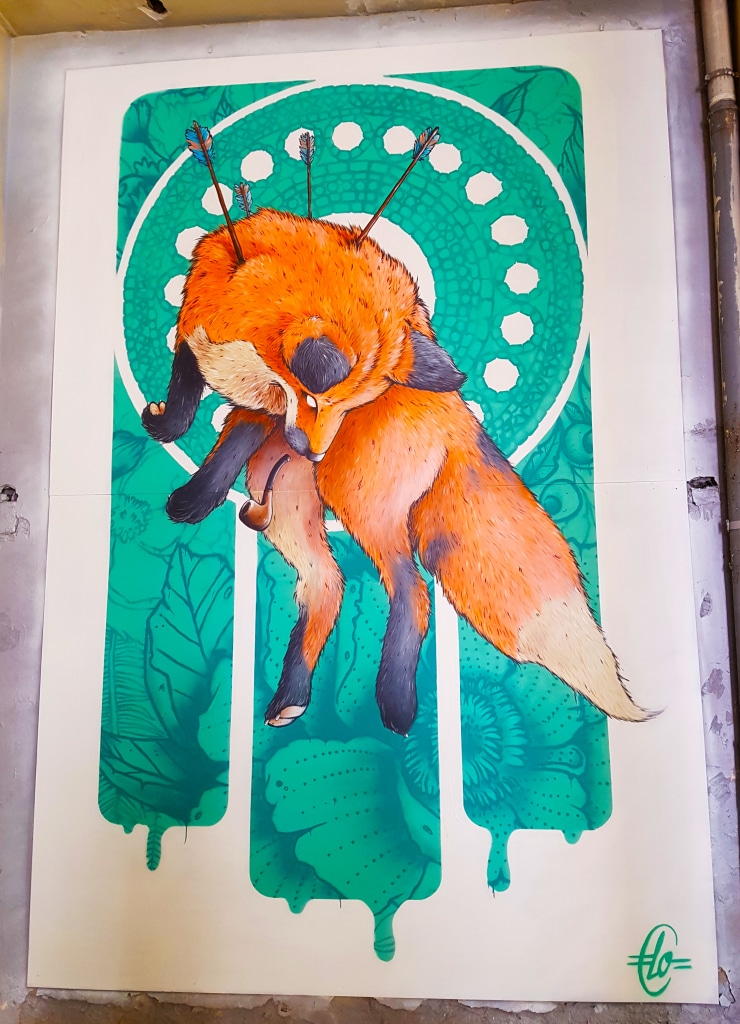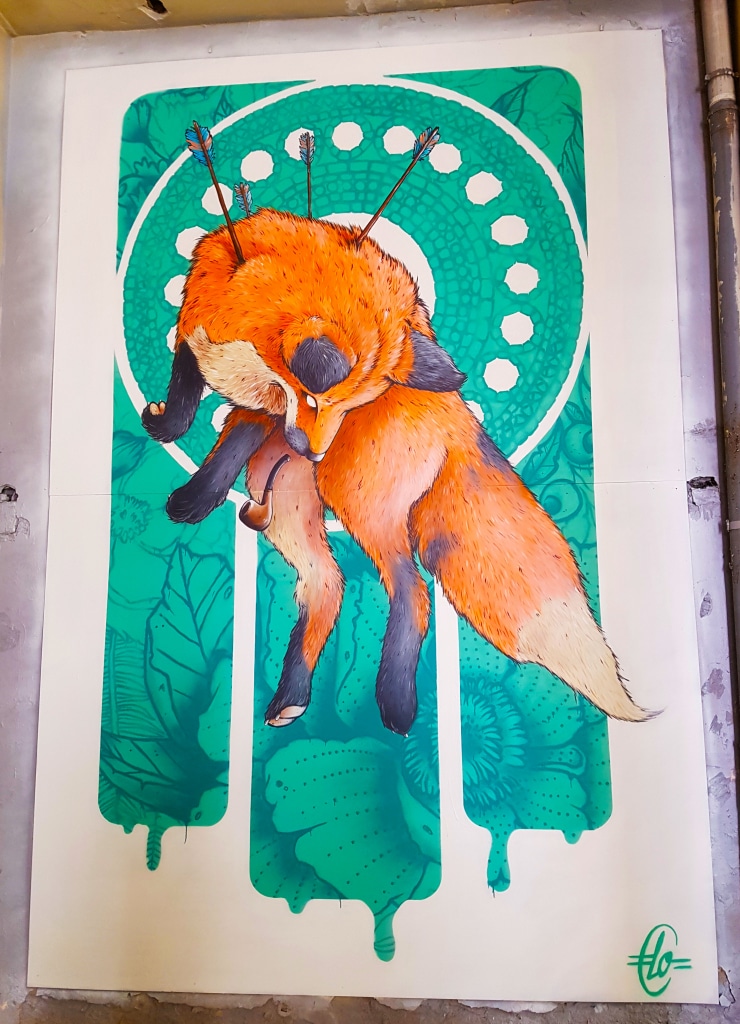 And 9 short questions for short answers:
UNIQUE OR MASS PRODUCTION: Oddly, mass production. This affects more people and is also more financially accessible.
PAPER OR TABLET SHEET: Both!

SKATE & CREATE or SKATE & DESTROY : I never really liked vandalism … HAHAHA!
THE BEST SERIES OF ALL TIME: The old Powell by Sean Cliver.
WHAT BOOSTS YOU: Friends & family.
WHAT SLOWS YOU: Me sometimes & Netflix most of the time!
FAVORITE TRICK: The one I can still do at my age you mean? Shove it reverse! Because otherwise … Like in snow: a good big method!
FAVORITE SKATER: Natas Kaupas ? Or Hugo Liard ! Hahaha !
YOUR DREAM: That humanity is a little more responsible with the environment and we stop to fuck the planet at first and then … We will already start with that, well!
One last thing to say?
It's nice what you do, keep it up! As for the others, do not take the lead, it's only skateboard! Kisses heart has the fingers!
www.laurentclaveau.blogspot.com
www.instagram.com/graouzilla
Sponsored by

Thanks to abs Skateboarding for sponsoring us. ABS is the specialist in the sale of sports equipment in Lyon, Annecy and Grenoble: skateboard, snowboard, technical sportswear, mountain since 1992.