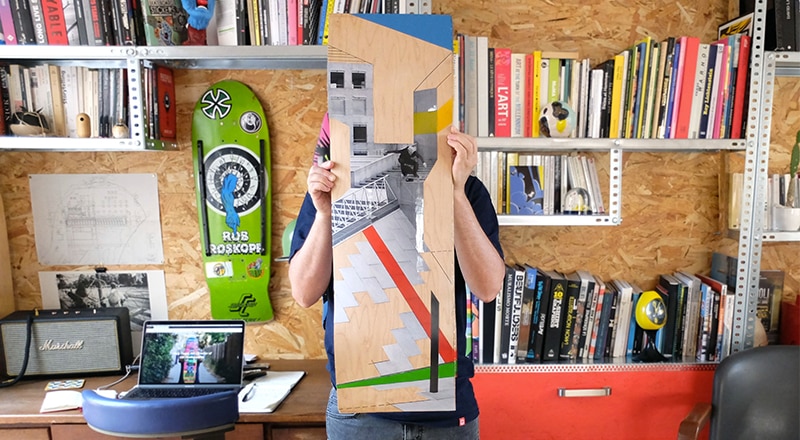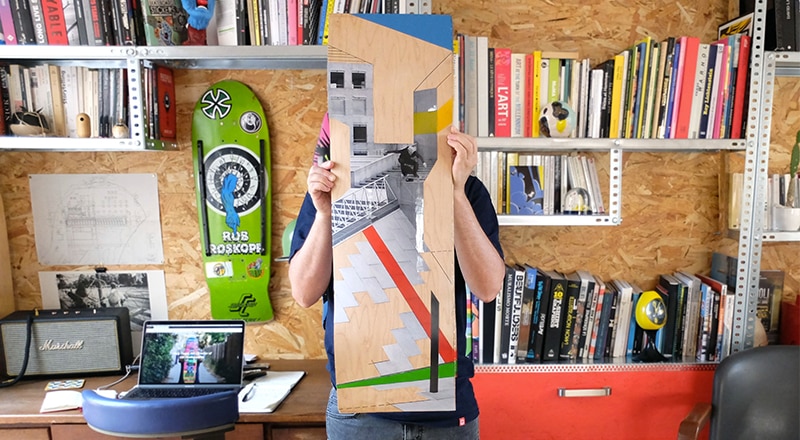 To move to realize itself, it is clearly the maxim that comes to me when I think of Etienne BOUET & Mathieu CLAUDON. At the 7th edition of the Wheels & Waves Biarritz, the guys were 200% to present their art, exchange with legends Christian HOSOI & Steve CABALLERO or enjoy the festival's fresh beers. In short, I am delighted to have been able to go even further than our last discussions!
Sponsored by

Hello Etienne & Mathieu, glad to have you here! You have plenty of good things for the start of the school year, but first, tell us more about yourself. Etienne, you're still a hell of a cat at your level. Can you expose your different lives?
In summary, the 90s was for me college, high school, skateboarding, the discovery of music and skate culture in general. A little before 2000, I am as one says "mounted in Paris" to study sound engineer.
Regarding skateboard, it was the great time of the spot of Bastille (Boulevard Richard Lenoir, now antiskated) of which I had become a local, but I also skated Le Dôme, Bercy, La Villette and the basins of the Eiffel Tower. My beautiful skate time !!!
I took a "normal" job but I drifted again …

Otherwise, professionally, I went from sound engineer to musician and I ended up spending my life on tour and studio with the group ENHANCER (neo metal / Barclay Universal). Plus some side projects, including Remix for the group The Caution, mini albums oriented Abstract HipHop, Drum'n'Bass, Ragga, Electro including one with skateboard brand ZOO YORK.
Then, during the 2010s, I took a "normal" job but I drifted again by starting the realization of my first book "Skateurs Ordinaires" in 2013 then "Paris, Skate in The City" with Mathieu Claudon (Editions Eyrolles, 2014). Then we came to contemporary art with RED XV and now the Unconcrete Architects series.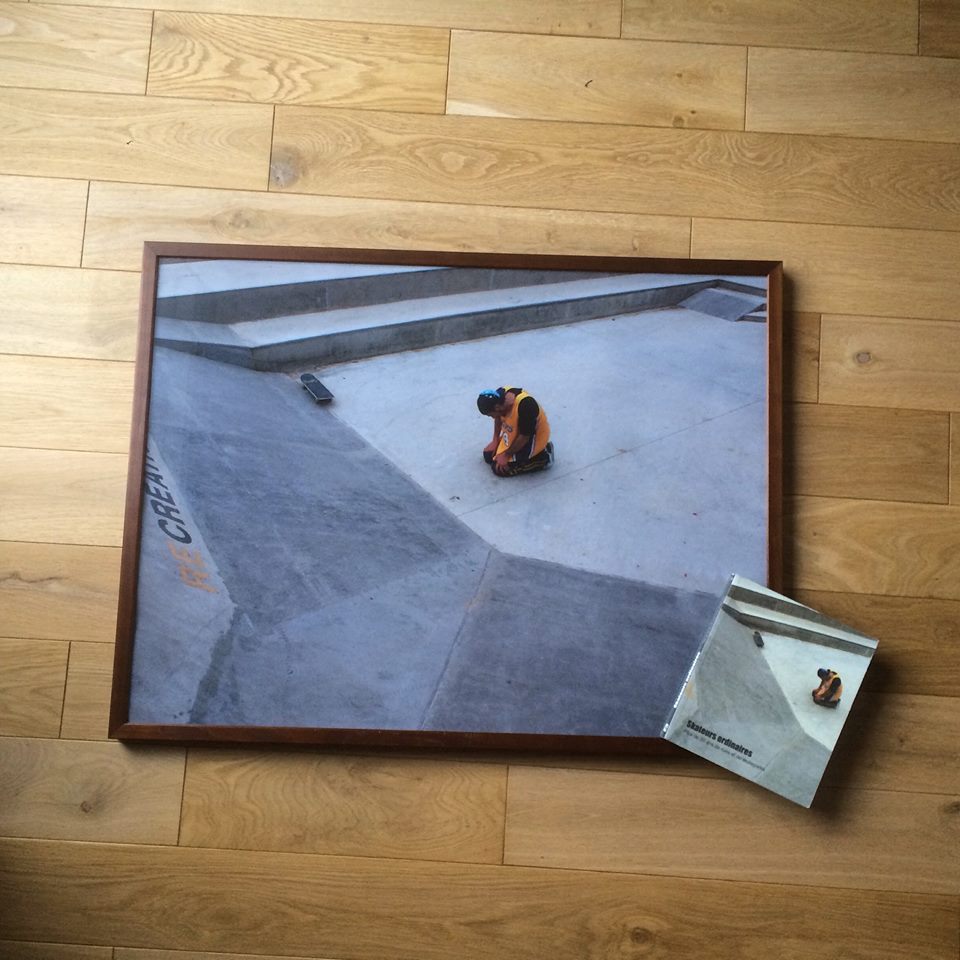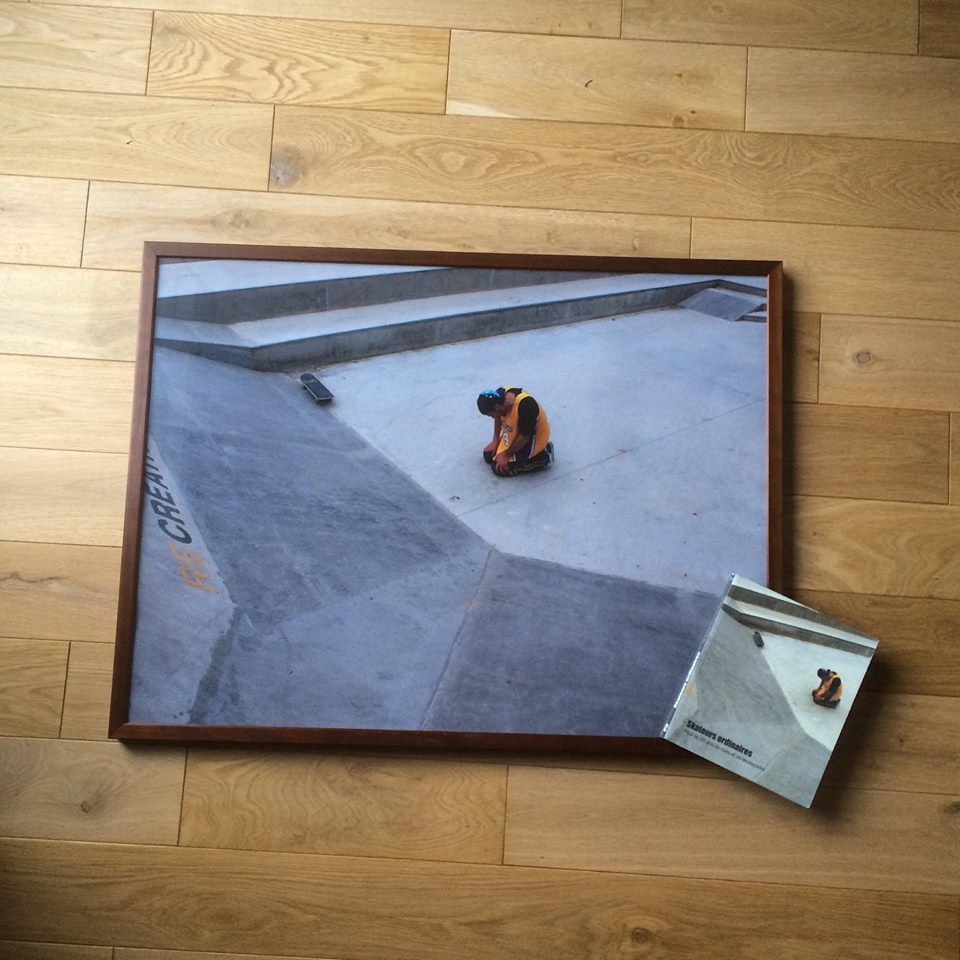 I was getting bored on my board, I had lost pop, the motivation, I had just been dad…
And you Mathieu ?
Ah ah ah ah ! My path is a little more linear!
I started skateboarding in 1988.After a move, I found myself without a friend in a small town in Normandy. When looking for a magazine to take care of, at the local newspaper house, I came across Bicross & Skate Magazine, then NOWAY. I discovered a whole new world, my life would never be the same again.

The year of my baccalaureate, I started looking for a job for the summer, I managed to get an internship in a surf / skate shop in Cannes, since I've always worked in the Skate industry, occupying just about every possible order picker position for V7 Distribution (the leading importer of skate distributor in France) to marketing manager to store manager for VANS, commercial, visual merchandiser, etc, etc. I am a real Swiss knife!
I've always done a few photos, but I got serious about it fifteen or so years ago, when digital cameras became accessible to the general public. I was getting bored on my board, I had lost some pop, the motivation, I had just been dad, I did not really have the right to hurt myself… The photo gave me a new breath to stay in the skateboard while agreeing to practice and live my passion differently.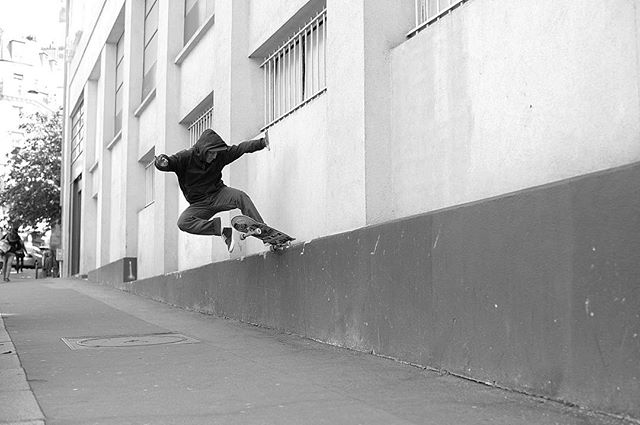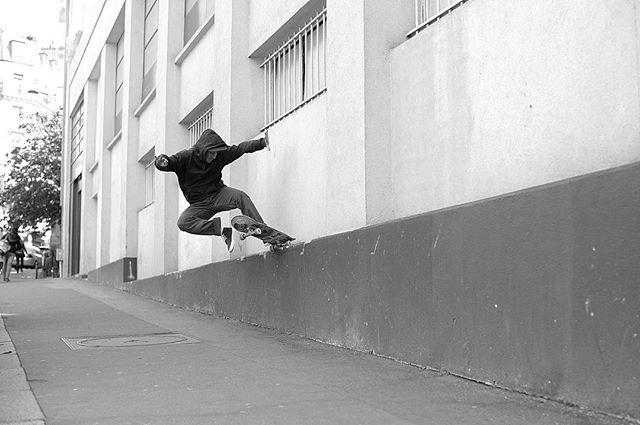 Etienne, after the documentation of skateboarding in France by locals in your first book, you go to the skate docu in Paris with your fellow photographer Mathieu Claudon.
How was the collaboration done? And when did you say "go we go!"?
With Mathieu, we met while I was finishing "Skateurs Ordinaires". I needed pictures of the basins of the Eiffel Tower and archives of the skateshoes éS brand. I contacted him, we saw each other and we hung well.
When my publisher dropped me a few weeks ago, I went around Paris to try to replace my manuscript. At Eyrolles, they found the project too personal and not corresponding to their catalog. On the other hand, they had been trying to make a book about skateboarding for a while now. They told me that if I came back to see them with a project, we could discuss it seriously.
I called Mathieu live! He did not tell me yes.
The opportunity was beautiful, for sure, still we had to find an idea, a GOOD idea. We went around everything that had already been done… and he finally found the concept starting from the reflection that it had to be something that can be done without budget, so staying in Paris.
It was the disaster when we received the good for shooting… It was just HORRIBLE. Imagine a mix between a stamp book and a Panini album…
The city and its boroughs gave us a natural breakdown of the book, the subject was relevant internationally, Paris being the most visited city in the world, and we could even decline it in series by making other cities around the globe.
We were holding a real thing!
From idea to realization, how long has it been?
And how did you go about making the selection of images?
In the end, it took us almost two years … We can not really say that we were helped by the publishing house… Without getting into the details, basically, all they wanted was to have for a date X, 2 files. One with the photos, one with the texts. The rest, they absolutely wanted to take care of it…
It was the disaster when we received the good for shooting… It was just HORRIBLE.Imagine a mix between a stamp book and a Panini album…
Up to six photos per page, all upside-down footage (if possible), double-page, pixellated ambient images… The total. So the book was completely recomposed, old fashioned, with scissors and paper, in two days. 
We showed up at the final meeting with our manuscript "handmade" telling them that they had really done shit and, basically, either we saved the furniture with what we had managed to tinker, either the book would not be done at all. The selection of the images was a little by default, for lack of having the hand on the model from the beginning. We're not doing so badly, but it could have been better.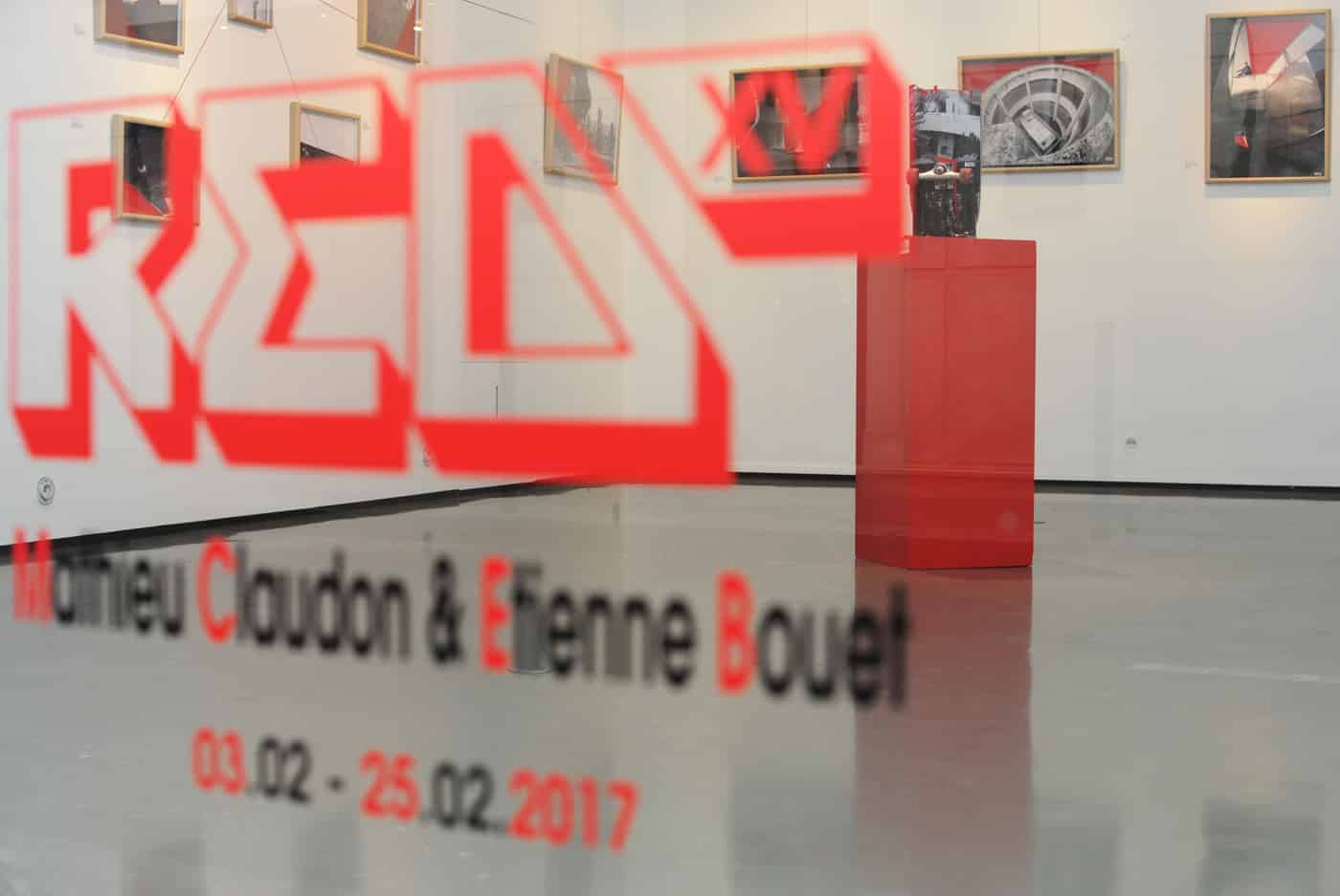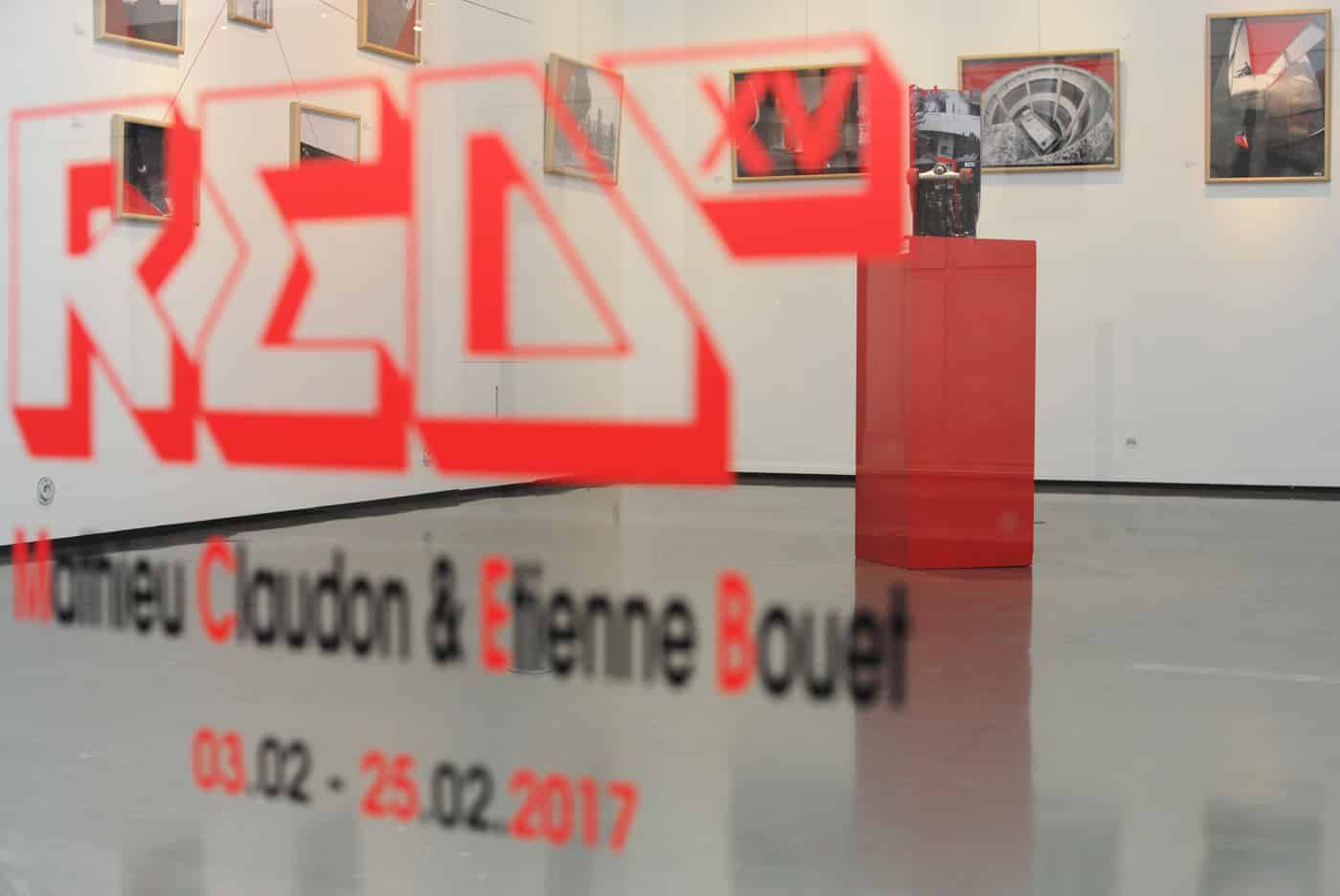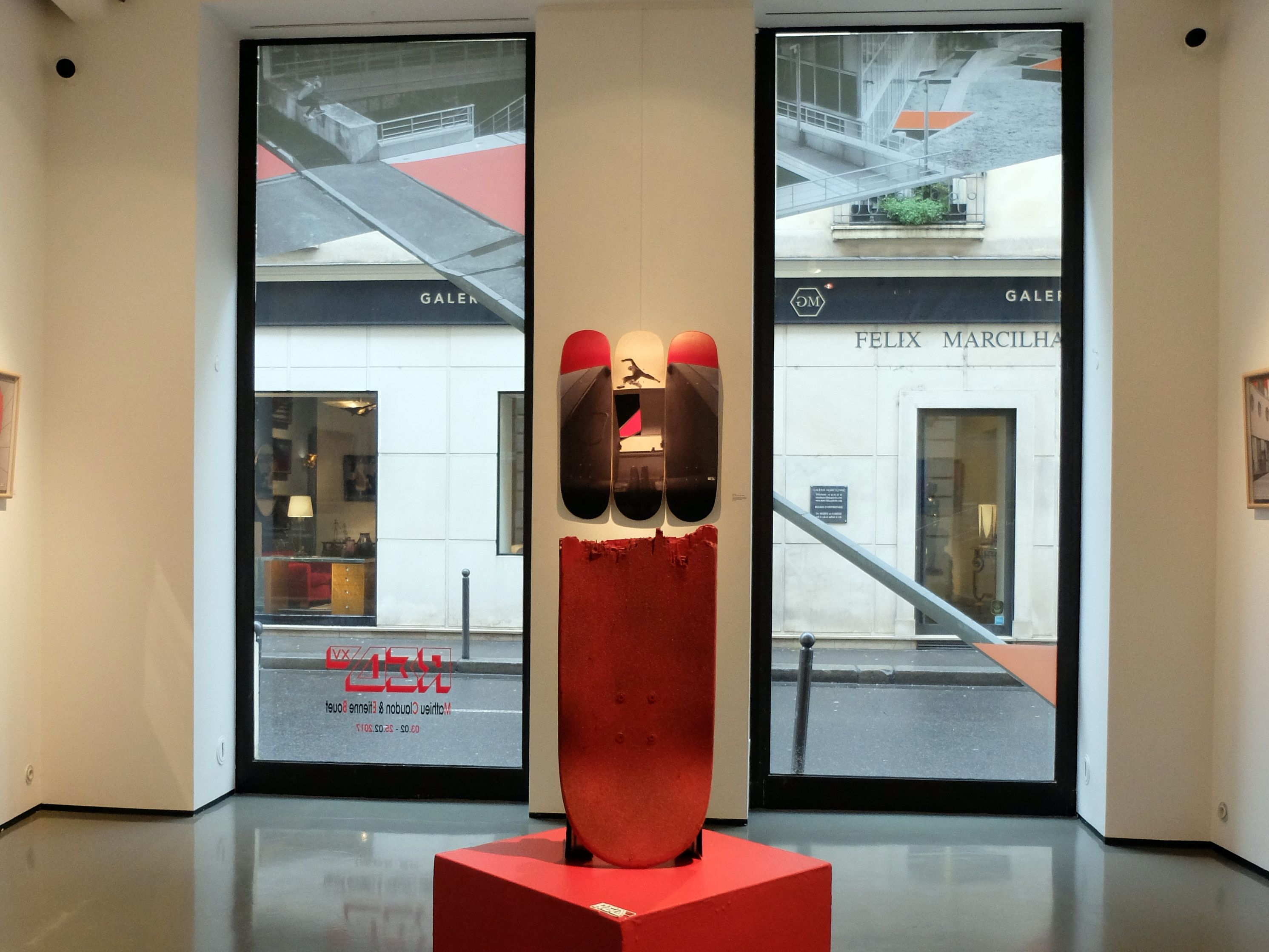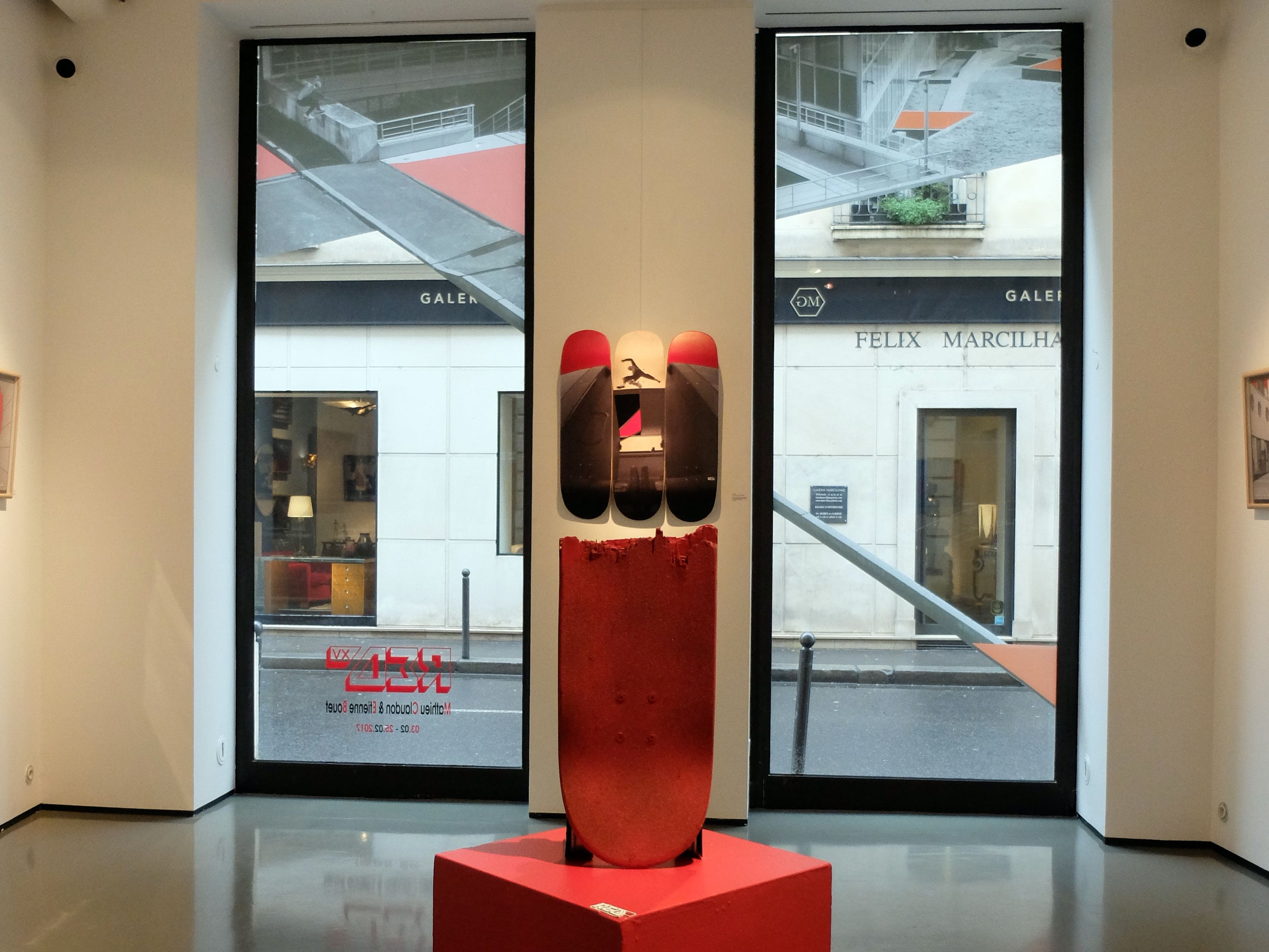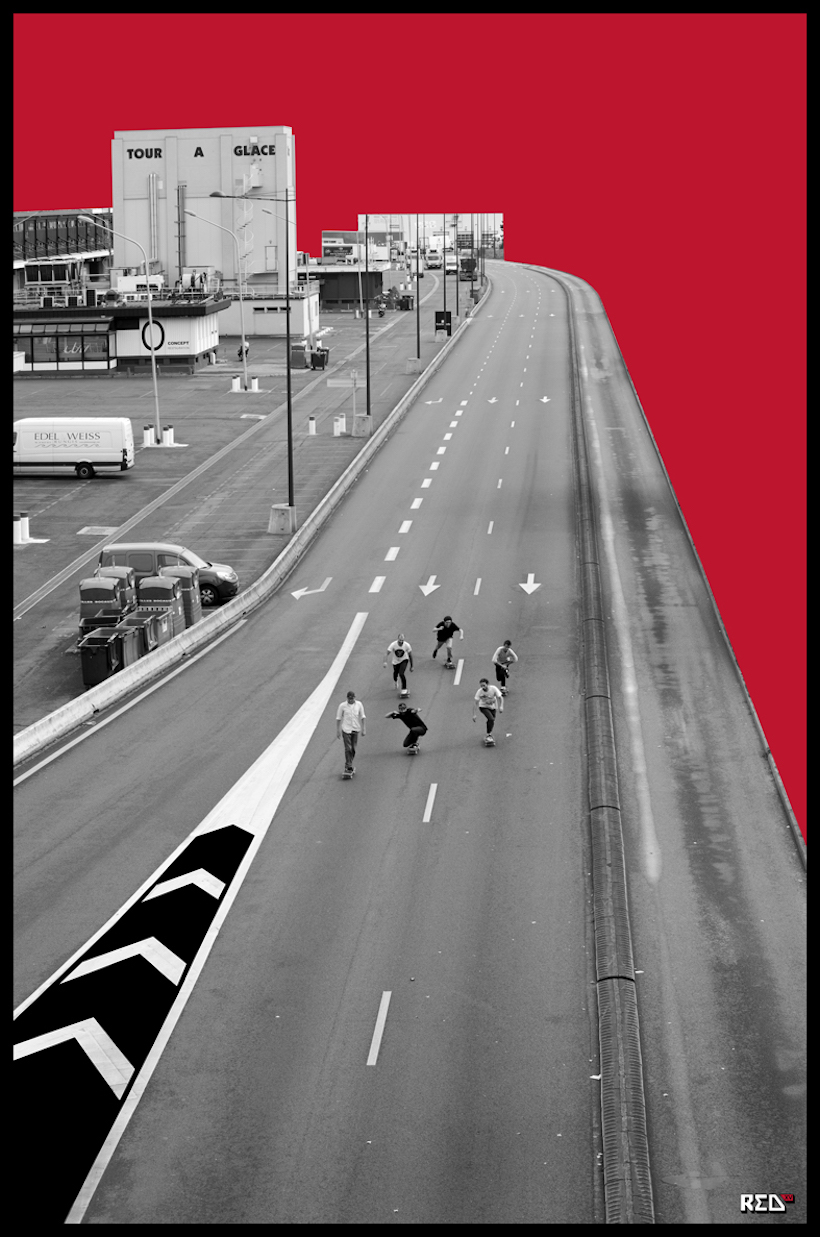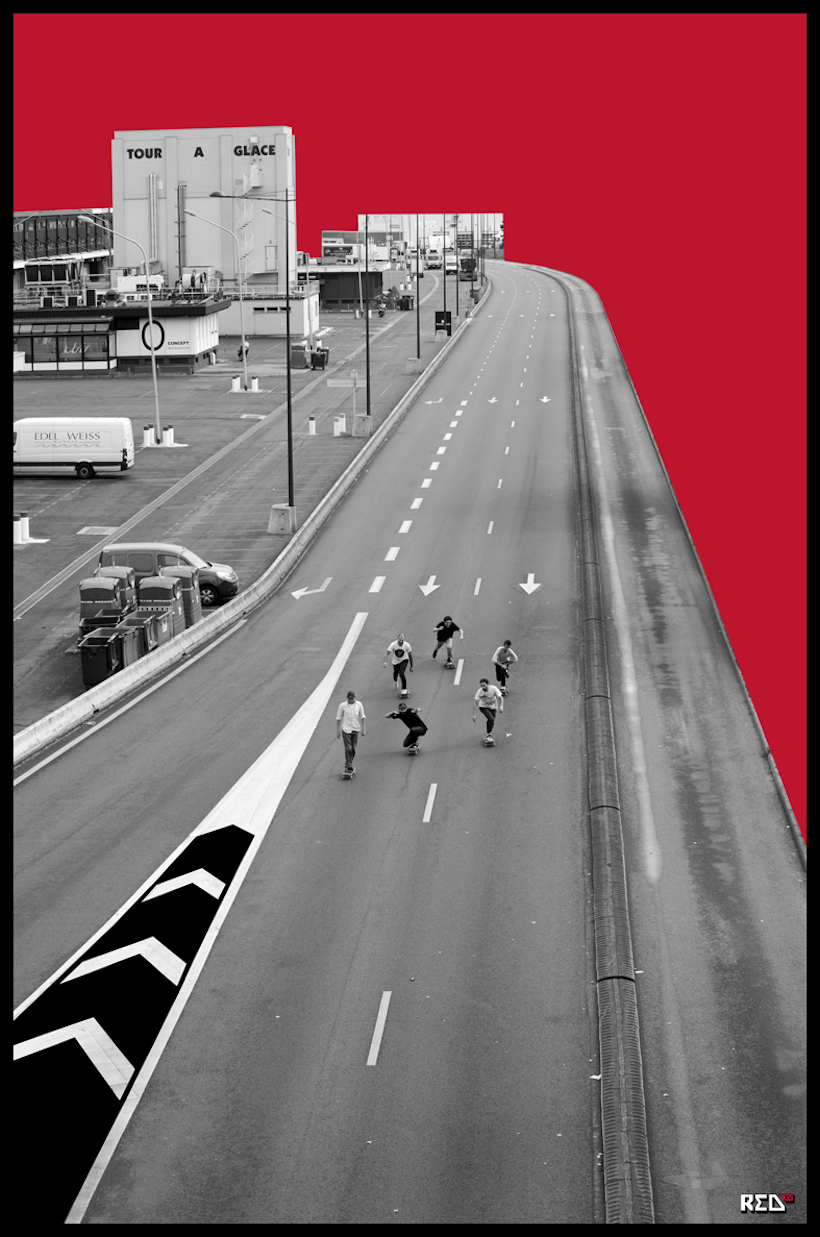 Oh ok, a really good bad time. So, making books was "fun" but you wanted to push the thing further with RED XV. Can you describe the project?
After Paris, Skate In The City we wanted to keep doing things together. In the edition, we had some ideas, but we were still pretty shocked by our experience with Eyrolles and I was a little frustrated that I could not really express myself artistically on the project.
I started painting on architectural photos that I had made, red areas to cover the sky and showcase the buildings. I then asked skateboarding photos of Mathieu, very skateboarding stuff usually shot with fisheye, to test the process on it.
We did a little show with that. It was unpretentious, plus something to please.
The basic idea was there but the concept not completely successful. There was a bit of architecture on one side and skateboarding on the other. We had the ingredients but not quite the recipe yet. In the months that followed, Mathieu reconnected with a gallery owner who was interested in an exhibition around Paris Skate In The City. The book was a little behind us and we had already done a good job. He showed him what we were working on with RED XV and we signed our first real show worthy of the name.
It forced us to really ask the concept to have unity in the works. Mathieu does the pictures, I paint.
With Paris Skate In The City, Mathieu's eye has changed. The fact that the book dealt with both Skateboard and Paris has led him to integrate more and more architecture in his shots. So it's on this type of pictures that I started to paint and it worked pretty well. We had a very positive feedback from collectors and sold several works.
Excellent! By the way, what's the first work you've done? It was the most complicated or the simplest to do? And do you have a certain process to create them?
The very first? I do not know anymore … A piece of pure architecture I think …
It was not too hard to do because the principle is quite simple in fact. It was just masking and spray painting originally.
It's when you start deepening that it becomes more complicated. Find the right photo paper, the good scotch, the good paint, the good frame, etc, etc … And the good shot of course!
The process is often the same. Mathieu sends me photos, or I ask him things I saw on his Instagram, I do tests on the computer and we see if it works. When it works really well, I have a print run and I attack the masking and painting.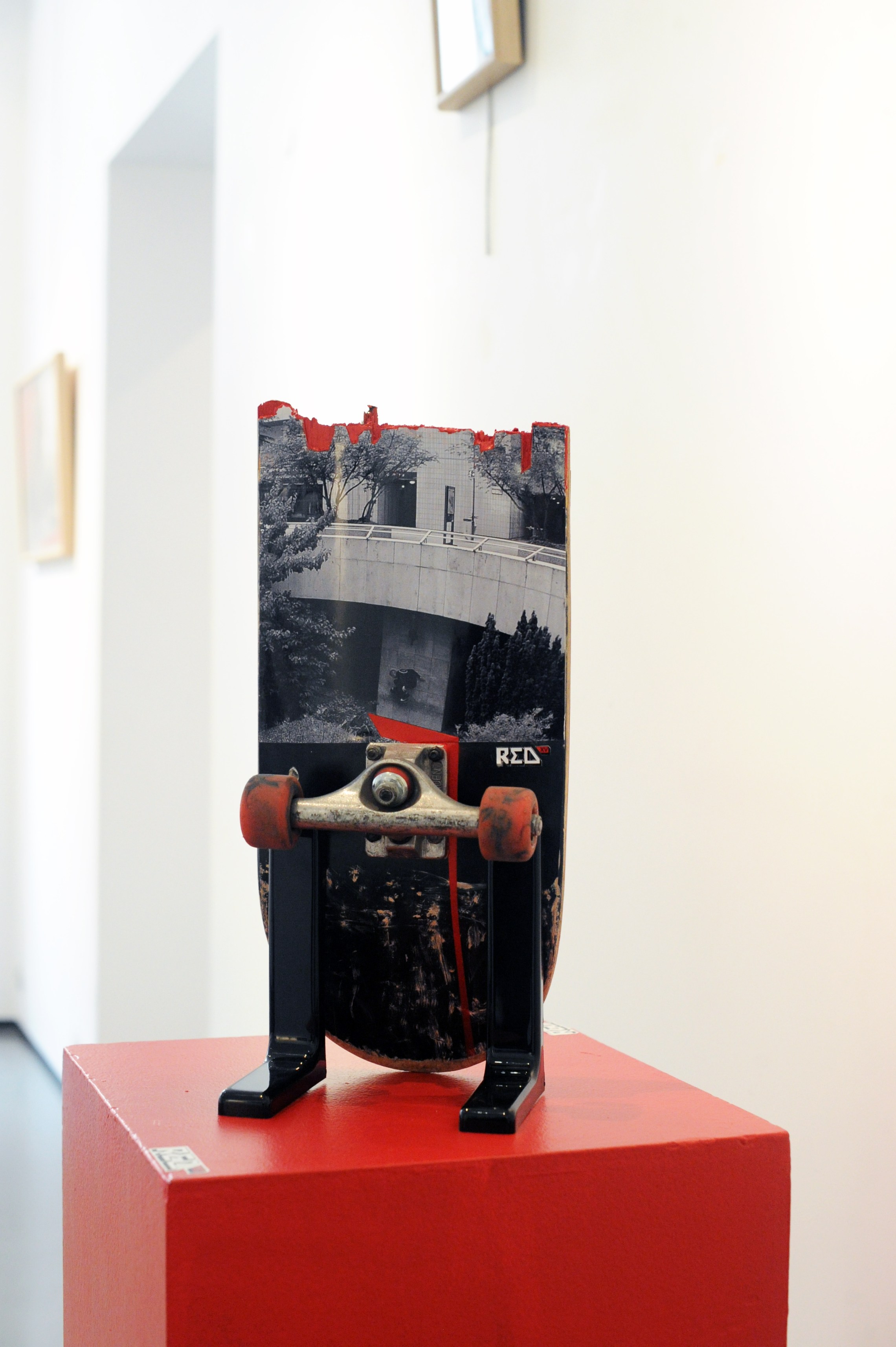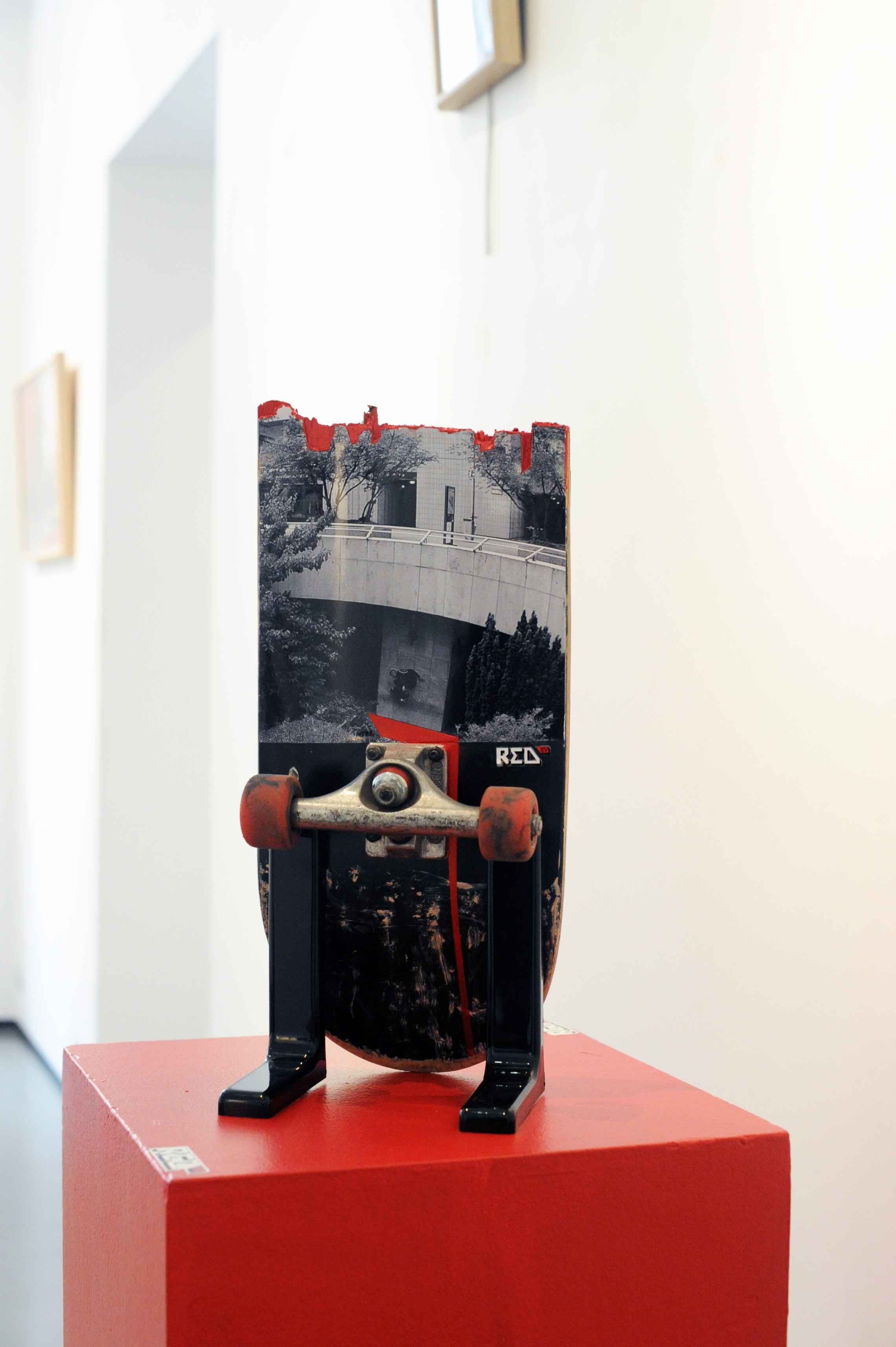 We came into contact from the moment you introduced an object side with your skate board works. On the other hand, I never asked you why you came to not be satisfied with the format of the painting?
For RED XV, we actually had 2 works based on skateboards. For the half board "Life after Death", I found it on the floor in the street in Paris, with a black Independent truck and red wheels, stack in our color code! It was a sign, something had to be done. I had a print of which I had missed the painting, all turned into sculpture.
For the triptych "Don't miss the train", we loved the image. Unfortunately, Mathieu only had the opportunity to shoot the day after a rainy day. The roof of the train was wet and it was really too dangerous for the skateboarder to make the gap with a momentum and a reception soaked, even in ollie. So we just see a skater passed from one car to another with his board under his arm… It was cool to use a photo without tricks, very "skatelife".
Placing the image on a board triptych was recreating the link with the skateboard and giving another dimension to the image. In addition, if the three boards are separated, it gives nothing more visually. Putting boards in the exhibition was also a good way to explain to a gallery public where we come from, materialize skateboarding as an object but also as a creative support. In art, as in practice.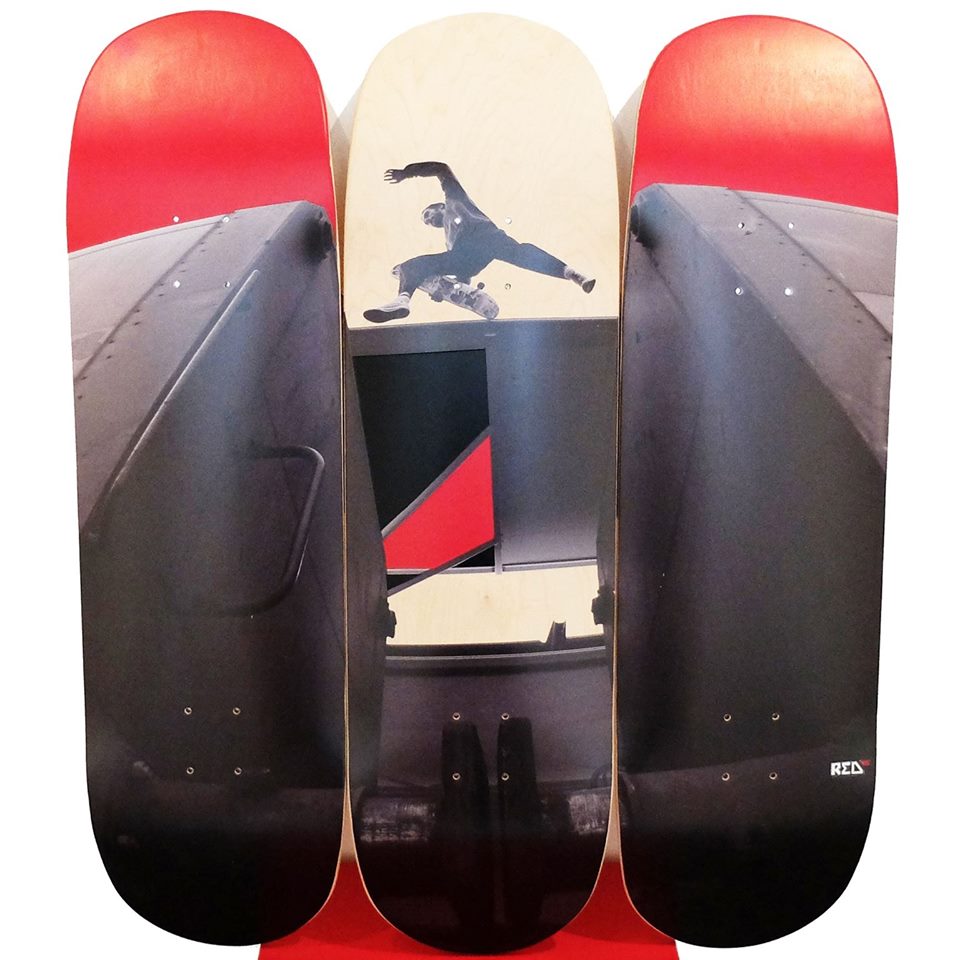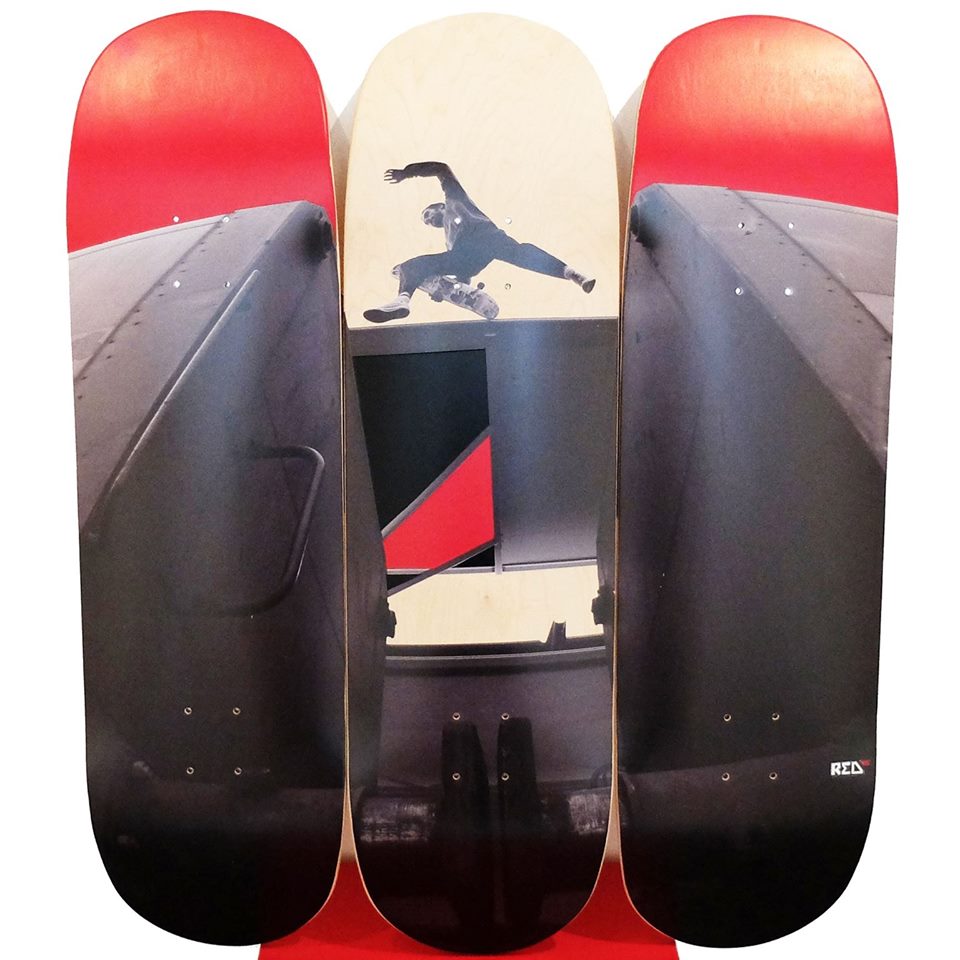 And finally, you come back with your new project "Unconcrete Architects". The photos remain in black and white but you add 4 colors and architectural features. Can you explain the concept?
"UNCONCRETE ARCHITECTS" is the sequel to RED XV. The idea is to go further, to push the architecture / design side. It was at the time of "Paris, Skate in The City" that we became fully aware of the importance of architecture in our vision of Skateboarding.
The basic concept of the new series is to reinforce the architectural side of our work by drawing inspiration from the plans of modern architects such as Le Corbusier, Finn Juhl, Alvar Aalto and the Bauhaus. I am very fond of the aesthetics of that time. For colors too, we were inspired by projections enhanced with the watercolor of the "modernists". After a few months of testing, we found a good balance.
The clichés are therefore more and more architectural in the choice of shots and compositions. Now that we know more or less where we are going, Mathieu is shooting with these new parameters in mind.
My painting job has also evolved. On RED XV I only masked small parts, the original image remained very present. Today, I don't hesitate to completely transform the photo to give it a different dimension. I also play on transparency and materials … Mathieu is often the first surprised by the result by rediscovering clichés which he was not fully satisfied at the time of shooting. We passed a course I think.
The Art Ride exhibition in San Sebastian was a great discovery and a nice tribute to legends. Can you tell us about the first works you presented?
It was so cool the Art Ride yes! It was the first time ever that we presented the works of "Unconcrete Architects". We did not want to reveal too much, hence the idea of portraits. It's been a long time since Mathieu wanted to do something around his collection of portraits of Skateboard legends who are in fact, the architects of our discipline.
It made sense to treat a series of portraits in the same way as our future paintings. We knew that Steve Caballero and Christian Hosoi would be present, it was the perfect opportunity to pay tribute to them and present our work. They really appreciated if I believe their posts on their Instagram accounts.
You just sent me a beautiful board that you realized. It was complicated to compose? The skateboarding constraint, did you challenge or was it easy?
The format is the association LEARN AND SKATE, which imposed it on us. 
We met at the Art Ride, Jean Claude liked our work and asked us if we could make him a board for the next auction of his association. So we made this board especially for the occasion. 
Mathieu shoots quite little in the "portrait" format so I did not have a very large choice in the images at my disposal. I had already worked on the photo used for the board. I felt the potential but nothing really conclusive had emerged from the tests.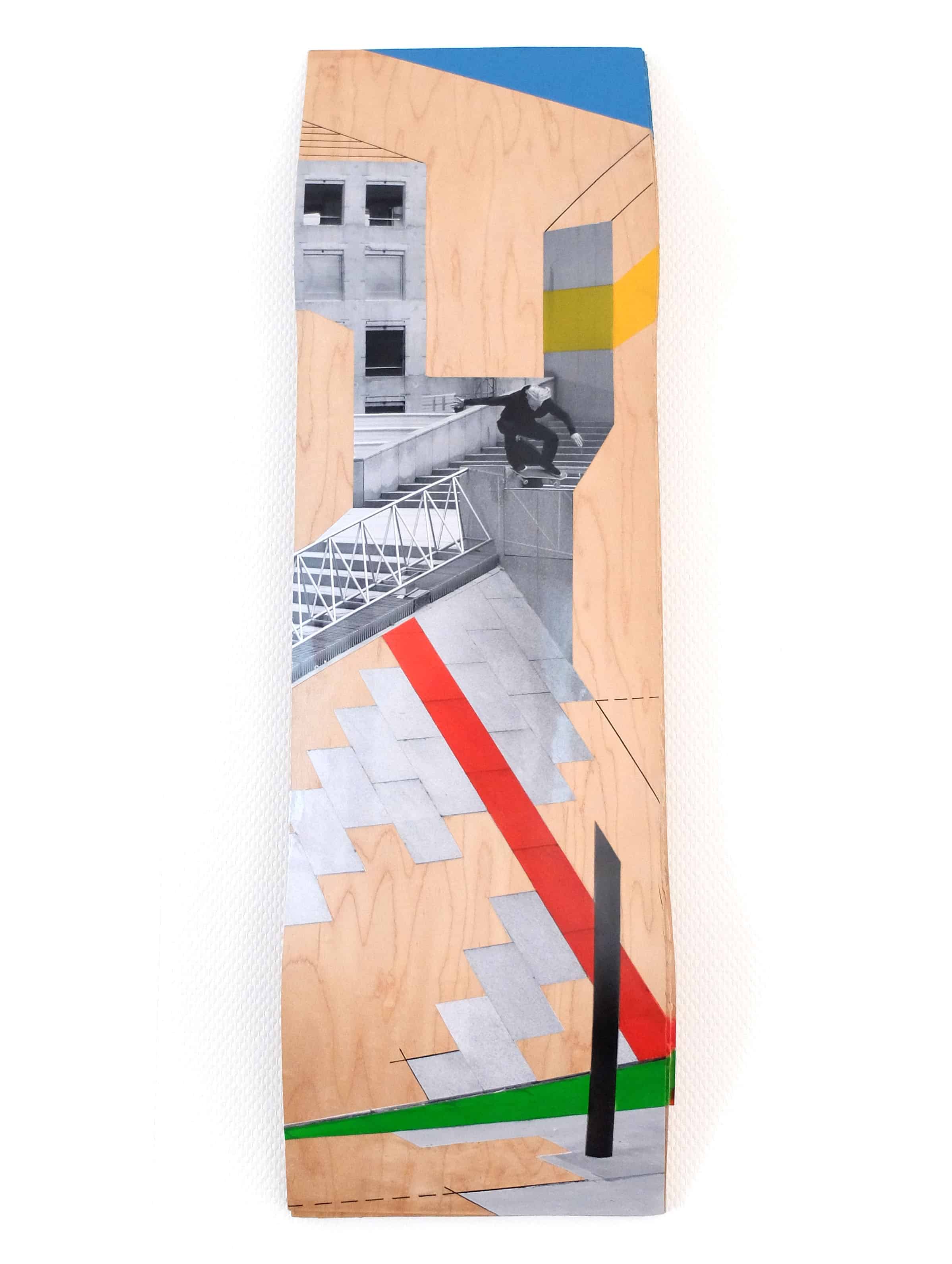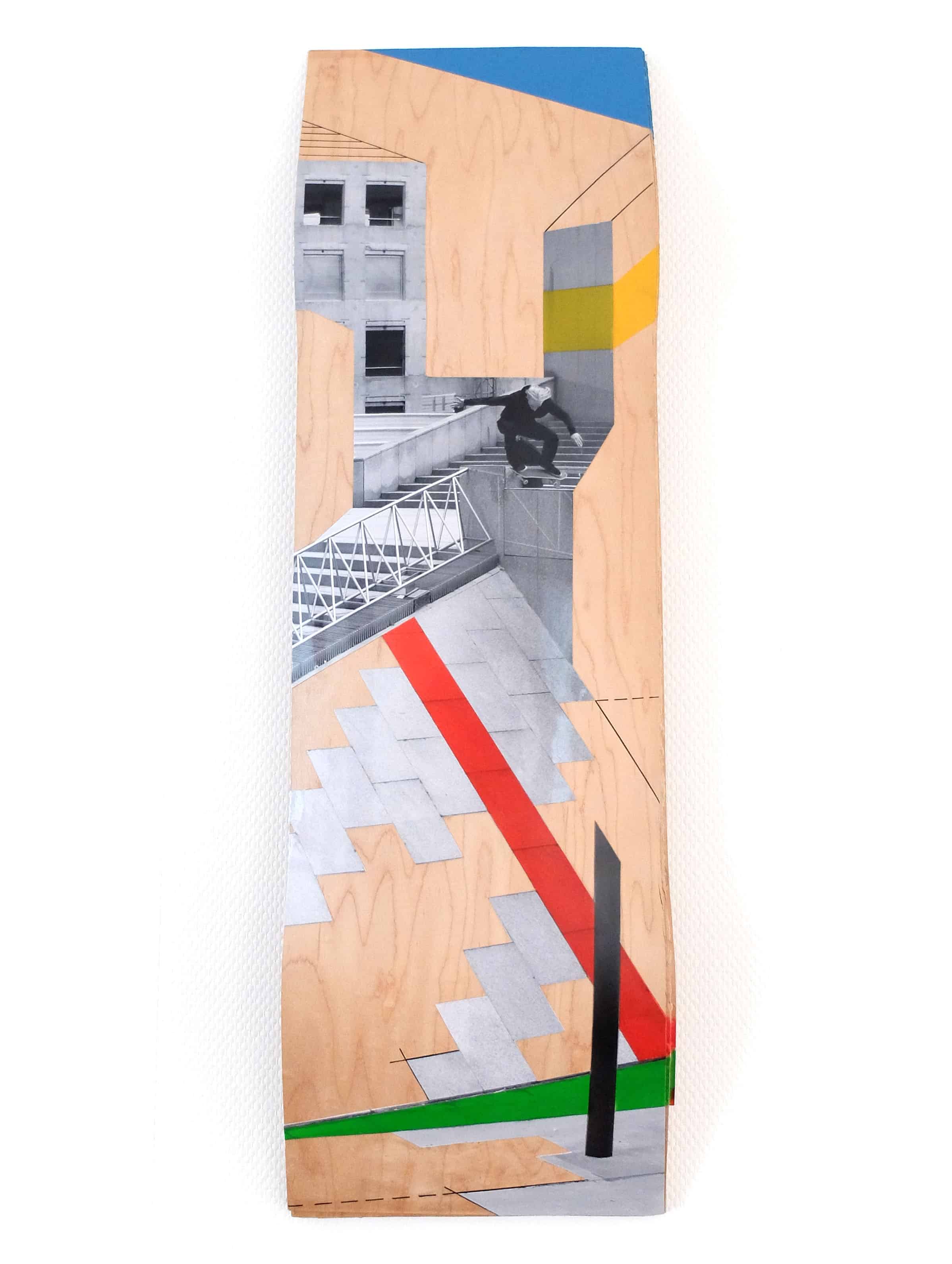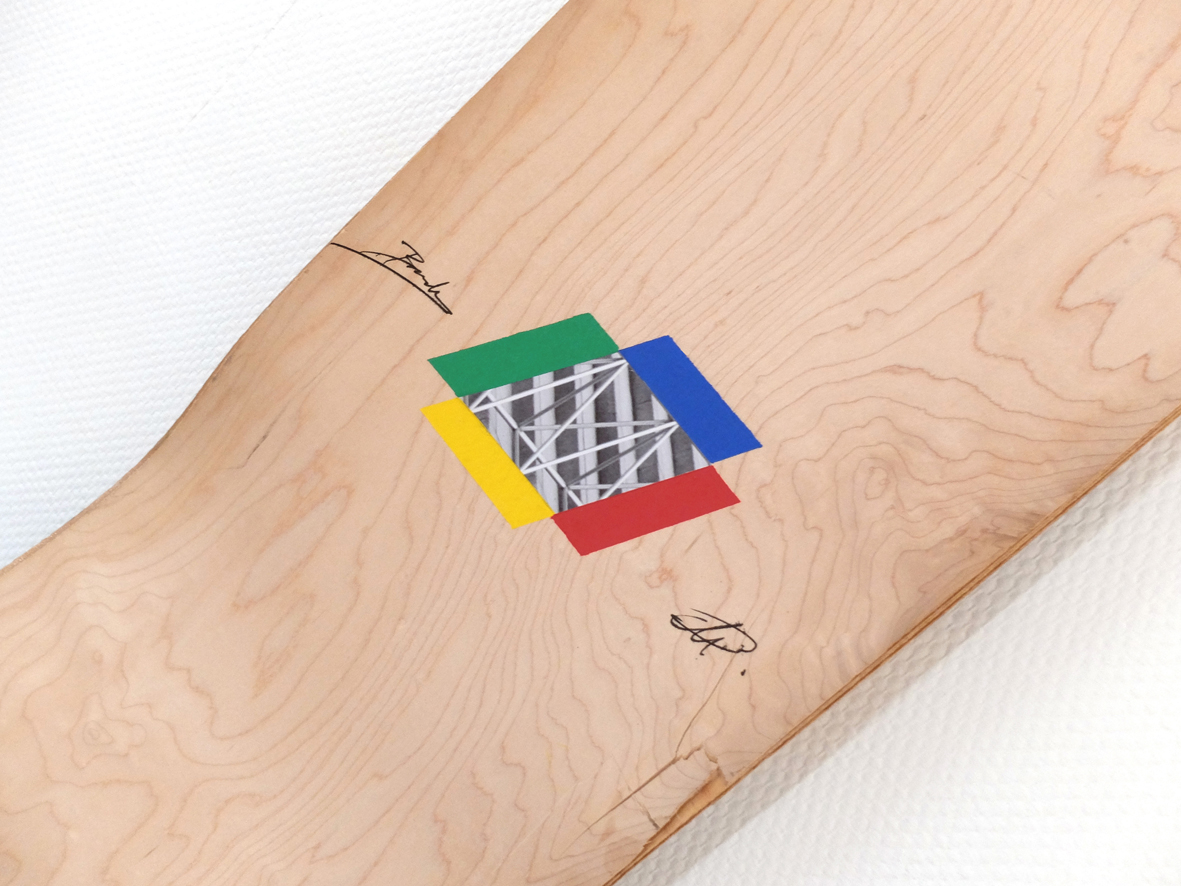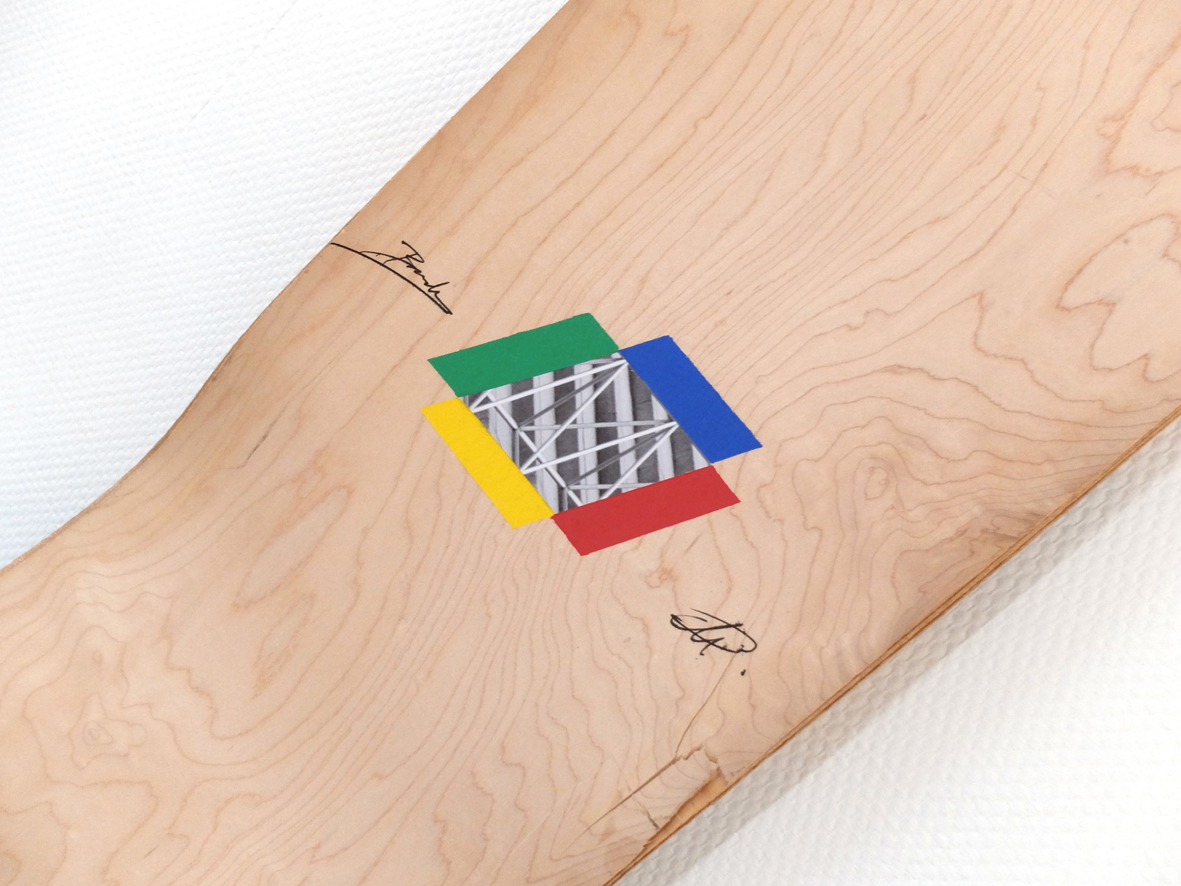 With the constraints due to the format of the board, it ended up working perfectly! The vertical alignment of the buildings, the skateboarder, the inclined plane, the ground and the street lighting works really well. Personally, with Mathieu, we prefer raw things, hence the choice of the uncut board. At the factory they roughly stick the 7 maple pleats and form the concave boards in the press. The board is cut to the desired shape only later.
Choosing to work on an uncut board was also an opportunity to mark our difference and to break the "popsicles" side of skateboarding, which, in our opinion, greatly impoverished skateboarding culturally from the mid-90s by standardizing the object.
After, at the technical level, we wanted to keep the wood so we cut and glued the photo. For the rest, we used our usual techniques: transparent paint bombs and Posca.
By the way, I'm curious to have your vision of skateboarding and art in the years to come? Regarding skate graphics, skate photography, or pure artwork like yours?
Vast question … As big as skateboarding in 2018 actually. I want to answer you like when I'm asked what is the best skate age in my opinion. For me, the best time is now. 
For the first time in our short history, everything is available in terms of material and therefore practice. This means that several generations of practitioners will ride together and thus be able to exchange culturally. The danger for me is the unique thought.
It almost killed skate many times already, at the end of the 70 ', 80' and even 2000 '… The strength of skateboarding is that it's not a sport and that beyond physical activity there is a super rich culture that touches absolutely every aspect of society.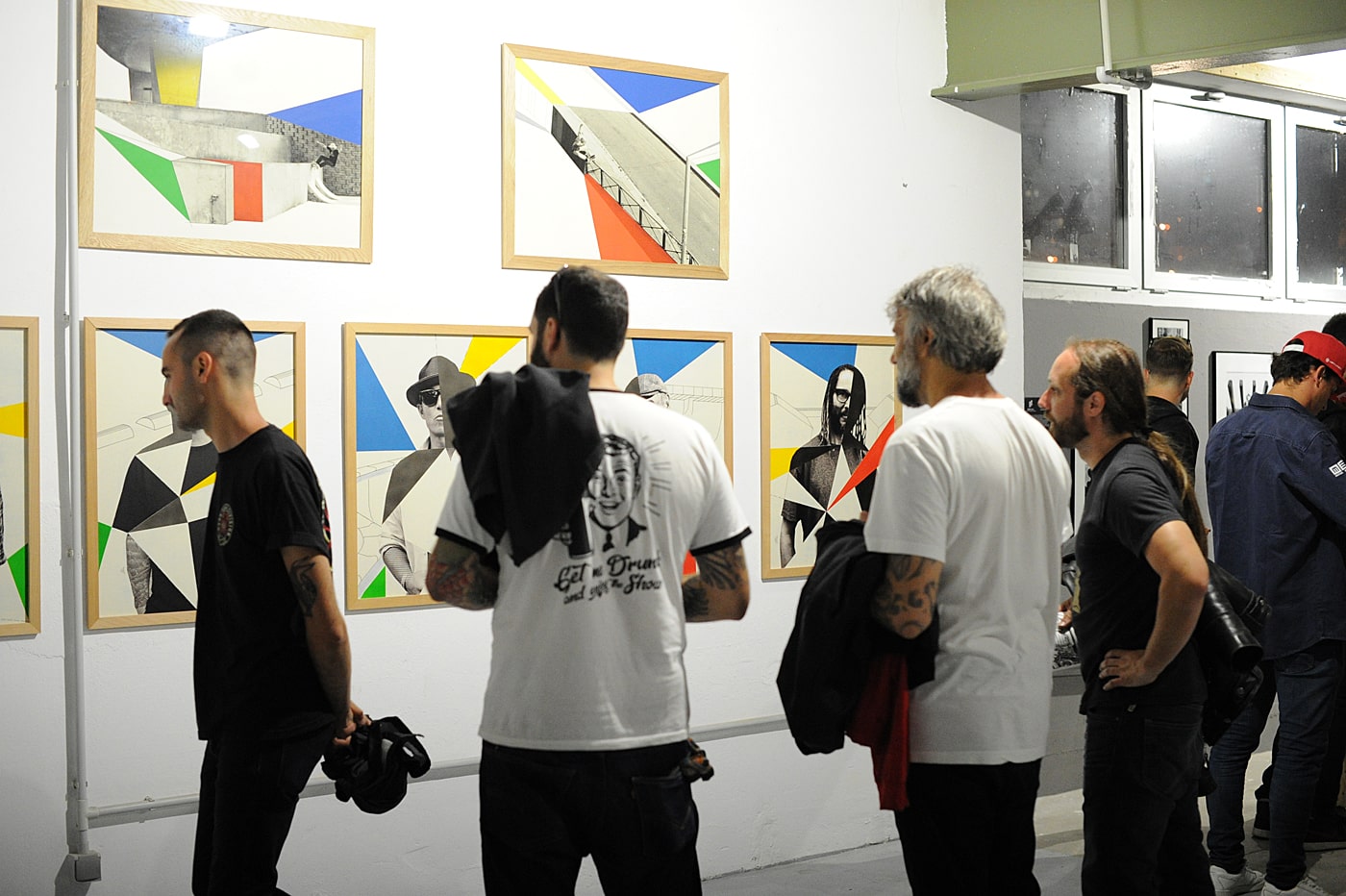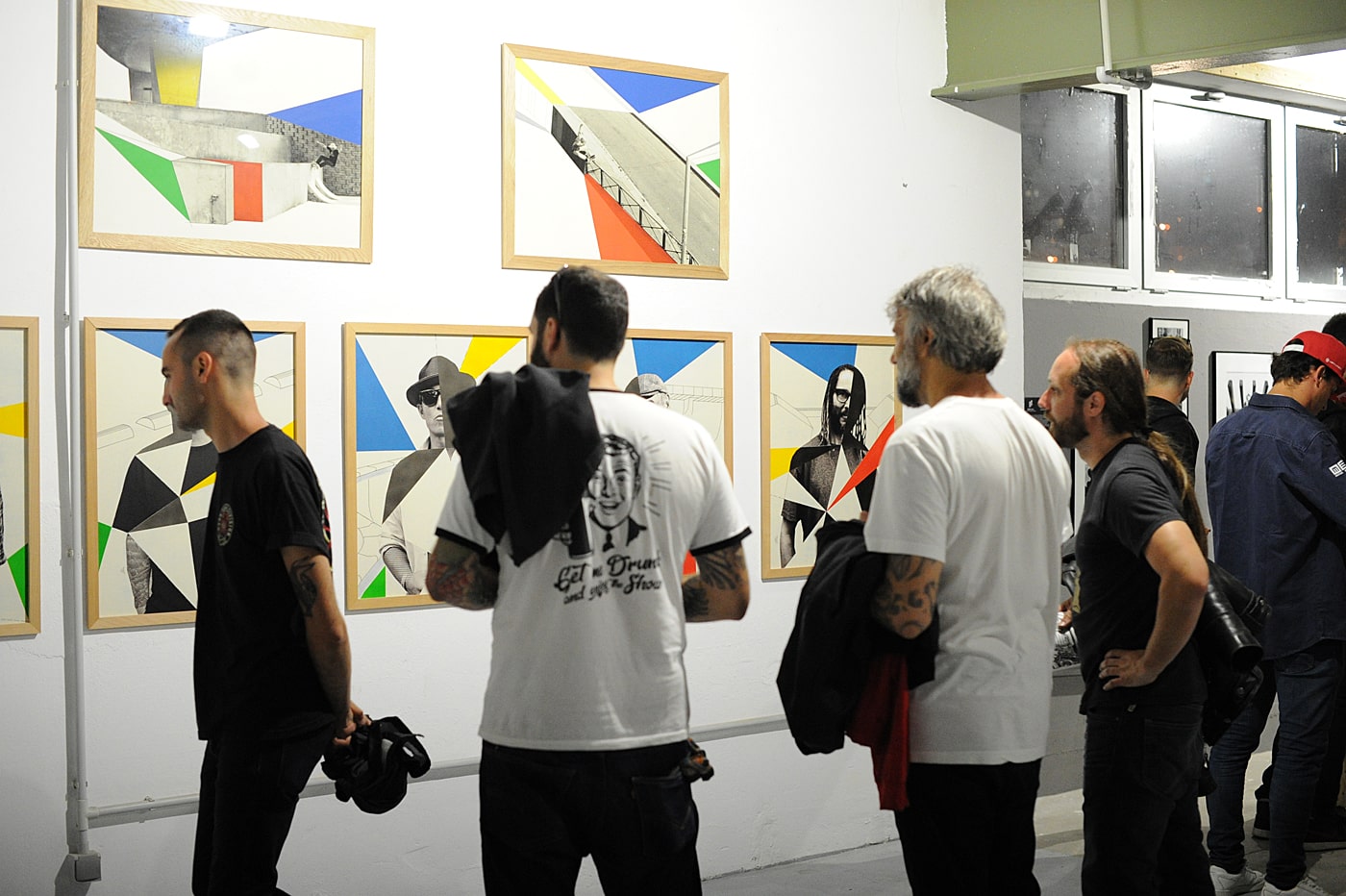 The important thing, at a time when sports brands have got their hands on part of the business and everything to make skateboarding at the Olympic Games, is to cultivate this culture is clearly part of the approach we have with "Unconcrete Architects".
I do not have a crystal ball, hard to say what the future holds. What I do know is that we have a certain vision of skateboarding and its culture and we will continue to try to convey all that.
And what is the sequel to 'Unconcrete Architects'? Always more works for more exhibitions?
Ah Ah Ah Ah Ah! We're not there yet, we've just started!
More seriously, the immediate sequel is firstly the auction for the benefit of Learn And Skate association at CRUSH WALLS Urban Festival Denver (USA) in early September .
A small exhibition at the Black Shop Paris in November to prepare the big exhibition in the gallery for February 2019. Stay tuned!
And last 8 questions in speed:
ÉTIENNE
UNIQUE OR MASS PRODUCTION: Unique pieces
HANDWORK OR COMPUTER WORK: Computer for sketches / By hand for final rendering and materials
SKATE & CREATE OR SKATE & DESTROY: Il faut créer pour détruire
WHAT BOOSTS YOU: Discover and do new things
WHAT SLOWS YOU: The sleep
FAVORITE TRICK: Salad grind but I have not done for a long time

FAVORITE SKATER: Kris Markovich
YOUR DREAM: Always do what I love
MATHIEU
UNIQUE OR MASS PRODUCTION: Unique pieces
HANDWORK OR COMPUTER WORK: I shoot everything in manual and I do very little retouching
SKATE & CREATE OR SKATE & DESTROY : You have to destroy to recreate
WHAT BOOSTS YOU: Beautiful encounters, productive exchanges and punk rock
WHAT SLOWS YOU: Time and money
FAVORITE TRICK: A beautiful ollie, simple, clean, stylish
FAVORITE SKATER: Impossible to answer this question in the singular…
YOUR DREAM: Live from my art
A big thank you to you both! Do you have one last thing to add?
Étienne :
A big up Jean Claude and LEARN AND SKATE for whom we realized the board !!! His association helps kids from disadvantaged countries, including building skateparks but also schools soon … To find the money he needs, he creates skate board exhibitions and auction funds are used to finance projects. Thanks to him and Learn and Skate !!!
Mathieu :
A big thank you to all the skaters with whom I ride and shoot. Thank you for the trust and inspiration, without you nothing would be possible. Thank you also for giving us the floor and promoting all the artistic aspect that surrounds skateboarding hoping to meet again very quickly, on a spot, in an exhibition, at a concert or just over a drink, because That's skateboarding, a simple piece of wood that brings us together.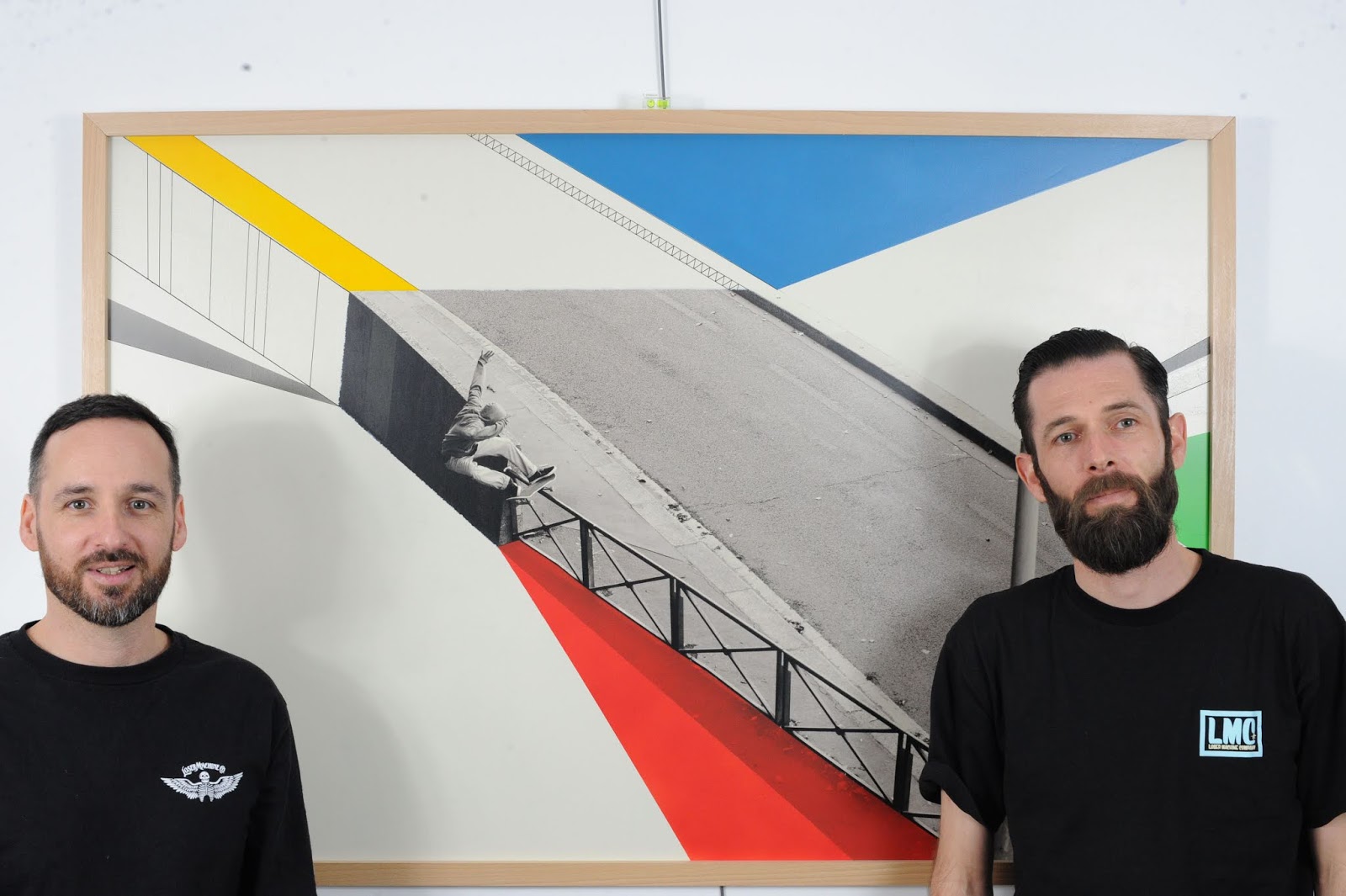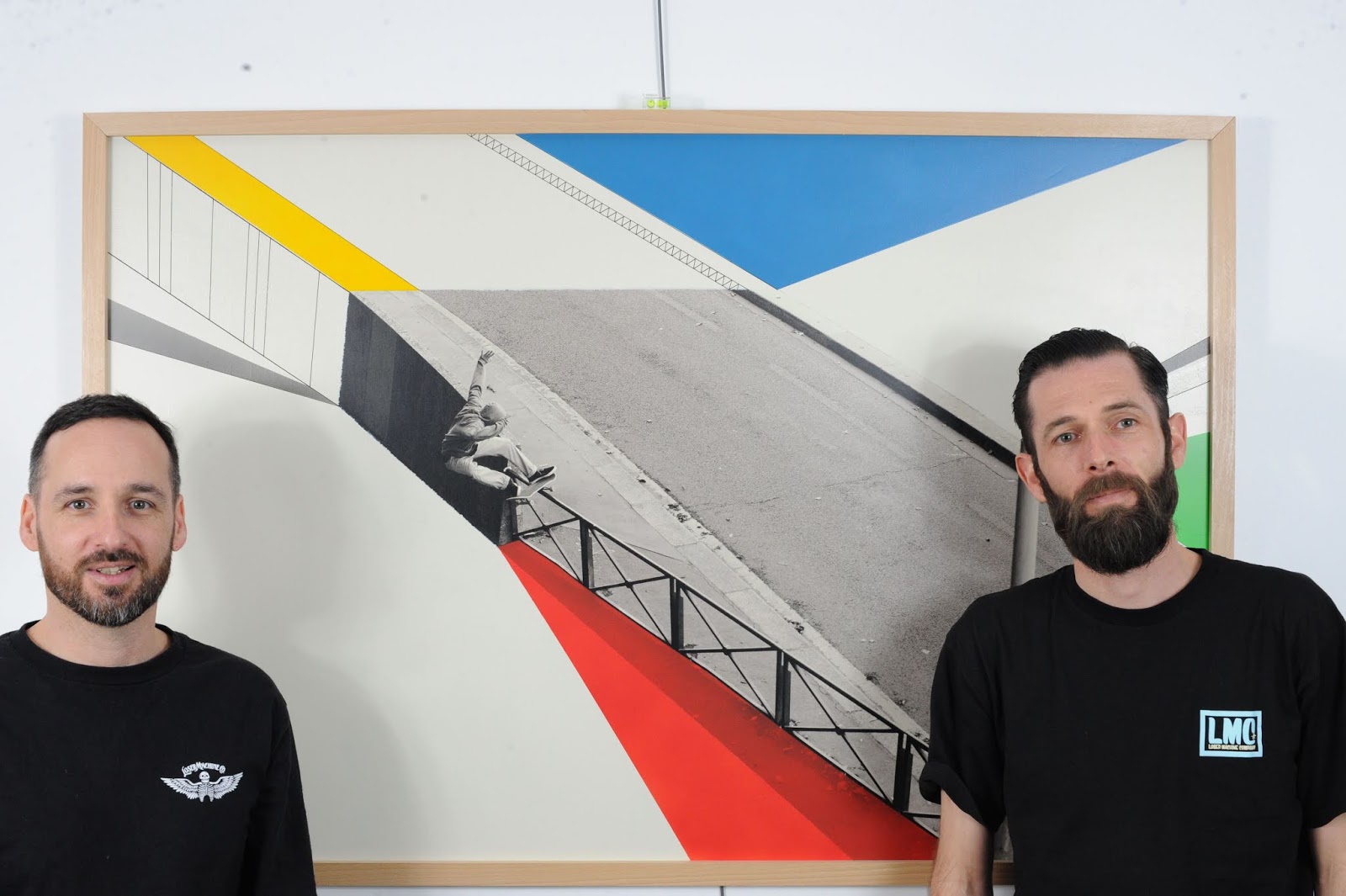 www.instagram.com/edaisnotacrime
www.instagram.com/captainconso
Sponsored by

Thanks to abs Skateboarding for sponsoring us. ABS is the specialist in the sale of sports equipment in Lyon, Annecy & amp; Grenoble: skateboard, snowboard, technical sportswear, mountain since 1992.