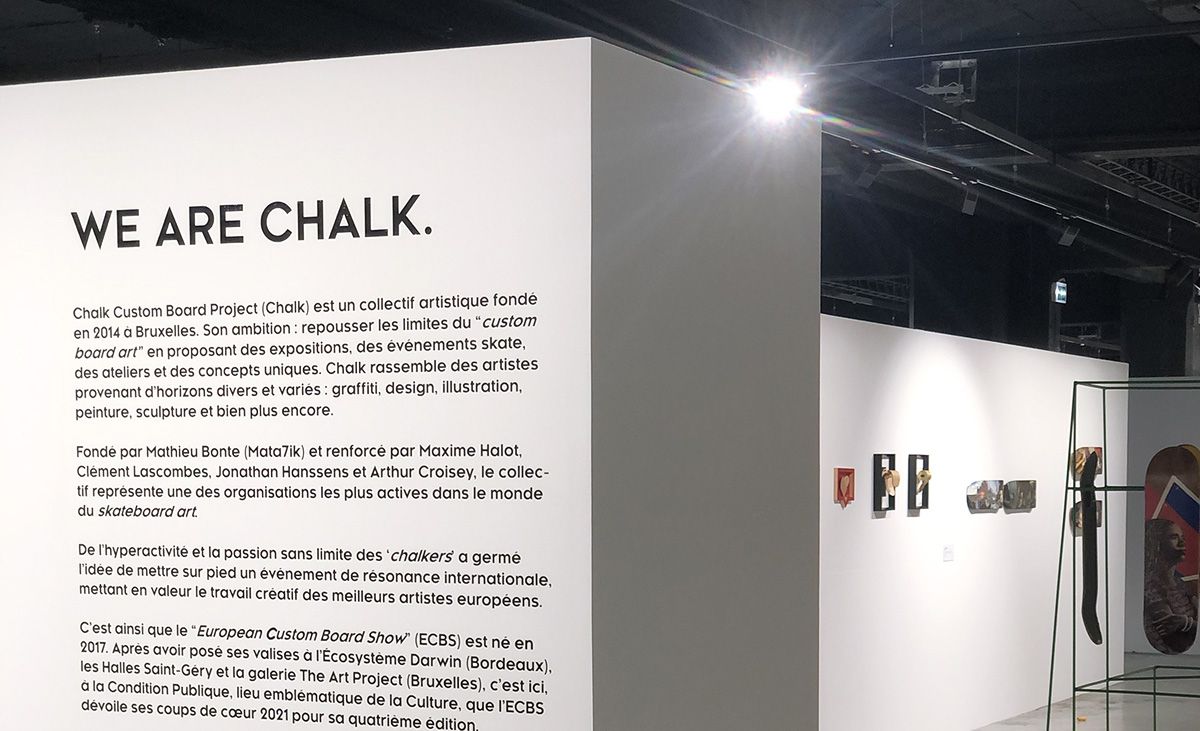 The new edition of the European Custom Board Show 2021 is a custom board exhibition that will be held from September 15, 2021 to December 18, 2021. On the program, more than 150 skateboards created by artists from all over Europe. We sat down and exchanged via computer with Mathieu Bonte aka Mata7ik to talk about the exhibition, its challenges, the novelties and its place in the urban art landscape.
Tell us about the genesis of this exhibition that you have been organizing (with the whole team of Chalk Custom Board) for several years.

The "European Custom Board Show" was born in 2017 after several years of exhibitions and artistic presences of all kinds and in all places, all over Europe. At Chalk Custom Board Project, we had a strong desire to set up an exhibition with international resonance, highlighting the work of the best custom board artists. We started from the fact that most of these talented artists, that we discover every year, are not sufficiently represented and sometimes do not have the opportunity to show their work other than through digital media. So it's with Maxime Halot, Clément Lascombes, Jonathan Hanssens and Arthur Croisey that we organize the ECBS, with a strong desire to always raise the bar, to propose an ultra polished scenography, and to find places always more iconic, artistic and full of good vibes, above all!

What made you want to bring it to Roubaix, in the cultural center La Condition Publique?

I had the chance to meet Jean-Christophe Levassor, the big boss of La Condition Publique in Roubaix. Indeed, he had come to discover our exhibition at the ECBS2020 at the Halles Saint Géry in Brussels, and the current passed in an instantaneous way. I must admit that for me it was a perfect opportunity to come back home and organize the ECBS in my native region, being originally from Lille. What's more, the Condition Publique is an absolutely unique place, in the middle of a popular district of Roubaix, and a high place of culture in the broadest sense of the term. A skatepark (Colorama) has been created in 'indoor' and so, it's the perfect place for Chalk & Friends to set up shop during the four months of the exhibition. We are lucky to collaborate with a super motivated team at the Condition Publique, it's a real pleasure to have set up this project with them. Passion above all else. We're really proud to add another stone to the Condition Publique's edifice, in a way.
What are the challenges this year? How was the curation done?

The big challenges this year were, once again, in relation to all the remote meetings we've had to hold over the last 6 months, remotely. An incalculable number of video-conferences, before finally being able to meet the teams for real! As far as the selection of artists is concerned, last spring we launched a Europe-wide call-to-artist, and then we set up a selection committee that had to make choices among more than 350 applications. Only 40 artists could be selected and are part of the ECBS2021. It is not an easy exercise, because we sometimes had to make concessions and sometimes had to refuse certain artists who could totally have their place, but because of the lack of constraint in terms of space or diversity of techniques and styles, we had to make choices.

Where does the European Custom Board Show stand in the current urban art landscape, and where do you see it in the future?

The ECBS evolves year after year, and I must say that after a rather difficult year 2020 in terms of motivation and organization (COVID, when you hold us), we were able to find the strength to stick to our deepest convictions and to go up a notch in the quality of the event. The life of a collective, on the long term, is certainly not a long quiet river and this is the reason why the passion and the belief in what we are and what we do must permanently be in the center of our actions. In Custom Board we trust!

What's new for this 4th edition?

The fourth edition is full of surprises and novelties: first of all, our collaboration with the Zambian association WeSkateMongu: we will exhibit 16 skateboards created by children in Zambia (from recycled boards, cart wheels, nails as trucks, etc…) and we will sell them for the benefit of their association, to allow them to have access to training (skateboarding and also schooling) and to provide for some of their needs, as well as their respective families. It is a pure spirit of resourcefulness and "Do It Yourself" that springs from this initiative thousands of kilometers away from the Condition Publique. A book will be published for the occasion.
Moreover, we have this year a rather incredible scenography (thanks Maxime Halot and Clément Lascombes, you are geniuses!) and mobile sculptures conceived with skates, wakeboards, surfboards of our friend Tommy Knuts, artist from Lille. We won't reveal too many details about the masterpieces of the exhibition, but I can only invite you to come and meet us on site and share this ECBS which is incredible. For those of you who can't make it to the show, we'll be editing several videos and photo shoots, as well as Facebook live and stories.
One last thing to add?

Thank you Romain for being part of the adventure for several years, for being present as often as you can, and for supporting us with passion. It's with people like you that we take custom board art in the right direction whatever it is. A big thank you also to all the team of the Condition Publique, to Tommy Knuts, to Frédéric Maciejewski, to the friends who are always there to help us, to Cath for his numerous rereadings, to Kim, to Johnny from WeSkate Mongu, to all the team of Decathlon Skateboarding, to Etnies, to The Daily Board, to Roarockit Europe, and to all those who make this project viable!