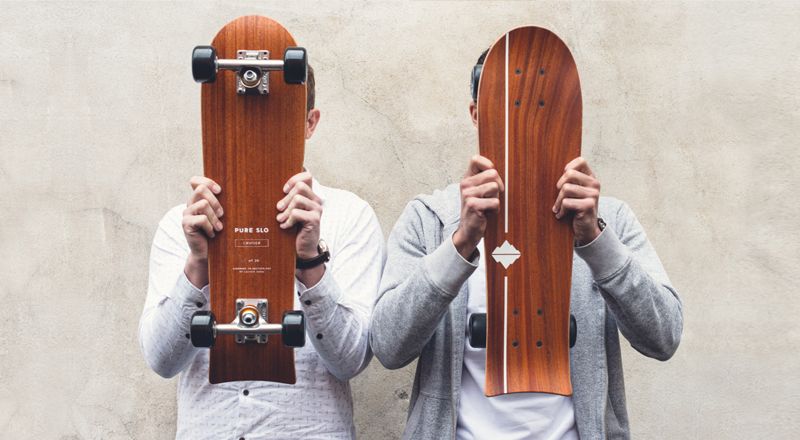 I definitely got tricked on this one… I thought I'd found a new brand of cruiser but no, Pure Slo is much more than that! It is, first of all, a wakeboard & wakesurf brand lead by two highly motivated guys, with plenty of ideas.
We are always in search of creating timeless products
Thanks a lot for inviting us to your showroom! To begin, Kiel, can you introduce us to your brand? 
Kiel: Pure Slo is a brand of wakeboards and wakesurfs we created with Nicolas. Our boards combine traditional manual techniques, rich expertise and innovation paired modern aesthetics. The original design of our wakeboards is directly inspired by the colors and lines in Riva and Boesch boats.In fact, our philosophy for creating our boards is simple: we are always in search of creating timeless products. That's why we try to employ raw, structural materials as design elements and use premium quality wood like as spruce from the Jura, mahogany and maple.
Nicolas arrives at that time and joined us in the discussion.
Since how long has the brand existed? And how did you guys start it?
Kiel: It's interesting because the project was born out of a simple opportunity. Nicolas and Ludovic Lacroix, a ski shaper from Jura, worked on a boat project centered on using high-quality wood. One day in the workshop, they decided to take some of the wood and make a wakeboard! They created their first prototype and the result was awesome.
Nicolas: Yes and it is this time that I met Kiel. We discussed the project and he was super hyped to join me in the adventure, by beginning to curate the brand's image. We started by presenting the brand via the crowdfunding platform Kickstarter, at the same time that Kicktarter officially launched in France in late May 2015.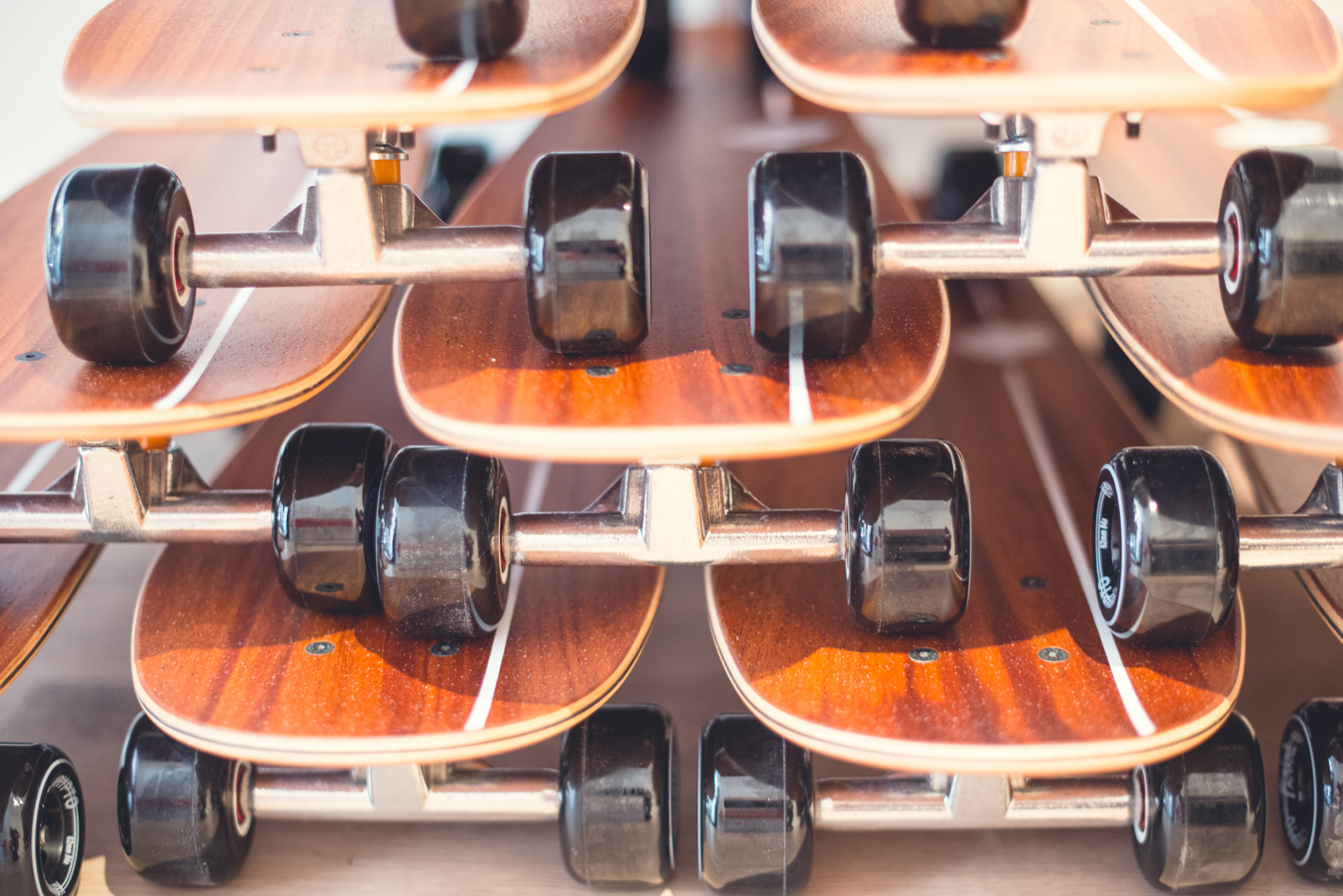 It was a big boost because the head of the French subsidiary was looking for solid campaigns to promote and pushed the project on the French home page, their newsletter, their social platforms, etc… We received a ton of help from our friends, family and a lot of unknowns from around the world. They all helped us create the project, and in the end, we had awesome results! We were funded at over 100%, allowing us to sell a lot of boards in advance. Our boards were sent to the US, Australia, the Netherlands and quite a few in France..
What inspired you to embark on this adventure?
Kiel: We come from different backgrouds: Nicolas is a trained engineer and I'm a writer but we share the same passion for gravity sports and design. It was also being opportunistic, and realizing that we are surrounded by great people and it would have been a shame to not at least give it a shot!
What could be better for arriving at your next wake session
If I understood correctly, your first love is wakeboarding. Then you began to make skis and now it's time for cruisers. Is this a brand evolution or more of a whim?
Kiel: Both! It is the evolution of our will to decline everything we love in wakeboarding and wakesurfing into a daily product. It also comes from our deep passion for the creative process. In addition, it was a brand extension that makes sense to us. What better way to get to your next wakeboard session than via cruiser?
Nicolas: We are a wake brand, but have enormous respect and a strong interest in all forms of gravity sports. We also absolutely wanted to work with Laurent Golay, a great skate shaper and friend the Swiss side of the Jura who runs the LGS Swiss Skateboard Company. He has extensive experience in the skate manufacturing and it was a pleasure to work with him!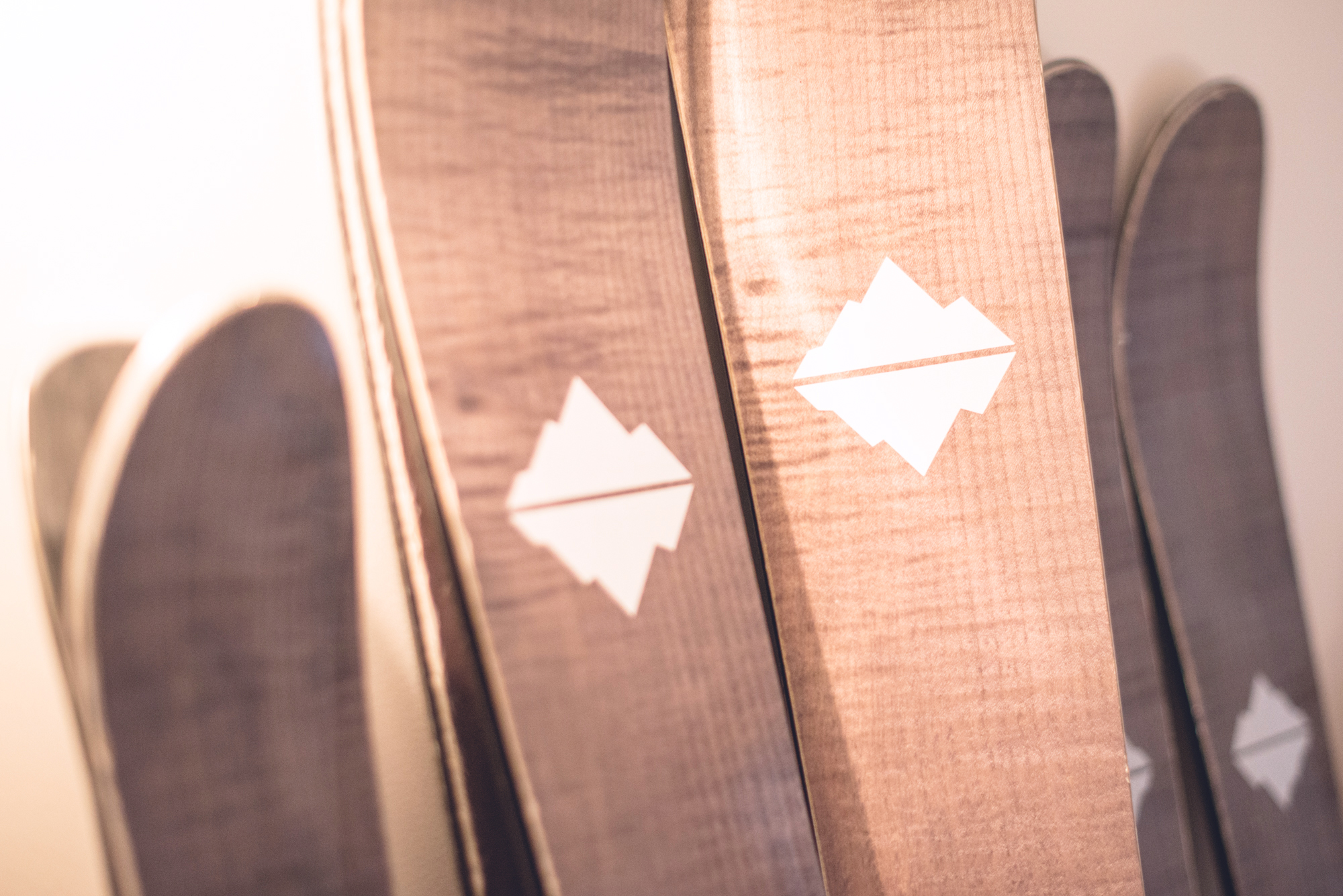 How long it take you to set up the cruiser skateboard project?
Nicolas: It's been a while since we launched the project internally. The first cruiser was prototyped in September 2015 and the final series, called the Alaia Cruiser, a serie of 20 boards, was released in April 2016.
Like with the rest of our products, we strived to make these boards excellent from start to finish. It is a 5-ply Canadian maple with a mahogany finish on top and bottom, Independent Trucks, with a transparent grip and wheels & bearings of Kryptonics.
Cool! And in terms of riding, are you more wakeboard, skate, or ski oriented?
Kiel: I grew up in New York, so skateboarding was really everywhere. I skated for a little while when I was younger. Now I pretty much get around Lyon uniquely by cruiser. I started wakeboarding when we launched Pure Slo, and I am an avid skier!
Nicolas: Yes, we had a handful of great ski sessions this winter! On my side, I've been wakeboarding for years and now I cruise.
Given the design of your boards, my girlfriend told me it reminded her of the super-minimalist work of Martin Margiela. Why the choice to combine wood with minimalist design?
Kiel: Oh really? We've never heard that one, but it's a great compliment! In fact, all of our work is based on a return to simplicity. The idea is to keep it simple and transparent; so that structural materials become aesthetic elements.
Nicolas: Yes, when you work with quality materials, you have to treat them as such. We try to adapt beautiful "classic" materials like mahogany to have a more modern appeal. Why wood? Because it is a living material, which makes every board unique.
What inspires your creative processes? Any artists or designers in particular?
Nicolas: We are inspired by everything that surrounds us. We're big fans of design and were really inspired by everything nautical & urban.
Kiel: Nature too!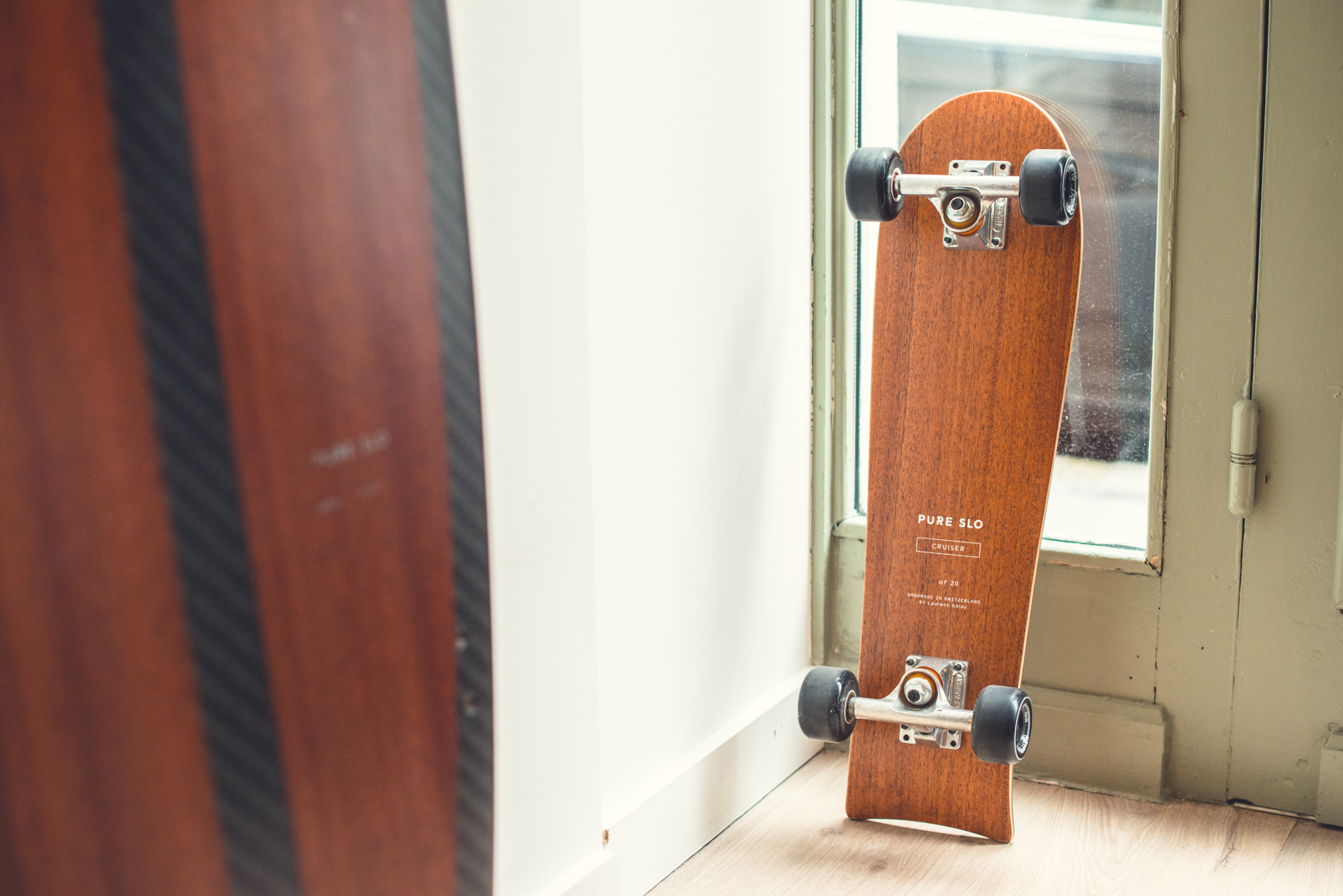 And today how can we by Pure Slo boards?
Kiel: We sell mainly via our website. Social networks, on which we are hyperactively present are our primary storefront!
We are currently in search of shops with which we can build a real relationship. Summer in Lyon is the first shop where you can find our cruisers!
And among the Lyon skateboard makers, there is Brice from Arkaic Concept? He has a great authentic / handmade approach like you.
Nicolas: Arkaic, yes, we know the brand because we worked with a silkscreen that was in front of their headquarters, but we have not yet had the opportunity to meet Brice.
OK! And what new projects are cooking?
Kiel: We are currently working on an artistic project around transforming our Alaïa Surfboard in collaboration with local artists. There are several "Pure Slo" and "Pure Slo … x" are in the pipeline!
Thank you to Kiel and Nicolas for sharing their adventure and thank you to my friend/photographer Cédric Bougnoux for these great shots!