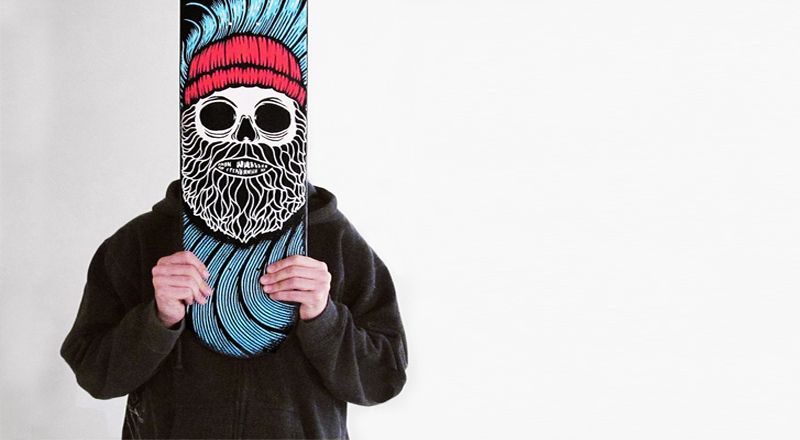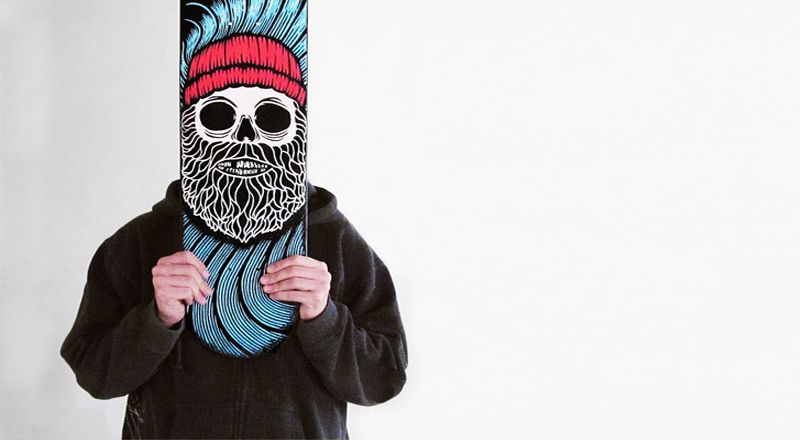 Its very good skills with Posca and his passion for the artists of the skate culture n'surf 70s brought Santi Lissarrague to take action and create his own skate graphics and with his both hands.
I've never been any good at skateboard… snowboarding is where I feel more comfortable.
Hi Santi, happy to have you here! Are you enjoying summer in Buenos Aires?
Santi: Hi! thanks! Actually, it's winter season here in Buenos Aires, but i do enjoy it a lot, though!
Tell us more about you? Do you skate?
Santi: Well, not as much as I used to skate, but I gotta admit that I've never been any good at skateboard tricks haha!, but when it comes to board sports, snowboarding is where I feel more comfortable. I used to teach in a couple of ski schools during the season in the US and here in Argentina, those were really fun times.
But now I'm working here in Buenos Aires as a graphic designer, and painting / drawing a lot in my spare time, mostly skateboard decks or any graphics related to that world.

When did you start using Posca to make such good stuffs? And why Posca?
Santi: I've started with Posca markers not that long ago. I used to do most of my artwork digital, with a Wacom tablet, but when a friend of mine told me to give them a try, I grabbed an old deck I had and started painting on it, I felt like a child again drawing on paper and stuff with crayons.
I sketch it up on paper, and from there, I take it to the board deck.
How do a new board artwork came on? Do you have a method or you just do what the fuck you want?
Santi: I don't know if I can call it a method but, I start with thinking about some random character in my mind, his imaginary background, and when the picture is almost clear in my head, I sketch it up on paper, and from there, I take it to the board deck.
In your first board serie, it look like you like drawing big beard? Are you trying to push a big one?
Santi: Haha, no I don't. It just fitted that character's look ("Mad Turkey"), an old school skate n'surf rebel from the 70s/California scene.
Ok, let's stop bullshitting, your doing your art just on skateboard, why? And, how long does it takes to make one skate deck?
Santi: Well, I'm a big fan of all the graphics and culture of skateboarding, I find it really inspiring. In order to get my work going, I need challenge and motivation, and that's what a skate deck represents to me as a canvas. Wood surface, the deck shape and limits, and the best of all, you can take it to the street and ride on it.
You made a board tribute to Jim Phillips. What other artists inspire you?
Santi: There's a lot of big artists that I admire, but I'm gonna go with Jim Phillips, an outstanding artist, with an unique style. Also Wes Humpston, the one who started all of this. And I love the Rat Fink character from Ed Roth. The three of them are a great part of my graphic culture.
What's your next projects? Thought about exposing?
Santi: Right now, the project is to enjoy working and improving in my illustrations, in order to get more boards out there. I thought about exposing, it's a fun way to take your artwork out there, so there's gonna be some news about that anytime soon.
Thanks a lot Santi! Keep up this way!
Santi: Thanks to you for giving me the chance to show what I do, and for creating this blog. It's great to have a place that put together all the skate art that's out there.