He is the machine behind most of the Flip pro series skate graphics, He is Manderoid!
More known as Mander, which is simply a contraction of Martin Ander. We've talked to him about his art, evolution and projects.
Hello Mander, really happy to have you here! How is it going in Gnesta, Sweden? What are you doing right now?
Hi Rom! Life in Gnesta is good. Right now I'm juggling a collaborative t-shirt project and a new graphic for Curren Caples with some book projects and some corporate work.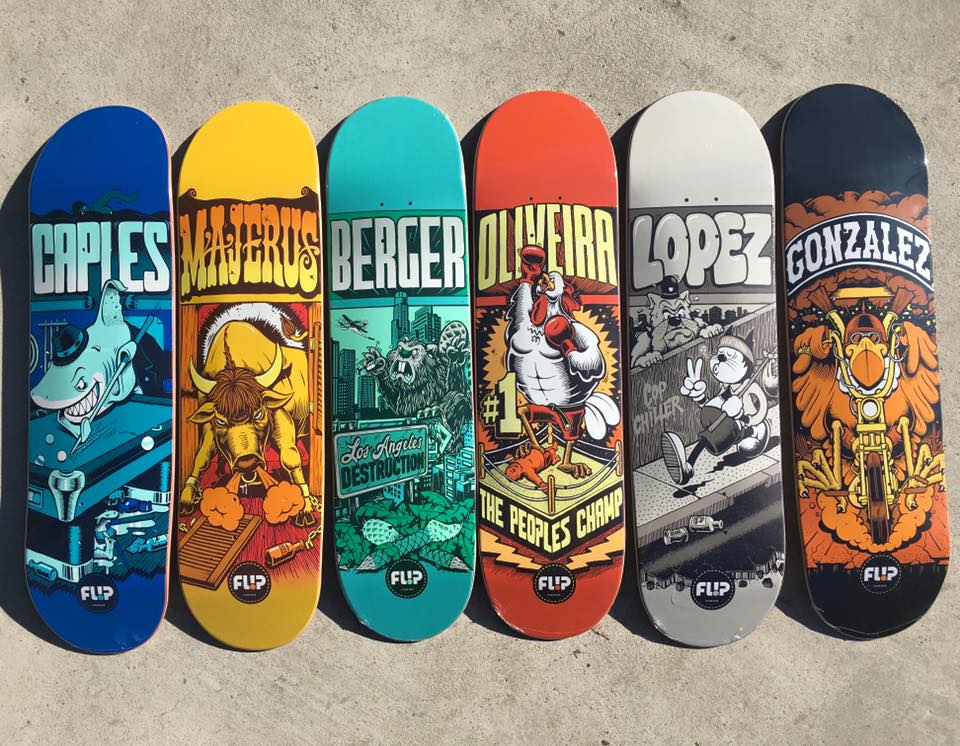 Let's go straight in the thick of it. You are in graphics since how long? And in skate graphics? By the way, how did you came in?
I've been drawing and creating art all my life, but I really got in to skateboard graphics in 1987, when I first sat foot in a real skateshop on a holiday trip to Los Angeles (Rip City in Santa Monica).
it took 20 years for me to get to make real board graphics
I was totally blow away by the work of Jim Phillips, VCJ, Pushead and Wes Humpston. I started sketching on graphics as soon as I got back to the hotel, but it took 20 years for me to get to make real board graphics when my old skate friends turned pro and started their own companies.
By then i had been already been working professionally with other kinds of illustration for about 10 years all the time with a thought in my head that I wanted my work to end up on skate decks some time.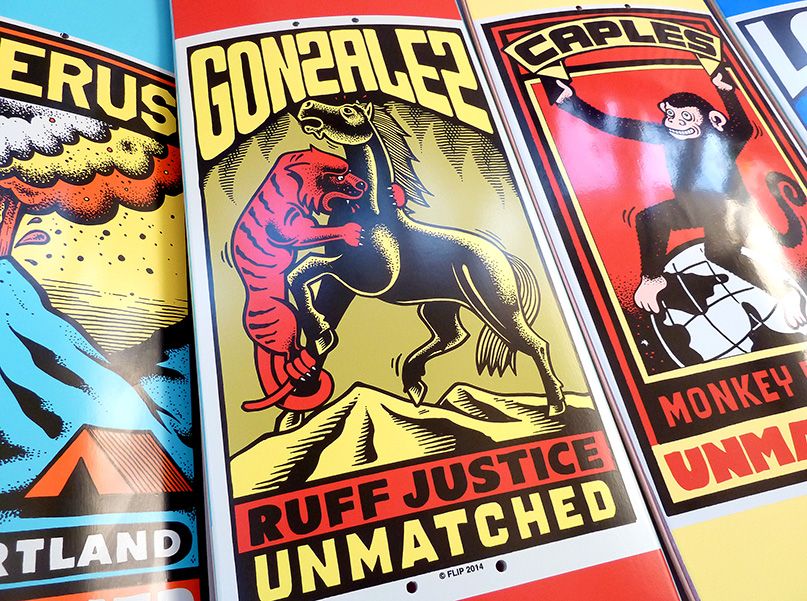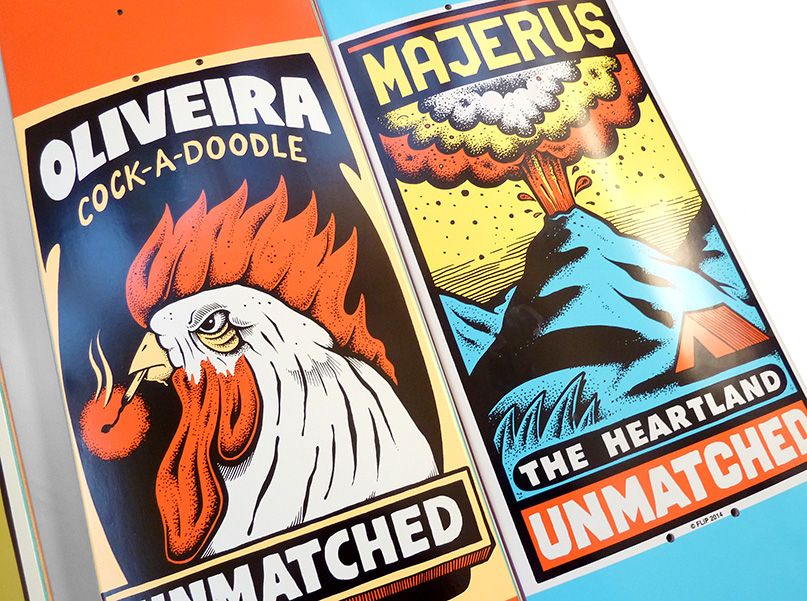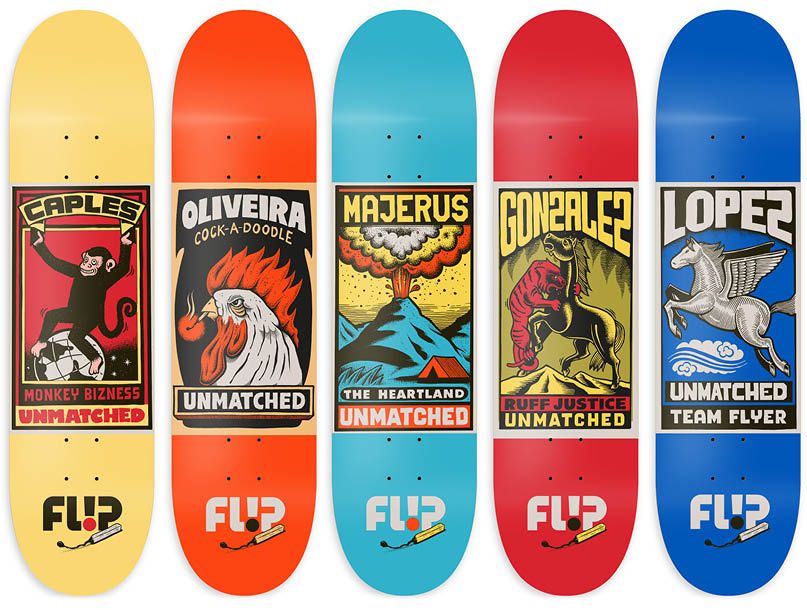 You did illustrations for a lot of brands: Sweet Skateboards, WeSC, Seven Inch Skateboards, Bellows, Polygon Skateboards and for one that absolutely everyone knows: Flip Skateboards. How all these collaborations were made?
My first graphic was for my old skate friend Martin Karlssons brand Bellows. They had the same distribution as Sweet skateboards, so started to work for them to. Sweet was a pretty big euro company so my work got around and more people started recognizing my work.
Ali was pro for Flip at the time so I asked him if it would be a good idea to contact Flip.
After doing stuff for the euro scene for a couple of years I ran in to another old skate friend, Ali Boulala at the skate park, Ali was pro for Flip at the time so I asked him if it would be a good idea to contact Flip. So I sent some stuff to them and since then I've been doing graphics for Flip.
It's simple to work remotely with your clients? Do you regularly move see them live?
I've actually never met any of the Flip guys in person, but I have long talks with Jeremy Fox at Flip on Skype regularly. With Skype and e-mail, it's easy to sent sketches and ideas to each other. That works for me. The only problem can be the time difference, but that's cool, because I'm always nine hours ahead!
I presented your beautiful Iconoclastic series recently that really blown away. Is there is one in particular which you are most proud of?
Well, I think the Iconolastics series, the Unmatched series and the Comics series for Flip is my best series yet. They were all based on my ideas, drawn in the style that I feel confident in working in.
All were based on my ideas…in the style that I feel confident in working in
Also the Space Series for Sweet turned out cool and the Sour x Mander graphics, some of my older graphics have a special place for me. Like the WeSC collab, and the Seven Inch stuff and the first Matt Berger graphic for Flip.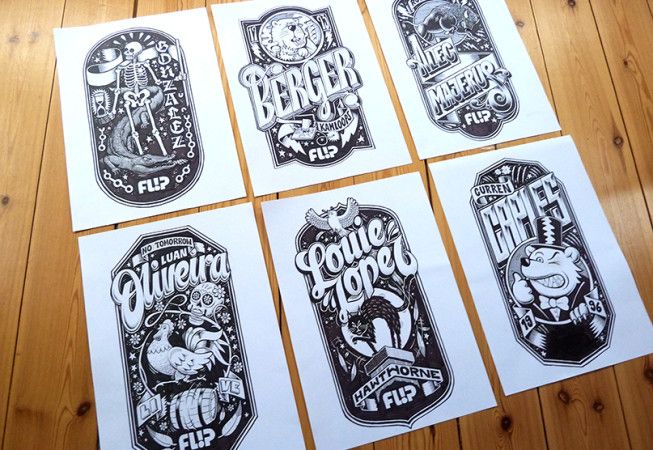 How long does it takes you to release a 6 boards series like this? Do you have a special creative process?
It depends, some times I have an idea and some times Jeremy comes up with the idea. I do some sketches/mockups that we sent back and forward between each other a couple of rounds, when the sketch is ok'd I start to work on it, the whole progress from start to delivery for six graphics usually takes under two weeks.
For smaller brands that doesn't pay that well i usually just do whatever I want, take it or leave it. Thats my artistic outlet.
My preferred progress is sketching on paper > inking by hand > color and color separations in the computer.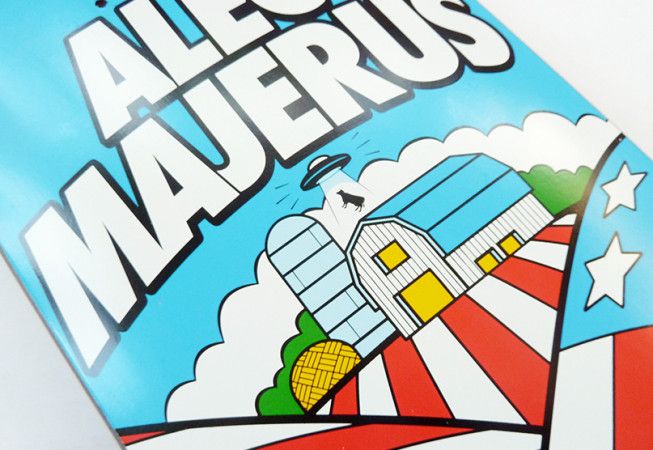 Moreover, where did you get this aesthetic comic / hyper detailed in your works?
My dad was an illustrator and art director. He was also a big collector of comics and art/design books. My mom worked at a publishing house that published a lot of comics, so I've been surrounded by art and comics all my life.
It fells like I've always been drawn to detailed work. Like old MAD magazine, horror/sci-fi comics, ZAP comics and swedish artists like Hans Arnold and Joakim Pirinen. So its only natural that i work that way. Plus i just can't stop myself from going in to detail on everything i do!
In the beginning, did you realize how many board graphics you would get to do?
Oh, back in the eighties, the graphics lasted for so long too, so during my first years in skateboarding, it was basically the same 50 graphics I saw.
I've done about 200+ graphics since 2007
I probably thought that I would do one or two graphics that would become iconic and last for years. Now I've done about more than 200 graphics since 2007. Nowadays a graphics life span is about three-four months on the market, so you always have to come up with new stuff. Hopefully someone except me collects them.
What's your definition of skate art? Do you think it will evolve as street-art in recent years?
I don't really know, It feels that the term "skate art" is a label put on anything from skate graphics, to art by famous skaters, to art with a skate related motif, to doodling on your griptape. But i do know that as soon "skate art" evolves and grows outside of the skate community, it becomes just "art" right?
As with the term "street art" which is used by the media for anything from stencils to installations to murals to knitting. In theory, as soon as it leaves the street, its not street art anymore.
What I work with, "skateboard graphics", it has already evolved and gone thru many trends and changes in technique and media, gone back again, and gone in circles. Its been in books, in museums and gallery shows. But still, it can't leave the fact that it needs to be printed on a skateboard to be a skate graphic. when I do work on other mediums it's illustration, art, or packaging. Sometimes inspired by skateboard culture.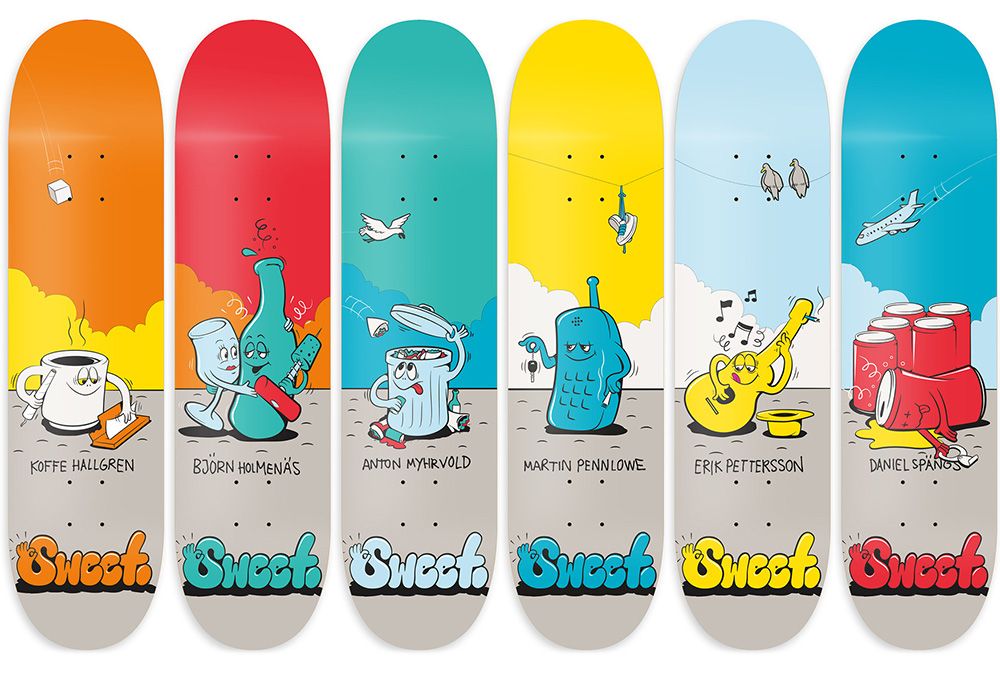 At this point, what inspires you the most?
The same stuff that inspired me as a kid, comics, illustration, graffiti, posters, old packaging design, skate graphics, music, culture and art. And i really like to talk about drawing with my artist friends and to watch other artists work.
Are you working on a new series right now ? Do you think you can give us a little teaser of your upcoming projects?
I just sent a six graphic series for Flip to print last week, a vintage packaging inspired series and I'm doing a single graphic release for Curren Caples now.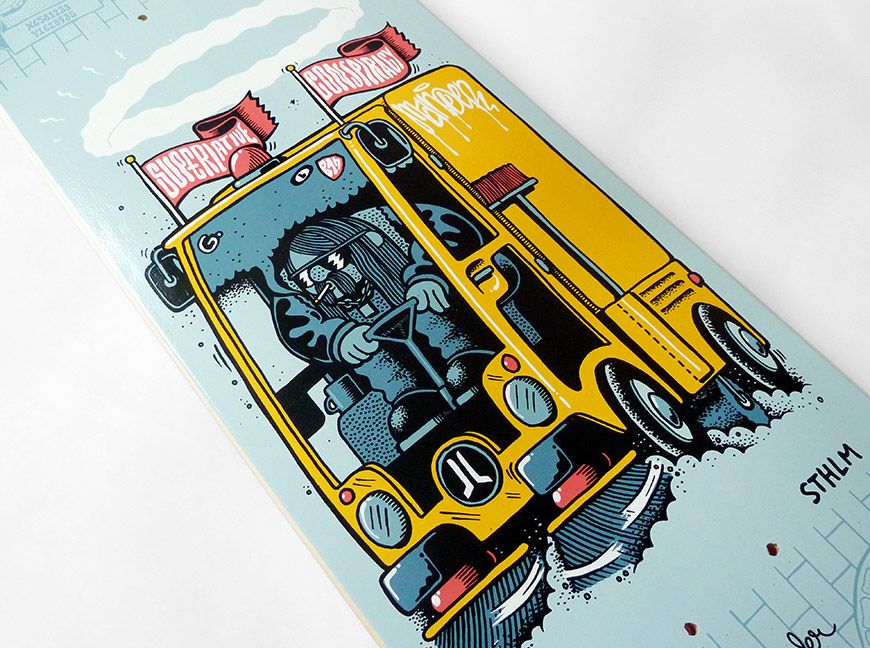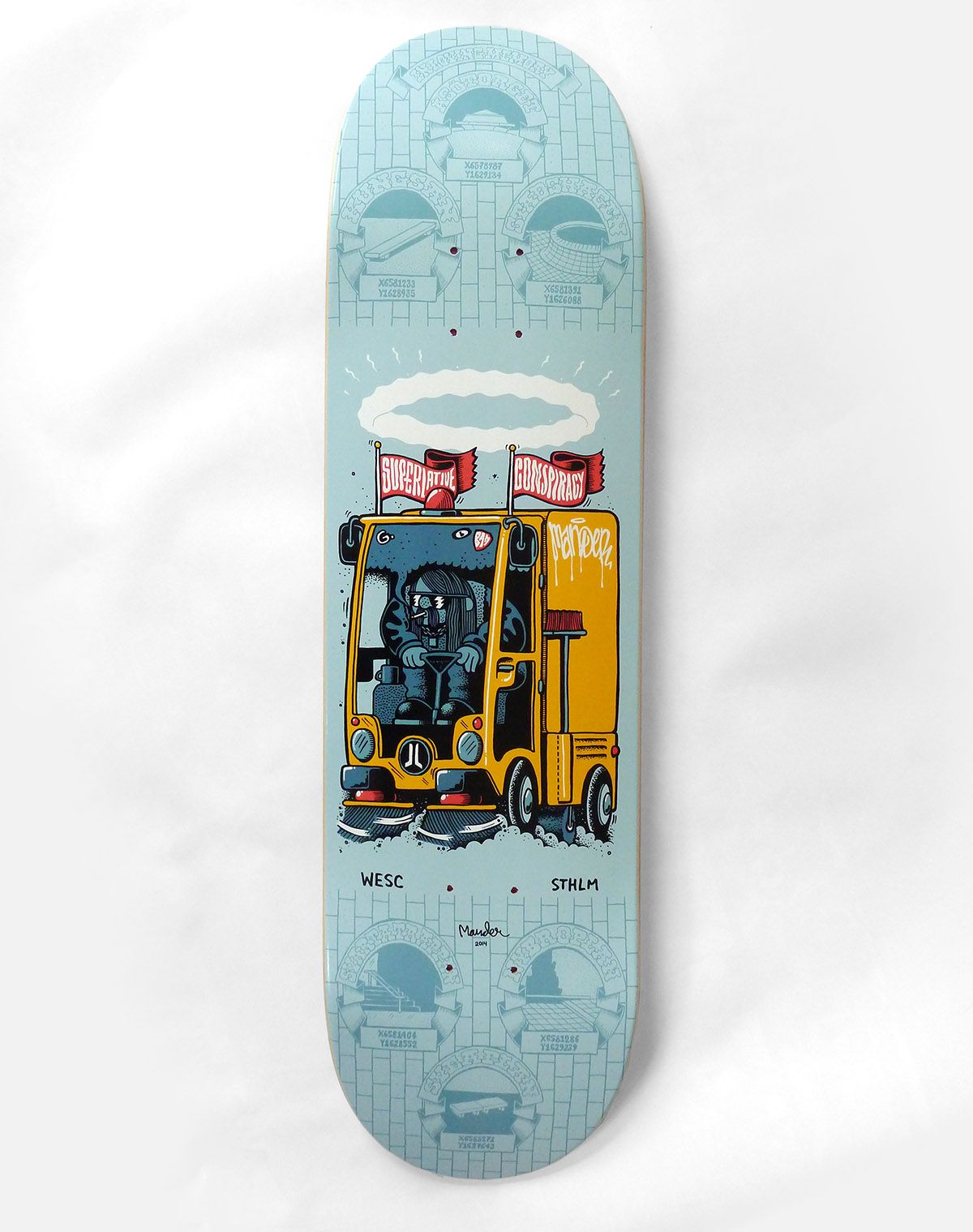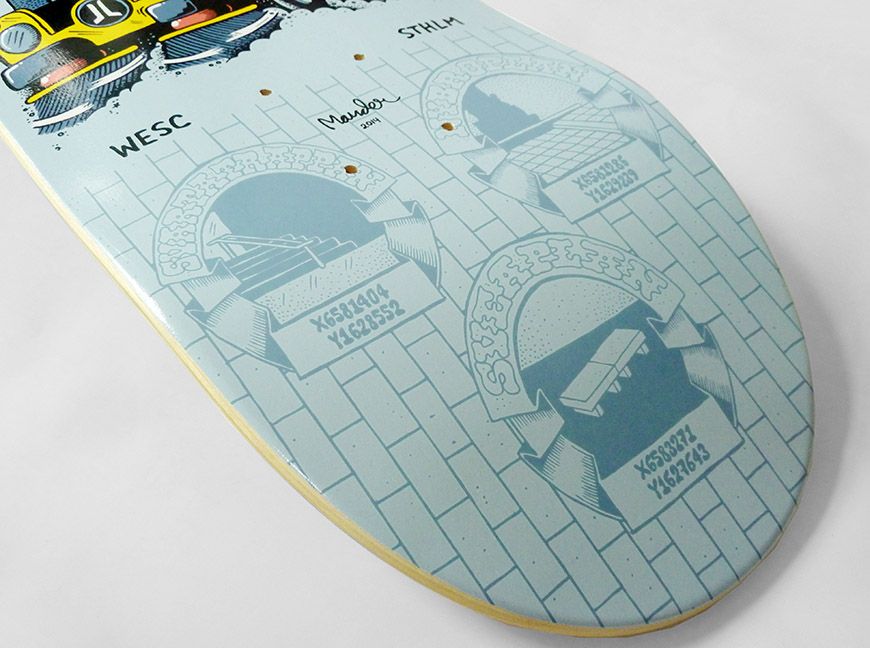 I noticed that you had already done or participated in the creation of several books. So tell me, when do we have the chance to see a beautiful book called "The Art of Mander"?
Funny you should mention. Im actually negotiate with a publisher about a Mander retrospective book right now, so if everything works out good it will be out in about a year or so.
And 8 last quick questions:
UNIQUE OR MASS PRODUCTION: They both serves a purpose. I like both!
PAPER OR TABLET SHEET: Pen & paper.
SKATE & CREATE OR SKATE & DESTROY: In theory: Skate&Destroy, in practice : Skate&Create.
WHAT BOOSTS YOU: Getting good feedback.
WHAT SLOWS YOU: Getting bad feedback.
FAVORITE TRICK: No-comply to tail, on anything.
FAVORITE SKATER: John Dahlqvist
YOUR DREAM: Keepin on evolving as an artist and person.
Excellent! Mander thank you. One last thing we forgot to say?
Thanks! to see more of my work, follow me in instagram @manderoid or visit me on www.mander.nu